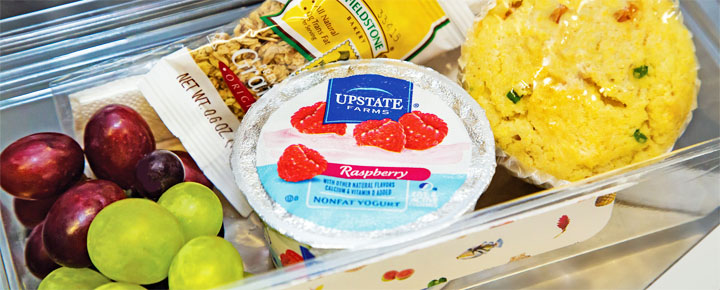 A recent airline food study rated offerings on domestic carriers with a score of zero to five stars based on health, nutrient information, innovation, safety and more. We changed the focus to be on flights to Hawaii. The study was done by the Hunter College NYC Food Policy Center and DietDetective.com.
"This year Alaska Airlines wins the top spot as the airline with the 'healthiest' food choices in the sky with Delta right behind…." — Charles Platkin, executive director of the Hunter College NYC Food Policy Center and editor of DietDetective.com.
Good news is that airline food is actually getting better at least in terms of health. This year, the average number of calories dropped on average 32% compared with last year. Also notable, as we've mentioned before, is that American and Delta are both now offering complimentary meals in coach.
Latest Airline Food Study | Ranking the airlines
Alaska Airlines. Rating 4.25. Average snack box 471 calories, meal 510. Top spot award goes to Alaska. The company ranked as having the healthiest airline food overall by far.
Notes. A new fresh meals program has been coming online since summer, and new snacks are being added this fall.
Delta Airlines. Rating 3.7. Average snack box 556 calories, average meal 588. 2nd place award.
Notes: Delta has been rethinking and improving its food in terms of both quality and being healthier.
American Airlines. Rating 3.0. Average snack box 415 calories, average meal 589. Most improved award goes to American Airlines (also Hawaiian).
Notes. American is updating its food effective in December. Included will be healthier food with a Mediterranean diet focus.
United Airlines. Rating 2.75. Average snack box 462, average meal 532.
Notes. Food Detective says that there are very few good choices at United. Also no nutritional information is available.
Hawaiian Airlines. Rating 2.65. Average snack box 342 calories, average meal 502. Most improved award goes to Hawaiian Airlines (also American).
Notes. Hawaiian is definitely now heading in the right direction when it comes to food. Snack calories dropped over 200 since last year. Meals also dropped from an averge of 971 to 502. And wee have the distinct impression that more healthy choices are ahead from them. Hawaiian has always offered free meals in coach.
Southwest Airlines. Rating 1.6. Average snack calories 138.
Notes. Southwest still has not become a leader in healthy airline food and pretzels are the only choice. They also have not ventured into meals for a long time. When Southwest Hawaii flights begin, the company told us that there will be meal offerings. So more on that soon.
Hidden gem takeaways
The study warns about drinking tap water and things made from it on airplanes. That means coffee and tea. Because aircraft water containers aren't frequently cleaned, researchers believe harmful bacteria may be present. The EPA has a new Aircraft Drinking Water Rule which may help going forward. It's mission is to "ensure that safe and reliable drinking water is provided to aircraft passengers and crew."
Do you know how many calories may be lurking in the meal's salad dressing? It could be hundreds of calories and it is likely also made with cheap and unhealthy oils.
We pack our own snacks and meals, typically made at home or locally sourced on trips. There something to be said about controlling the quality, quantity and timing of food and beverages when flying.
In case airline food just isn't your thing either, remember we aren't alone. Renowned chef Gordon Ramsay says he'll never eat airline food, period.
Disclosure: We receive a small commission on purchases from some of the links on Beat of Hawaii. These links cost you nothing and provide income necessary to offer our website to you. Mahalo! Privacy Policy and Disclosures.