Have you ever wondered what would happen in a medical emergency hours away from the nearest land, such as en route to Hawaii? The longer the flight, the more likely such an incident is to occur.
Here's what I witnessed on a recent flight from Papeete to Honolulu.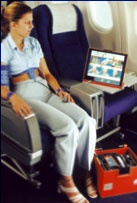 A passenger walking down the aisle fell over near me and hit her head. I wondered if she might have suffered a heart attack or stroke, and whether the fall caused life-threatening injuries.
Medical monitoring in the air: what to expect.
A small medical kit is brought to the passenger. This allows someone without medical experience to collect vital signs and transmit them to ground-based medical experts. Real-time data typically tracked, much like in an Emergency Room, includes electrocardiogram, temperature, blood pressure, blood oxygen and respiration.
Delta, Continental, Hawaiian and most other carriers (80 airlines total) are now using some form of these.
Remote emergency medical responders on the ground.
Expert medical advice from board-certified emergency physicians and specialists is now available at all times by phone (via satellite when over the ocean). Continental says it makes about 135 such calls per month, resulting in, on average, 6 flight diversions per month.
Will your flight be turning back?
Nothing is fixed in stone, and the final authority rests with the captain.  Typically however, flying over the ocean, if you are over half way to your destination, no matter the nature of the incident, your flight will continue.  If you are less than half-way, you'll likely be turning around.  In our case, we were just over half way, so the flight continued on to Honolulu, where we were met by waiting medical personnel.
Preventive measures:  Newark to Honolulu passenger deplaned.
As Continental's non-stop was preparing for takeoff recently, a 16 year old girl started coughing violently and had trouble breathing due to a cold.  As a precaution, Continental returned to the gate and removed the passenger.  The airline paid for her stay in New York and flew her to Honolulu when she felt better.  That decision resulted in far less cost than should a diversion have been deemed necessary.
Why this technology is so beneficial.
1.  Of greatest importance (at least to us passengers), this dramatically improves the quality of emergency medical care on board.
2.  Airlines save money by not needing to divert unnecessarily, thus saving millions in extra costs per year.  As in the example above, airlines call MedAire prior to departure when a concern arises.  That often serves to prevent mid-air emergencies before they happen.
3.  Airlines improve their customer relations by delivering protection that meets or exceeds expectations and reflects health and safety values.
Have you had any experience  with mid-air medical emergencies that you can share?