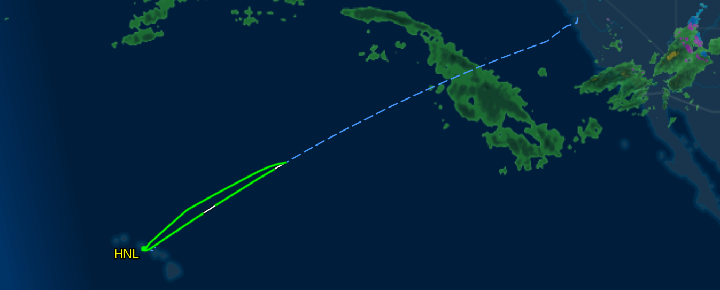 An altercation between passengers, severe enough to result in a mid-Pacific turn-around, occurred on Tuesday evening. Southwest said that the flight returned to Honolulu due to "customer behavior." We're awaiting additional details. The flight is being planned again for Wednesday.
This came as less than a complete surprise given the meltdown Southwest is currently in the midst of and just how severely it has impacted Southwest customers and employees.
We can only imagine the frustration of passengers who, at long last, were able to get a flight out of Hawaii on Southwest, only to return to Hawaii to face the unknown regarding when the next flight could bring them home and how they would be accommodated in the interim.
Few Southwest flights even managed to get off the ground today in Hawaii.
76% of all Southwest flights in Honolulu were canceled or delayed (with the majority being canceled). That percentage was even higher at Maui, where 80% were canceled or delayed. Lihue experienced 75% canceled or delayed, and the number was 72% at Kona.
Southwest flight 2050 was diverted to Honolulu.
The plane departed the gate two hours late from Honolulu this afternoon, at 4:31 PM, and the 737 MAX 8 took to the air at 4:55 PM and headed for Oakland. After flying only about one-third of the way to California, the plane returned to land again in Honolulu. At 8:36 PM, the wheels touched back down at HNL. It isn't clear whether anyone was arrested or what else may have transpired.
The airline's employees on professional forums are expressing their extreme upset with the current situation. That includes the airline's flight attendants individually and via their union, as well as the pilots and their union.
Clearly, passengers are frustrated beyond belief, and it may have reached the boiling point on that one flight tonight.
Looking for blame, the flight attendants union says Southwest caused its mess.
The Transport Workers Union of America, representing thousands of Southwest flight attendants, blames Southwest for insufficient technology that left their flight crews hanging. "The lack of technology has left the airline relying on manual solutions and personal phone calls, leaving flight attendants on hold with Southwest Airlines for up to 22 hours at a time simply to be released to go home after their trip, or while attempting to secure a hotel room or know where their next trip will be. While reroutes and rescheduling are understood to be a part of the job in the airline industry, the massive scale of the failure over the past few days points to a shirking of responsibility over many years for investing in and implementing technology that could help solve for many of the issues that plague flight attendants and passengers alike."
Pilots union also blames Southwest for unacceptable problems.
The Southwest Airlines pilot's union president minced no words when he said, "It's been catastrophic. Its been a failure at every level at Southwest Airlines." – Captain Casey Murray, President Southwest Airlines Pilots Association#SouthwestAir #SWAPA pic.twitter.com/Q1UpNLRmfu
— Southwest Airlines Pilots Association (@swapapilots) December 27, 2022
Disclosure: We receive a small commission on purchases from some of the links on Beat of Hawaii. These links cost you nothing and provide income necessary to offer our website to you. Mahalo! Privacy Policy and Disclosures.