How well we remember when Hawaiian Airlines took delivery of their then-new Boeing 717's, and we stepped aboard for the first time. It was exciting and a huge upgrade to the prior interisland fleet of DC9-30. But that was two decades ago, and as with everything in life, that era will soon come to an end.
The airlines that still fly the 717 are now just three. Delta operates most of them, with 88 aircraft. Hawaiian has 20. Qantas also has 20 and has begun the replacement process. That's all that is left.
History of the iconic Hawaiian Airlines Boeing 717.
Made by McDonnell Douglas and then called the MD-95, the planes were first delivered in 1999. The name change to Boeing 717 reflected the company's acquisition by Boeing in 1997.
It was a match made in heaven, so to speak. The prior DC-9 fleet and the 717 fleet were designed to serve routes like those here in Hawaii – frequent, short hops with smaller runways.
The new fleet still looked like the DC-9 predecessor, albeit with larger beefy engines mounted at an angle. It had the same quality and reliability associated with its lineage but with size, technical and cosmetic improvements.
Not a great match. The aircraft was born at the wrong time since it was truly an MD plane but bore the brand of Boeing. In a sense, it was doomed to fail for just that reason alone. It was a plane that was incompatible with Boeing planes in terms of managing airline fleets and required its own unique maintenance and operations. As a result of many issues, Boeing only ended up building 156 planes before ending production.
Customers were more inclined towards the newer Airbus and Boeing 737 variants, and for most passengers, those were good choices and fits. But for Hawaiian, that was not the case. The few companies who purchased the 717 planes liked them very much. Past CEO Mark Dunkerly once said, "It's a great little secret. For what we do here in Hawaii, there's no better aircraft built today or even on the drawing board." The planes have been perfectly suited to short-haul, frequent flights, and high reliability. In fact, the Hawaiian planes make up to 16 flights each day. And that extreme usage is a part of the aging problem.
Until recently, there were no good replacement options for the interisland 717 fleet.
Both Airbus and Boeing failed to create a good fit in that 100+ seat market and instead created larger, longer-range aircraft, which apparently were more profitable to sell. At the other end of the scale, regional jet makers Embraer and Bombardier targeted smaller jets.
Enters Airbus A220 – one of two replacement choices.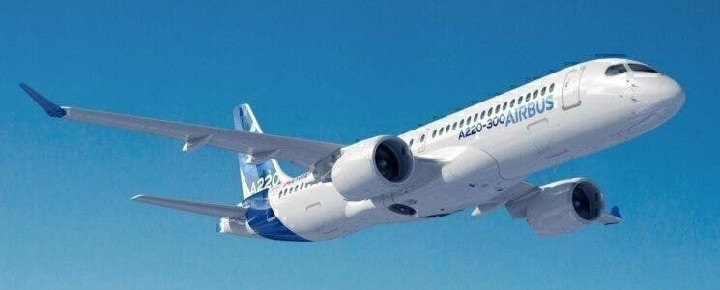 The A220 is a 100-160 passenger narrow-body aircraft that fits between smaller regional jets and the more traditional A321 and 737 aircraft. It comes in two variants depending on the requirements. It is a 3×2 economy cabin, the same as the current 717. A220's 3×2 interior is above, and you can see it is very similar to the current fleet.
The other option for Hawaiian is the Embraer E2.
These jets fit a similar need, although they accomplish it differently. They do remain a possibility for Hawaiian, albeit unlikely. Also coming in two variants, the E190-E2 typically seats about 100 passengers while the E195-E2 seats about 30 more on average. It is a 2×2 economy cabin (image below) with slightly narrower seats than the A220.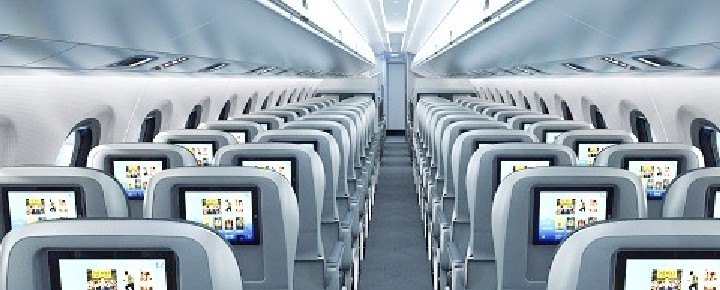 How long will Hawaiian continue flying the 717?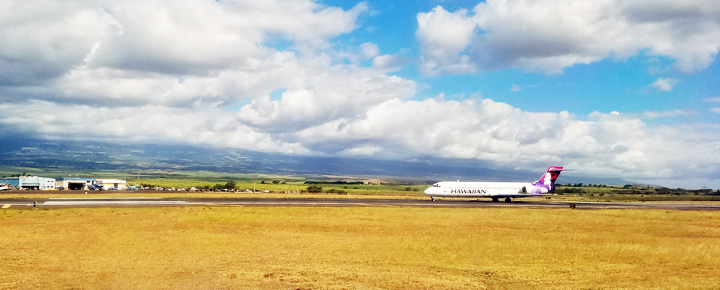 Delta has said it plans to operate its 717 fleet through this decade. There is no doubt that Hawaiian aircraft of the same age are more worn than are Delta's due the frequent, short-distance island flights. We spoke with CEO Peter Ingram about the 717's. He said they plan to operate them through mid-decade, which would mean for at least another few years. We would be surprised to see Hawaiian extend their use of the 717's much beyond that point. With lead time, that means we should start learning about their replacement process very soon.
Do you remember the 717's when they were new? What's your take on the best option for their replacement?