After more than a half-century, the last Boeing 747 was produced for Atlas Air and will be delivered to the company in the next month. At the other end of the incredible lifespan, the first Boeing 747 went to Pan Am in 1970. In its half-century of production, the 747 jumbos have carried almost 6 billion passengers.
The Queen of the Skies has been a fixture in Hawaii travel for as long as we can remember, and in spite of there being no more of them made, you'll still have the chance to see them in Hawaii and perhaps even jump on board.
The present and future of Hawaii flights are twin-engine, mainly due to economics. Yet the 747 will be remembered fondly by many for flights to Hawaii we've enjoyed. It was, after all, the very first widebody, and stepping on board for the first time, and even after, was unforgettable.
Korean Air 747-800 to Honolulu
Flying on Korean Air may be the last chance for passengers to travel to and from Hawaii on the Queen of The Skies. While other airlines, including Asiana and Lufthansa, still operate 747s, they do not fly to Hawaii. The last airline other than Korean to fly 747 to Hawaii was Qantas, who retired that fleet in 2019.
747 Air Cargo to Hawaii.
The last 747 is the cargo carrier Atlas Air. They ordered the last four 747-8 planes to be used as freighters early in 2022. Atlas Air continues to fly its 747 cargo planes to and from Hawaii, and don't be surprised if you see the new -800 here at HNL at some point.
The four-engine 747 remains well-suited to cargo flights. To this day, it is popular for that specialty.
Commenter Kelly adds that cargo carrier "Kalitta Air still flies 747s to Hawaii. They land at KOA at least once a month, sometimes twice."
Air Force One 747 was in Honolulu last month.
The 747 also continues to fly as Air Force One. It was seen in Honolulu last month when it stopped in November en route between Asia and Washington, D.C.
Hawaii travel and 747 went hand in hand.
The 747 brought economy travel to Hawaii back in the 1970s and made our exotic destination accessible and affordable. It was also a time when economy class was very different than today's. This started a more civilized era in Hawaii travel.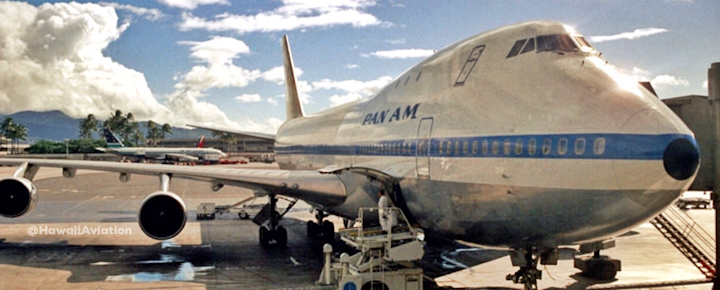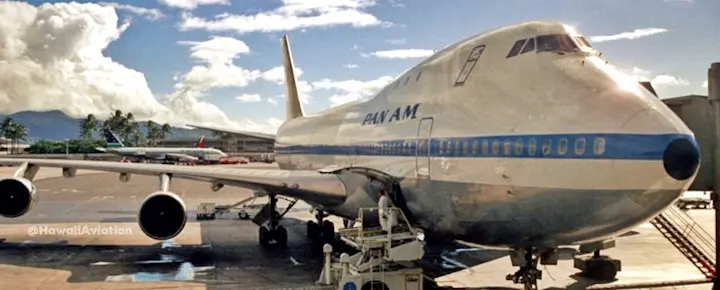 Pam Am wasted no time with their Hawaii flights starting in 1970. Continental Airlines brought their 747 "air cruises" to the islands.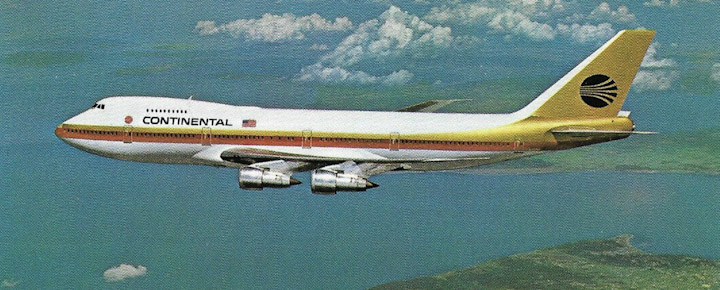 TWA flew the 747 to Hawaii soon after that, followed by Hawaii Express. Delta Airlines, which flew the 747-400 to Hawaii as recently as 2017, Northwest Orient, Braniff, and America West.
And don't forget United Airlines' 747.
UAL flew 747s to Hawaii from 1970 until 2017, when they were retired with a grand farewell.
What was Hawaii Express?
Hawaii Express was an airline that briefly operated flights between Los Angeles and Honolulu and had the nickname "The Big Pineapple." They started with just a single 747-100 and later added other aircraft. Its founder also started Hawaii Air and Cheap Tickets. Hawaii Express started flights in 1982 and ended them just over one year later.
What's your favorite memory of flying on a Boeing 747?
Hawaii Express photo credit Ted Quackenbush.