A half-century ago, the first Boeing 747 first began flying to Hawaii after its launch just a few years earlier. Does the photo above bring back any memories, and how does it compare with your most recent flight to Hawaii?
There were over 1,500 Boeing 747s manufactured over its fifty-year lifespan. Do you remember your first 747 flight? For Beat of Hawaii editor Rob, it was on Canadian Pacific Airlines from Vancouver to Amsterdam in 1980. For Jeff, the first 747 flight was Pan Am to London.
747 Dramatically changed the travel industry.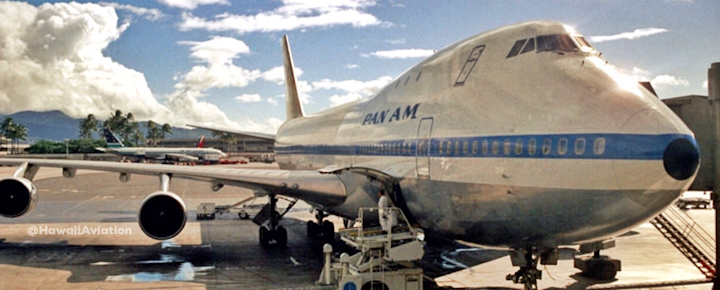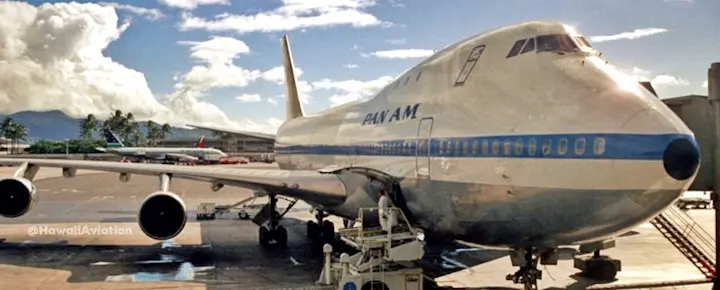 The 747's size was both physical and in the unprecedented growth, it created in travel, including to Hawaii. It was estimated that the 747 reduced the cost per passenger mile by 50% compared with previous airliners. The 747 brought with it the beginning of the wide-body jet era. It was the first to feature the nearly vertical interior walls we've come to enjoy, which offer a feeling of more spaciousness. Instead of a single long tube design, the cabin was separated into now-familiar sections using divider lavatories and galleys.
Nicknamed the "Queen of the Skies," it was a plane many of us grew up with and still remember fondly. BOH Editor Jeff was amazed when he first stepped onboard that747. "Now I am in awe when I step aboard a somewhat similar-feeling plane, the Airbus A380," said Jeff.
In its 50-year history, the 747 transported nearly six billion people, or 80 percent of the world's population. It was a big gamble for Boeing, and it paid off. Airports had to be modified to accommodate the larger boarding areas, counters, and terminals needed. Ground equipment for fueling and the tugs to push the planes had to be different too to handle giant planes weighing up to 3/4 million pounds.
First Hawaii deals came as a result of the 747.
As the 747 started crossing the Pacific, some of the first Hawaii deals came with it. It was the 1970s, and Hawaii quickly became the affordable yet exotic destination from the west coast and beyond that we know to this day.

Now looking back, the 747 was a true luxury.
Air travel in the 1970s was still considered an extravagance, and service aboard the 747 in those early days was quite elaborate compared with today's no-frills, a la carte, and the basic-economy era of air travel. Just look at the above photo to see how people were dressed, the spaciousness and feeling evoked. It's funny to note that many thought the 747 would soon be replaced with SST travel, which hasn't happened so far.
Which U.S. airlines flew the 747 in Hawaii?
Indeed, the most famous and the first to start was Pan American. Their Hawaii flights began in 1970, shortly after the 747 began flying, and ended in 1985 when United Airlines acquired all of Pan Am's Pacific routes, including Hawaii. Continental Airlines followed Pan Am's Hawaii entry with their own 747 "air cruises." TWA flew the 747 to Hawaii. And there was also the short-lived Hawaii Express, an airline that existed in the early 1980s. In 2017, Delta Airlines, which also flew the 747 in Hawaii, became the last U.S. airline to use that aircraft. Other U.S. airlines that flew the 747 to Hawaii included Northwest Orient and Braniff.
United Airlines retired its Boeing 747 fleet in 2017 with a farewell flight.
That was from San Francisco to Honolulu and was retro all the way, with passengers and crew in 1970's attire and a 70s menu too. When United announced the farewell 747 Hawaii flight, they sold out all tickets in 90 minutes. At the time, United Airlines said: "So many of our customers and our employees have flown on this plane, have serviced this plane, and they've served customers on it. So today was both an exciting day for us and a sad day for us." United made its first Boeing 747 flight to Hawaii in 1970.
Watch the video below showing the plane adorned in a traditional Hawaiian lei.
Boeing 747 in Hawaii incidents, including a number of fatalities.
In 2011, a Delta 747 traveling from Honolulu developed a cracked windshield and was forced to make a landing at Midway Atoll National Wildlife Refuge. It did so uneventfully.
United Airlines Flight 811 had a fatal incident on departure from Honolulu to Auckland on February 24, 1989. The 747-100 experienced explosive decompression due to a cargo door failure. The door slammed into the fuselage, creating a gaping 10 x 40-foot vertical hole. It blew out several rows of seats, resulting in the deaths of nine passengers. With over 300 on board, the aircraft returned to Honolulu and landed safely.
Trivia Question: Who flew the last 747 in Hawaii?
Qantas was the last to fly the 747 to Hawaii. That flight was on August 27, 2019.
Does anyone still fly 747?
Actually, yes. While very few are still flying, most of those are at Lufthansa. They have a fleet of 27 models -400 and -8. If you ever see another 747 in Hawaii, it will be a cargo plane. A few companies still operate them.
What are your 747 memories? Please share them with us!