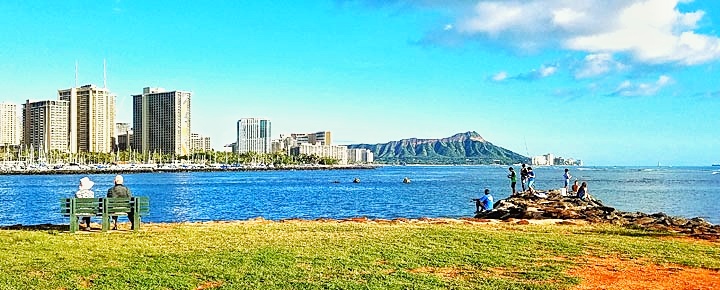 Even before today's madness, there was a time when many of us considered Hawaii hotels as the only places to stay. Well, things had already changed hugely before the trouble we are in now, and you haven't seen anything yet.
Hawaii vacation rentals (which are currently on hiatus) are going to surge in demand and will far exceed Hawaii hotels for quite some time. Think crowded hotel lobbies, elevators, hotel restaurants (with non-existent buffets), and other shared amenities, just for starters. How does that sound versus having your own vacation home or condo with a kitchen, and little to no interaction with others required?
Beat of Hawaii: Being more in control of many aspects of the travel environment, is going to be on our minds at least, for the foreseeable future.
Where the Hawaii vacation rental trend began.
It's interesting to recall that although Hawaii vacation rentals have become popular across all demographics, the trend largely began with both younger travelers and those with higher incomes. Now it's ubiquitous.
Once someone tries a vacation rental, half simply don't go back to hotels. That according to a Goldman Sachs study last year which indicated trouble was already brewing for the hotel industry.
Hawaii vacation rentals will be change agents.
For years, we have preferred vacation rentals, hands down, when compared to hotel stays of over a couple of nights. Both here in Hawaii and elsewhere in our travels. Clearly we aren't alone then, and that was just the tip of the iceberg. Here are some things to consider about Hawaii vacation rentals going forward.
1. Far less contact with other travelers and staff. For example, a vacation rental home lets you go directly from your car to inside without coming in contact with anyone. Even some condo rentals now operate the same way. Often no elevators and less amenity sharing is needed.
2. New industry standards will soon include cleaning and disinfection products and methods. Vrbo President Jeff Hurst said, "New cleaning guidelines will reassure travelers that vacation rentals are safe places to stay for their next vacation."
3. Increased inspection to assure cleanliness. This will be up to each rental owner or manager to follow, and we advise asking for what guidelines they adhere to.
4. Enhanced digital guest interaction. Look for automated check-in and check-out, more key-less entry, and guest apps as examples, including phone numbers to a virtual concierge service.
As a reminder, please only stay in legal rentals that are in designated tourist areas in Hawaii. Staying in illegal rentals is problematic at every level, with no help if things go wrong. Hosts should post the Tax ID on their listing.
Airbnb takes a huge hit.
The company just saw its value halved during this crisis. Beyond that, the way it handled its property owners and managers caused them to feel alienated to such a degree that a huge number will try to avoid Airbnb in the future.
Beyond that, Airbnb and Booking.com had a very different tone this week. Airbnb CEO Brian Chesky said that "when travel does return, it will look different." No clarification was provided. "While we know Airbnb's business will fully recover, the changes it will undergo are not temporary or short-lived." And on that note, Airbnb just let go of 25% of its employees.
Booking.com tone is more confident.
The company's first-quarter travel bookings dropped by 51% compared with last year. Despite that, and the acknowledgment that travel will take years to return to normal, the Booking.com earnings call this week provided good insight into where the megalith sees the industry going, and it speaks to Hawaii vacation rentals.
In the short term at least, the trend they are seeing is towards a preference for vacation rentals over hotels. We concur at Beat of Hawaii. In the long-run, however, in terms of the mix of vacation rentals and hotels, CEO Fogel said, "Overall, it will come back very similar…. Here's the point — hotels don't disappear."
Booking also said that vacation rentals will endure both the uncertainties following this crisis as well as any increased regulatory requirements. Fogel believes the vacation rental sector will survive, concluding, "I really don't see a lot of changes."
Please add your thoughts. Will you switch to Hawaii vacation rentals for your next trip to Hawaii?
Post updated 5/8/20.
Beat of Hawaii photo at Ala Moana Beach Park.
Disclosure: We receive a small commission on purchases from some of the links on Beat of Hawaii. These links cost you nothing and provide income necessary to offer our website to you. Mahalo! Privacy Policy and Disclosures.