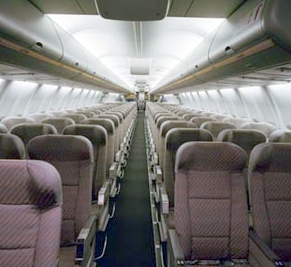 I couldn't believe my eyes when I read the WSJ article yesterday, indicating that American, Continental and Delta's 737's are being reconfigured with 160 seats.  That's an additional 10-12 seats in economy depending on airline.  While this may not make big news on a one or two hour flight, it's noteworthy on the long haul between the mainland and Hawaii.
Adding to this, Continental has already announced they will be replacing some existing Hawaii service with 737's.  We will definitely be seeing the other carriers follow suit, flying 737s to Hawaii, sooner than later.
How they found room for the extra seats.

The additional economy measure is being accomplished by putting the seats closer together as well as other cabin rearrangements.  On American for example, seat pitch is being reduced from 32-33 inches to 31 inches.  To help minimize the discomfort, the planes will be equipped with new thinner seats.
Have you flown to Hawaii in a 737 yet?  It isn't new.  It started with now-defunct Aloha Airlines service from John Wayne and Oakland.  Alaska Airlines picked up with 737 service from Portland, Seattle, and soon, Oakland.
Personal Feelings with Facts.
I've flown Alaska's transpacific 737 and I can tell you it isn't fun.  While a 737 is actually the exact same width cabin as a 757, it just feels worse.  One reason is that the 757 has its floor positioned lower within the fuselage, adding to a larger cabin and more spacious feel.  757s also have over four inches more headroom.  A brief look at one of my aviation forums confirms consensus that 757s are significantly more comfortable than 737s.
On a positive note, 160 seats will require one additional flight attendant (federal law mandates one per fifty passengers).  So while there won't be any food, there will be more, um, service.
What do you think?