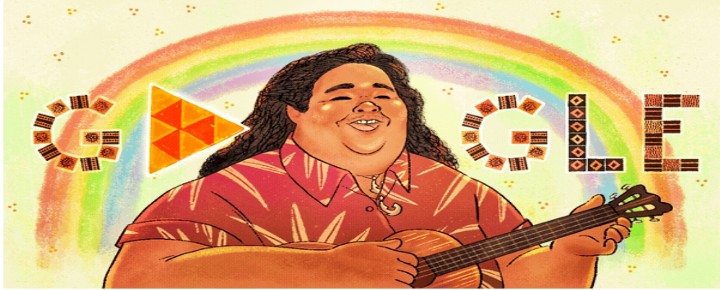 When we first came up with the name, Beat of Hawaii, our thought of course was a newspaper "beat." Today, we are turning to a musical "Beat" as we remember these two epic Hawaiian musicians.
Willie K (Kahaiali'i) died Monday night after a heroic battle with lung cancer. We were fortunate to have seen him perform many times on Kauai at the County Fair, the local community college, and a private concert. His vocal range was impressive from deep bass to soprano. Not only did he sing contemporary and traditional Hawaiian music, but Willie also included opera in his repertoire and blues and rock. He has left his mark on Hawaii forever.
Another Hawaii legend remembered today is Israel Kaʻanoʻi Kamakawiwoʻole also known as IZ. Today would have been his 61st birthday and Google is remembering with a doodle that honors him worldwide. IZ died young at age 38. His music lives on and was part of the Hawaiian Renaissance. First as part of the group, the Makaha Sons of Ni'ihau, and then as a solo artist with the release of Facing Future. Who can ever forget his rendition of Somewhere Over the Rainbow together with What a Wonderful World? His music went beyond that and carried a message that promoted Hawaiian rights and independence. It would be interesting to know his feelings today about the Hawaii tourism industry. During his life, he believed it had lowered the status of the Hawaiian people.
Were you ever able to see either Willie K or IZ perform?
Disclosure: We receive a small commission on purchases from some of the links on Beat of Hawaii. These links cost you nothing and provide income necessary to offer our website to you. Mahalo! Privacy Policy and Disclosures.