David Crosby was a part of the web of Kauai culture for some sixty years. The island was near and dear to his heart and a place he returned to yearly.
Hanalei Bay is one of my favorite places on the planet. I love getting up in the morning, drinking a cup of coffee, eating breakfast, and laying in the sun until I get too hot. — David Crosby
The above photo was taken at the Hanalei Farmers Market when he and his wife, Jan, were here in 2016.
The two-time Rock and Roll Hall of Famer first visited Kauai in the 1960s. He returned here again and again. David was also now to anchor his sailboat at Lahaina's Mala Wharf on Maui.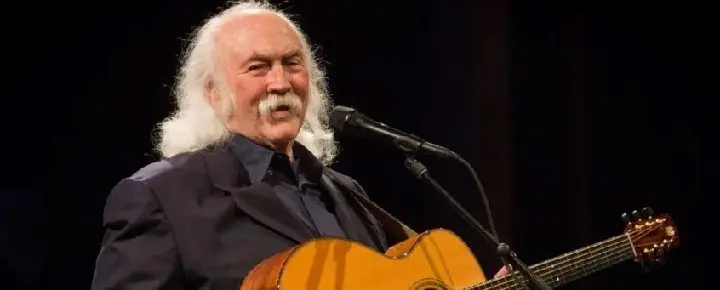 David performed what was to be his final show on Kauai in 2016. It was part of a concert series entitled "An Evening with the Legendary David Crosby," with shows on three other islands in addition to Kauai. He performed with only his voice and guitar. David featured songs spanning his entire musical career, from the 1971 solo If I Could Only Remember My Name to cuts from his 2014 solo album Croz. Selections included songs made famous by The Byrds, Crosby, Stills & Nash, as well as Crosby, Stills, Nash & Young.
Hailing from California, David was hugely influential in generations of music to follow. And so, too, did Kauai have a big impact on David Crosby. He said simply, "It's a beautiful, stunning place."
David's music was a part of your editor's lives for as long as either can remember. Even much younger BOH editor Collin fondly remembered David as we talked about him today following news of his death. Jeff recounted when David won the Grammy for Best New Artist in 1969 and remembered his activism that included anti-war, as well as Civil, Human, and Women's Rights.
David was the author of three books in addition to his prolific music. He once said about the world, "There are so many people out there who try to make it worse, and you're trying to make it better." And so he did.
Before his final Hawaii tour in 2016, he'd visited and performed at a sold-out show here on Kauai during the summer of 2013. It was a benefit performance for Kauai non-profits that was a virtual who's who of musical talent. It featured David, together with Graham Nash, Jackson Brown, and many others. He also performed benefit concerts on Maui, the Big Island, and on Oahu.
Also on Kauai, David Crosby & Graham Nash created the double album Crosby & Graham, in 2004. It came almost 30 years after the two iconic musicians' prior studio album, Whistling Down the Wire. Crosby & Nash was recorded in early 2004, at Kazoo Studios on Kauai and in Burbank.
David Crosby's close collaborator, Graham Nash, now 80, lived for decades on Kauai. About five years ago, however, he went through a big shift in his life. He divorced his wife of nearly 40 years, severed ties with David Crosby, and relocated to New York.
Even though in recent years Crosby and Nash were estranged, Nash said today, "It is with a deep and profound sadness that I learned that my friend David Crosby has passed. I know people tend to focus on how volatile our relationship has been at times, but what has always mattered to David and me more than anything was the pure joy of the music we created together, the sound we discovered with one another, and the deep friendship we shared over all these many long years. David was fearless in life and in music. He leaves behind a tremendous void as far as sheer personality and talent in this world. He spoke his mind, his heart, and his passion through his beautiful music and leaves an incredible legacy. These are the things that matter most. My heart is truly with his wife, Jan, his son, Django, and all of the people he has touched in this world."
In 2022 Crosby said that he was done performing, although it had already been five years since he was last in concert here on his beloved Kauai. He said, "I'm too old to do it anymore. I don't have the stamina; I don't have the strength." He added, "Now I'm 80 years old, so I'm gonna die fairly soon."
Your memory will be a blessing, David.
Lead photo credit Heather Shadur.