Beat of Hawaii shares something special with dynamic actor Pierce Brosnan, and that's our love of life on Kauai. It also puts us on iconic North Shore Kauai beaches like Hanalei Bay, pictured below. Pierce and wife Keely have been lying low nearby here during this craziest of times.
The iconic former James Bond star, age 67, can often be seen around Kauai's north shore. Speaking of life and times, he said of this disease, "No matter where you are and how beautiful it may be, you still have this awful threat to life looming. You have to keep pushing the rock uphill, and you have to keep involved in life. We are at war. People are dying." He recently lamented the death of two friends to C0VID, who were friends of 45 years, and one to whom he is godfather to his son.
Pierce returned to Kauai before the shutdown of normal travel in March. "I was on a plane the next day. I was told I might not get out, and I wanted to be with my family."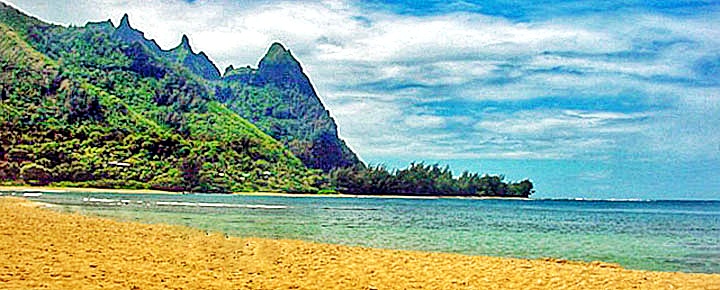 Pierce and his wife of nearly twenty years Keely Shaye Smith recently donated $100,000 to Hanalei School. They have been part-time residents and supporters of the Garden Island's North Shore community for more than a decade. They split their time under normal circumstances between Kauai and Malibu. Their Kauai home is found near Tunnels Beach (pictured above), not far from Hanalei Bay pictured below, where Beat of Hawaii swims often in summer.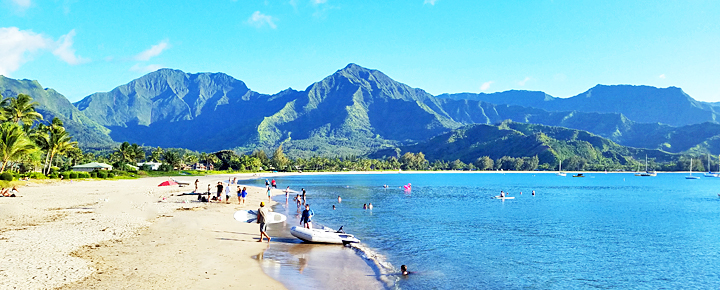 Also read:
Celebrities on Kauai | Bette Midler Property Sells
Mark Zuckerberg's Rare $1 Million Kauai Relief Donation
Lead photo credit Instagram. Other photos © Beat of Hawaii.