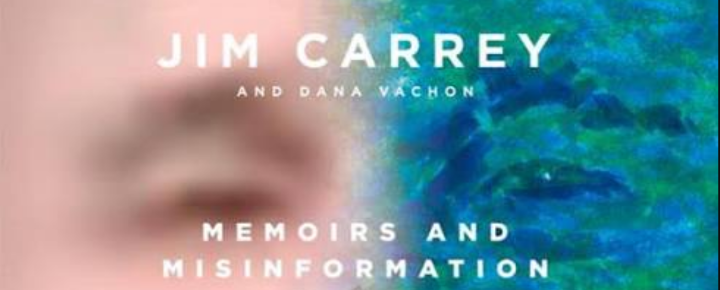 We listened to Sirius XM's Howard Stern Show. Funny as we ran into Howard not long ago in New York's West Village. The interview was to talk about Jim Carrey's new book, Memoirs and Misinformation. Jim waxed nostalgic rethinking how it felt at that instant when he received the text of all texts at his Maui home, saying missiles were heading to Hawaii, and thought, "What can I do with this last moment?"
Read: False Hawaii Missile Alert | Twitter Blues + Our Experience
Of interest to Stern, and memory jogging personally to us, was the cover photo for the book. That photo was snapped just seconds following the inadvertent Hawaii alert text to all of our cell phones which stated: "Ballistic missile threat inbound to Hawaii. Seek immediate Shelter. This is not a drill." Oh how well we still remember it to this day. Your editors were in Honolulu at the time, doing work for Beat of Hawaii.
NY Times best-selling author Carrey said, "My assistant Linda, who at the time was warning me that we had 10 minutes to live, and she was clutching the phone so tightly that she actually accidentally took a screenshot… And this is my face staring into the abyss…this is my face after I've been told I have 10 minutes to live."
Jim went on to say that he felt the photo was perfect in its depiction of "misinformation."
Carrey is on a book publicity tour and we also caught him on last night's "Tonight Show." He said about the text, "It was completely real to us," saying he tried to get off the island with his daughter, but he couldn't.
Carrey went on to talk about saying his goodbyes and going to the beach for what he thought were his life's final moments at the ocean. "I just decided to go through a list of gratitudes, and honest to God, I just could not stop thinking of wonderful things that have happened to me and blessings I've had… It was lovely… And I got to a point of grace at about two minutes to spare when I found out it wasn't actually happening. All I was planning to do was closing my eyes and be thankful because it's been a good ride."
Then, on finally learning that the entire thing was a ruse, he said, I got p*ssed off and heads rolled."
Singer Diana Ross was also in Hawaii for the episode, and said that she became "very frightened" on receiving the alert. She said she evacuated to a hotel basement.
As for us, Jeff said this was absolutely not real, and after a few minutes, we went back to work and started thinking about writing about the whole thing on Beat of Hawaii.
Did you get the infamous alert?
Disclosure: We receive a small commission on purchases from some of the links on Beat of Hawaii. These links cost you nothing and provide income necessary to offer our website to you. Mahalo! Privacy Policy and Disclosures.