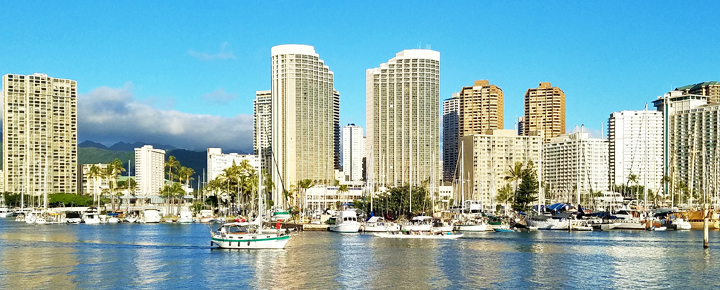 As you are well aware, a scary Hawaii missile alert hit phones in Hawaii about 10 days ago. The alert read, "Inbound Missile Alert – Take Cover, This is Not a Drill." It took over 30 minutes for a false alert to be issued even though officials knew the error within minutes. We learn today that the governor could not find his Twitter login credential to stop the chaos earlier.
Let's just say that a Hawaii missile alert was no way to start our day in Hawaii. We were in Honolulu following our flight and trip report on the inaugural Hawaiian Airlines A321neo. Before returning to Kauai we had planned a relaxing weekend in the city and were in local neighborhood staying at an Airbnb.
While we learned that there was panic in Waikiki and elsewhere, our neighborhood seemed relatively quiet and normal. There were no air raid sirens blasting or other alert notices posted online. That seemed very odd. It felt like something else was up and not to worry. But there was still a level of anxiety as we wondered why other notices were not forthcoming. And today we know more about why….
Governor Didn't Have His Twitter Credentials!
It took the state an infamous 38 minutes to retract the alert, inasmuch as there was apparently no provision in place to correct previously distributed emergency notices. The governor was actually aware within a couple of minutes that this was a false alarm. It is being reported today, however, that he did not have his Twitter login credentials needed to dispel fear. Going forward, you can rest assured that the governor knows his password. It's also a good reminder for everyone to keep passwords handy for emergency situations.
Emergency Notices in Hawaii.
Luckily these have proven to be false or irrelevant much of the time, although you still have to take them seriously. The last tsunami warning closed roads on Kauai and resulted in a three inch wave. NOAA flood warnings often only occur after the flooding is well under way. When we receive an alert, we go to additional sources to verify the level of threat if there is any. Obviously any emergency alert is important in order to protect personal safety.
Comic Relief.
Now that it's over, there are t-shirts on the market with a comic spin of what happened. We also found a YouTube video called, Staying Alive (the Hawaii Missile threat) by Frank Delima that is worth a look.
If you were in Hawaii on January 13, 2018, tell us what it was like for you?
Disclosure: We receive a small commission on purchases from some of the links on Beat of Hawaii. These links cost you nothing and provide income necessary to offer our website to you. Mahalo! Privacy Policy and Disclosures.