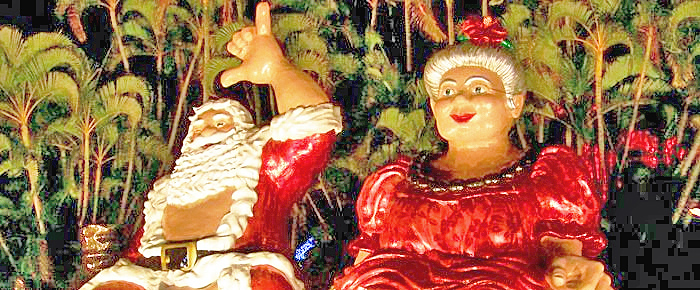 We're waiting for the Black Friday and Cyber Monday Hawaii deals to be released and again predict there will be many of them! Check back for those later this weekend.
Plus if you have time to fly between now and early December or starting in January, there are truly great deals to be found. See the current Unpublished Hawaii Fare Wars | 21 Routes Through Next October $172-$228. Also check for last minute deals on Hawaiian Airlines among other carriers.
Christmas in Hawaii is about as far from a traditional White Christmas as you can get. Well, maybe except for the white sand beach.
Spend Christmas in Hawaii | Are There any Hawaii Deals?
Well no, there aren't deals to Hawaii at Christmas but read on. Prices for the upcoming peak holiday season are running at a traditionally high $700-$1,000+ round trip from most west coast locations. Demand for those prized dates is even higher than normal.
Beat of Hawaii Tip: The only hope for lower airfares is to keep checking for any last minute availability. Even the holiday days themselves and their respective eve's are quite expensive. We discuss holiday pricing further in The Cheapest Time to Fly to Hawaii. Otherwise our best value suggestion is if possible, take your Hawaii vacation in either early December or starting again early in the New Year.
Christmas in Hawaii Today
Christmas in Hawaii is still celebrated with many traditions, our favorites being a Christmas Day ocean swim and relaxing at the beach. Other Hawaii Christmas traditions include:
Beautifully decorated and lit homes – sometimes you don't recognize them when seen during the day.
Garage parties – a year around Hawaii tradition.
Boat and land parades on all the islands.
Hawaiian Christmas music – what's your favorite island holiday tune?
Honolulu City Lights – a fabulous city hall celebration that's been taking place for over three decades with grand displays of trees and wreaths, live entertainment, contests, and a parade. Starts December 2, 2017.
Historic Maui banyan tree in Lahaina – illuminated throughout the holidays.
Decorating palm trees on all the islands.
Festival of Lights at the historic county building on Kauai. Starts December 2, 2017.
First Christmas in Hawaii
The first known Christmas in Hawaii occurred in 1786, here on Kauai when a merchant ship was docked at Waimea, and the crew celebrated Christmas with roast pig. While merchant ships have been replaced by Matson oceanliners, the tradition of roast pig continues to this day.
Before westerners arrived, Hawaiians enjoyed Makahiki, a winter festival which prohibited all wars. Lasting from about November to February, work stopped, offerings were made and feasts, dance, sport and other celebrations occurred.
However you celebrate the upcoming holidays and Thanksgiving this week, enjoy.