Hawaii Costco stores are as popular with visitors as they are for those of us who live here. We're told by management that one-third of all Costco Hawaii sales are to visitors.
So here's a list of things we both highly recommend you look for and some flops you may want to avoid on your Hawaii vacation.
Here's something surprising you won't find at Costco: Ukuleles. Costco Hawaii stores have sold those occasionally but no longer have them in stock.
1. Flower Lei.
Not called leis, the same word is singular and plural in Hawaiian. In any event, Costco regularly stocks lei with starting prices as low as $5 each (actually, two for $9.99). They also sell more interesting lei for prices starting at about $15 and up.
BOH: If you're at Costco, it's a great place to pick them up, If you're looking for something more exotic, however, this isn't the best choice.
Here's a tip on how to present a lei to someone. Drape it over their shoulders instead of their neck. A lei is a way to honor the recipient on their birthday, anniversary, or another personal milestone. It can be given or worn at any time and for any reason, and has become a symbol of Hawaii.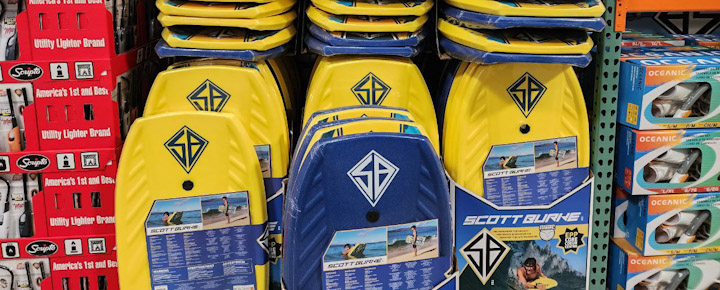 2. Surfboards and bodyboards.
There's no better place to get in the water than here for surfing and bodyboarding aficionados. With year-round places in the islands, pick up a board in Hawaii, then take it home with you when you leave. Some Costco employees say visitors want to return their boards to Costco before leaving the islands. Costco has no "board loan" program, so if it's been used, you're out of luck. Read below if your airline will charge you to send it home.
On a recent visit, we noticed Costco selling great one and two-packs of decent bodyboards. Those pictured above were just $45. There were also surfboards in stock. The 8-foot foam ones below were just $120. They also sometimes sell paddle boards.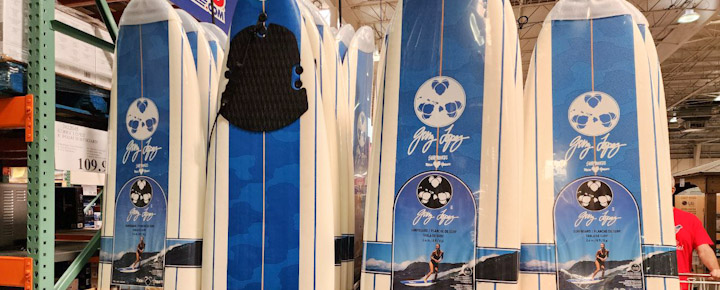 BOH: The bodyboards are a great value. We saw the same ones at Walmart for $35 more.
By the way, here's how that works to get your boards home from Hawaii:
On American Airlines, surfboards are charged at the regular checked bag fee. No surcharge.  The same is true at Alaska Airlines, which considers a surfboard as luggage. Southwest Airlines has a great deal in that surfboards under 50 pounds fly as one of your two free checked bags. For heavier boards, that will set you back $75.
On the other hand, Delta Airlines has a fee of $150 for surfboards, so if you're traveling with them, this may not be the best plan. Hawaiian Airlines charges $100 for a surfboard to be checked.  Lastly, United Airlines considers surfboards as normal checked bags to California, from what we've learned. If, on the other hand, you're traveling beyond California, expect to pay no less than $150 for your board to travel with you.
BOH: Bodyboards at Costco is a good value. It's best if you fly Alaska, American, or Southwest when traveling with a surfboard.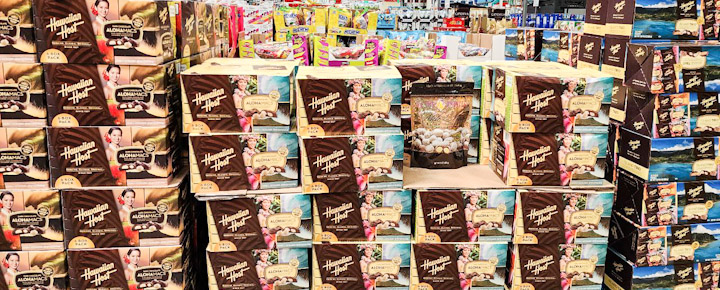 2. Candies, nuts, and chocolate-covered mac nuts.
These popular candies and a plethora of others are available at Hawaii Costco stores. They come in bulk cases for gifting and in bags for eating, with some individually wrapped. Mac nuts in 6-packs are also for sale. Many think that macadamia nuts originated in Hawaii, but they are actually indigenous to Australia. They were introduced to Hawaii in the early 1880s and are primarily grown on the Big Island.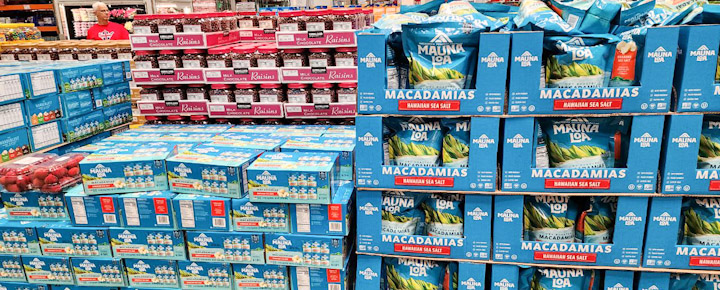 BOH: typically great prices compared to grocery and specialty stores, Walmart, Target, or Longs.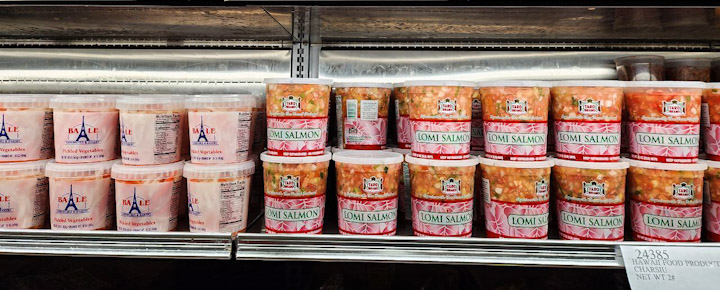 3. Fresh local sushi and Hawaiian poke.
Popular with both visitors and locals, Hawaiian poke is sold in various forms at Costco. Not only that, but Hawaii Costco stores also prepare local sushi (from $9.49) in each store. Reasonably priced and high quality.
BOH: A great lunch or dinner takeout while at Costco. Poke is a traditional Hawaii dish of diced raw fish. This Lomi salmon was $12.99. This is now a global phenomenon. We even saw Poke stores in London last month.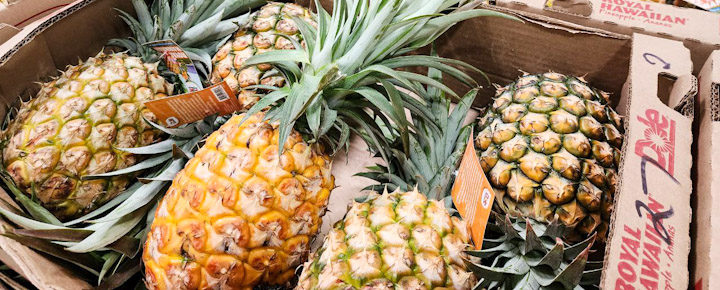 4. Local Hawaii Pineapples.
You might be able to find more interesting pineapples in Hawaii at the farmers market, but for year-round availability and under $4 pricing, it can't be beaten. The pineapple from Costco is locally grown on Maui. Pineapple can also clear agriculture at the airport, provided it's in good condition with no soft spots.
5. Hawaiian-style car seat covers.
Again popular with residents and visitors, these can slip on your car rental seats before making their way home. Reasonably priced and relatively long-lasting, in beautiful Hawaii-themed motifs, starting at about $20 for a 2-pack.
6. Hawaii Beer, wine, and spirits.
Many selections, including these cases of Hawaii-style beer for $31 (24 cans) and organic Maui vodka.
7. Sunglasses.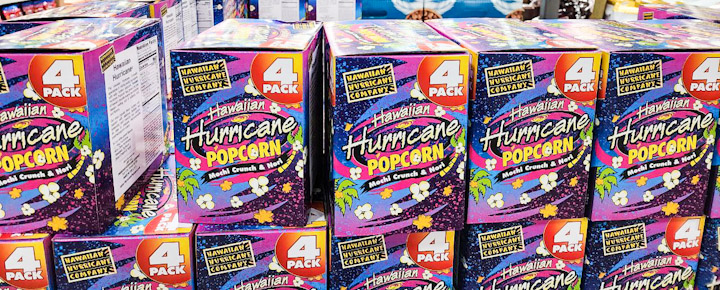 8. Many local products from Hawaii.
Local Products: Hawaii Costco stores specialize in many local products. Those range from mac nuts, coffee, chips, and snacks, to cookies, bread, honey, and more. Also, check-out Hurricane Popcorn for $15.49.
9. Local seafood.
From Kauai Shrimp to Hawaii caught ahi ($16.99 a pound), ono, swordfish, and others, depending on the season. Perfect for your vacation rental BBQ.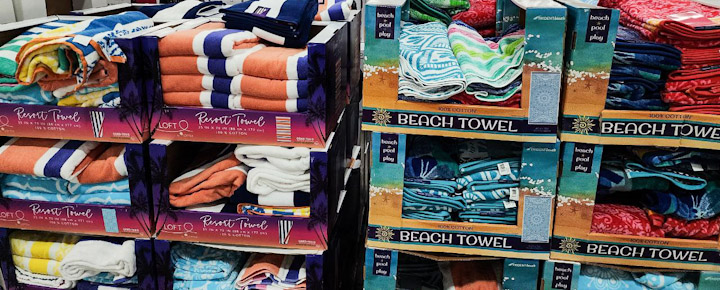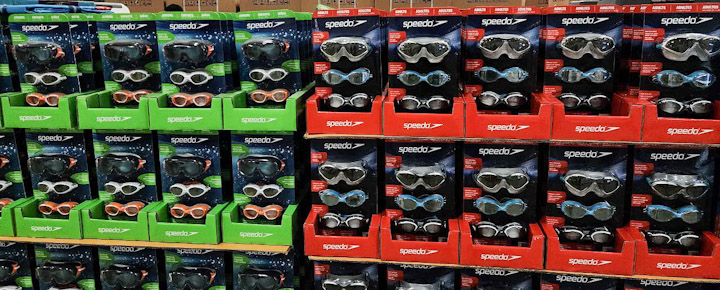 9. Everything for the beach.
From Hawaiian design towels ($11.00) to reef-friendly sunscreens, snorkeling gear, swim goggles (3 for $16), bathing suits, and more.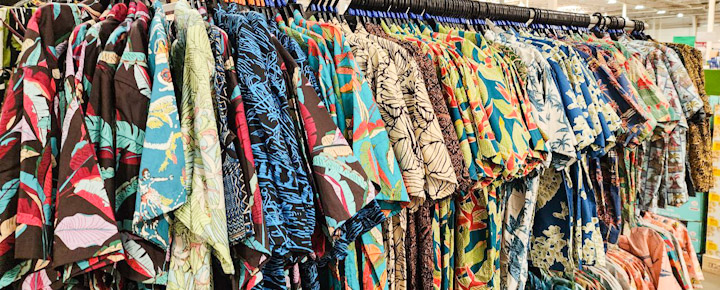 10. Hawaii souvenirs of all kinds.
Whether for yourself or others, consider Hawaii t-shirts ($19.99) and other apparel, hats, and more that will keep your trip memorable for years after you get home.
What Costco Items Should Hawaii Visitors Avoid
1. Milk products.
Unless you need large quantities, you're probably better off at Safeway stores or Target. That's true for milk, cream, butter, etc. For the same price at Target, you can buy organic milk in 1/2 gallon quantities without buying three.
2. Produce.
Some of it is okay, but it can also rot quickly and is in large quantities. We can get frustrated with the shelf life of their produce, and we live here. But going back to the store to return it – no thanks.
3. Soft drinks and bottled water.
Again mostly in too large a quantity to be able to use on a vacation. Try Target, Safeway, or Walmart instead.
4. Anything else sold in too large a quantity.
They run the gamut of their products, and sometimes it's even hard to use them up when you live here.
And a questionable one: Should you buy Costco gas?
It all depends. Previously we wrote, "Hawaii visitors don't waste time buying at Costco." That article piqued your attention, has been read 100k times, and has many interesting comments.
Today the difference in price was small compared with the neighboring gas station. But if you're already at Costco and there isn't a long line, why not. On the other hand, the potential savings in relation to a very long line probably doesn't make sense when you're on vacation.