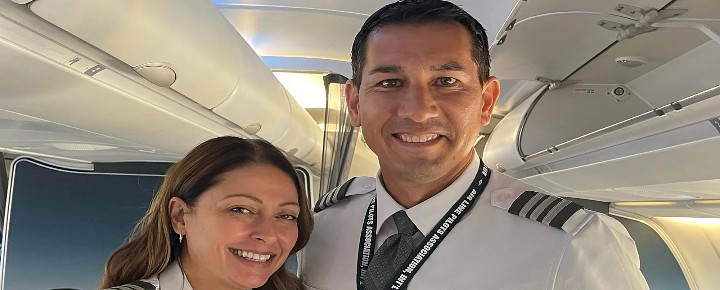 Since we last wrote about this, all signs are pointing to U.S. Congressman Kai Kahele entering the race to become the next Governor of Hawaii. If the 47-year-old Hawaiian Airlines pilot does run, polling indicates he just might have a good chance at winning. Kai Kahele is an active A-330 wide-body pilot who, according to the airline, can still be found on "occasional flights." In fact, he piloted a flight your editors were on, just before Covid.
We should know all the details by next week in this fluid, fast-changing situation.
Why is Beat of Hawaii writing about this?
We are looking at this strictly from a travel perspective. This is in no way an endorsement.
Would this Hawaiian Airlines pilot make a good Hawaii governor? Honestly we don't know. But it certainly begs the question of what it might mean for Hawaii in relation to the visitor industry. Hawaii is at a critical point in reevaluating tourism and how it'll work going forward.
Kai certainly brings significant travel experience, as well as being Native Hawaiian, and a decorated war veteran, to his gubernatorial resume. His run, however, isn't without multiple controversies. Among other things, he'd been absent from Congress for most of this year's term, citing the Covid voting policy as the reason. That while at the same time seen piloting HA flights and out in public. More on that below.
This election comes with Hawaii facing these critical tourism issues:
1. Visitor destination management and marketing plans. The state wants to educate and attract island visitors in changing ways. Protecting the environment and quality of life here remain crucial, among other things.
2. Soaring visitor taxes and fees. You've complained countless times in your comments. There's the sense among many that we are biting the hand that feeds us with sky-high taxes on visitors. Some say that aloha has gone missing, while others disagree.
3.  Undeniable over-tourism. From our perspective on the ground, this is a very real issue. Hawaii is still preparing to exceed all prior visitor numbers, first domestically this year, then internationally, especially as soon as Japan tourism returns to normal.
4. Visitor alienation. Many express they aren't sure how welcome they are in Hawaii by the locals who live here.
Governor Ige and Lt. Gov. Josh Green had no tourism background.
Hawaii Governor Ige is term-limited and will leave office via this November's election. Ige worked for Hawaiian Telcom in various engineering positions for nearly two decades. He became governor after years in the state senate, where his legislative career was largely focused on the state's IT and telecom initiatives.
Lt. Governor Josh Green, an Emergency Room physician too, is also running for Hawaii Governor and has been considered the front-runner to replace Ige, until Kahele showed up on the scene. Green has been mired in controversy and conflict with Governor Ige for years, largely as it relates to Covid policy.
Others are already lining up for Kahele's job.
In the meanwhile, others are already posturing to assume Kahele's job in Congress. Honolulu's Council Chairperson, Tommy Waters, is said to be "seriously considering" running to replace Kahele. He said "I am still strongly considering running should the seat be open." Both Kahele and Waters are Native Hawaiian. But it doesn't end there, as others are also planning to try for the not yet officially vacated Congressional seat. That includes State Senator Jill Tokuda.
Controversy.
The U.S. Congressman's representative told Civil Beat in a recent article about whether Kahele has given up on Congress, that Kai is an "an active member of the airline union, the ALPA Pilots Union, and is a certified commercial pilot and active member of Hawaiian Airlines. He does still fly occasional Hawaiian Airlines' flights to maintain his certification."  The pilot reported that he earned about $120k from the airline in the most recent 2020 financial disclosure. How much he made before being elected, however, isn't an issue, so long as he follows the $29K cap on outside income now that he is in Congress.
We have never heard of a commercial pilot earning less than $29k, even for part-time work. Since we have quite a lot of pilots here, however, please let us know your thoughts.
Also, Kahele was finally seen in Washington this week after being noticeably absent. He said that although he'd been absent from DC, he hadn't missed any voting opportunities.
Kai is the second Native Hawaiian to serve as a voting member of Congress.
The first was Daniel Akaka. Kai is from the town of Milolii on the Big Island and has a BA from UH Manoa.
He's both a Hawaiian Airlines pilot and a military pilot and remains a lieutenant colonel in the state's Air National Guard.  Kai is a decorated combat veteran, too, who served in both Iraq, and Afghanistan, flying 108 combat sorties.
Please share your thoughts with us.
Updated 4/29/22.
Disclosure: We receive a small commission on purchases from some of the links on Beat of Hawaii. These links cost you nothing and provide income necessary to offer our website to you. Mahalo! Privacy Policy and Disclosures.