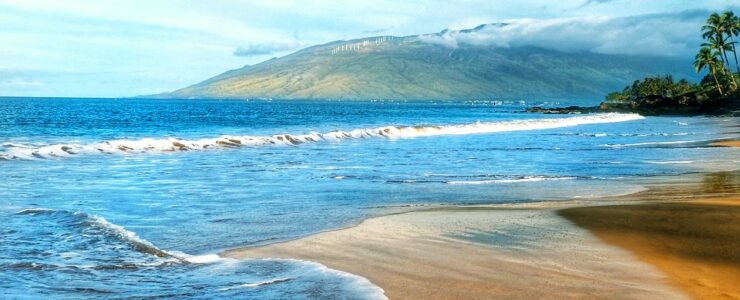 Hawaii's Governor is away from the helm at a seemingly critical moment. He is in Glasgow Scotland for the UN COP26 Climate Change convention, which goes through November 12. There was no mention of the trip on the Governor's otherwise frequently used Facebook page, although the news was contained in a DLNR press release yesterday.
It's a tough call. COP26 is touted as the most important world conference on global warming in years. And Hawaii is suffering from climate change as its beaches are rapidly eroding. Oahu, Maui and Kauai have already lost one-quarter of their sandy beaches, and, as the ocean continues to rise, that is projected to get much worse.
Hawaii is committed 100% clean energy.
Hawaii is one of 25 US states committed to reducing greenhouse gas emissions as quickly as possible. Ige said yesterday, "I want to make it clear that government action at the sub-national level is needed, doable and in line with how our society can and should function. Climate change is an existential threat and like traditional navigators in Hawaiian voyaging canoes, we can see storm clouds ahead."
Safe Travels changes due to take effect November 8. 
We have been anxiously awaiting the next set of announcements due out regarding how the rules of Safe Travels will evolve effective November 8. That is caused by the federal government changes associated with international travel.
Something needs to happen soon to address international visitors at a minimum. Otherwise, as it stands today, most of those would need to approach Hawaii via an interim stopover on the US mainland in order to be tested per the current Safe Travels rules.
As we mentioned yesterday, Hawaii's plan is to announce a further reduction in Safe Travels restrictions before the New Year that would actually go into effect in early January 2022. In the meantime, however, Hawaii must have a plan for international arrivals effective November 8.
The next announcement should provide for Covid testing from sources outside of the current list of Safe Travels trusted partners. Those partners are not available in the myriad of countries from which Hawaii will receive visitors starting next Monday.
Keep in mind that for the time being, the remaining Hawaii Safe Travels protocols will remain in place, including vaccination and testing options, uploading of documents, and completing a health questionnaire before travel. Any further changes will wait to be announced until next month and go into effect in January.
Why next announcement could wait.
Governor Ige would normally give the Safe Travels announcement responsibility to the next in line, Lt. Gov. Josh Green. And that could of course happen again. On the other hand, Ige is loath to give any credit to Green, who will run for governor against Ige's choice, past Honolulu Mayor Kirk Caldwell. So it will be interesting to see how this pans out.
Incumbent Governor Ige is term-limited, meaning he is not eligible to run for yet another term.
Hawaii Travel, climate change and politics Clash With Governor in Europe
With Hawaii Governor Ige In Scotland – Will Pending Safe Travels Changes Wait
Disclosure: We receive a small commission on purchases from some of the links on Beat of Hawaii. These links cost you nothing and provide income necessary to offer our website to you. Mahalo! Privacy Policy and Disclosures.