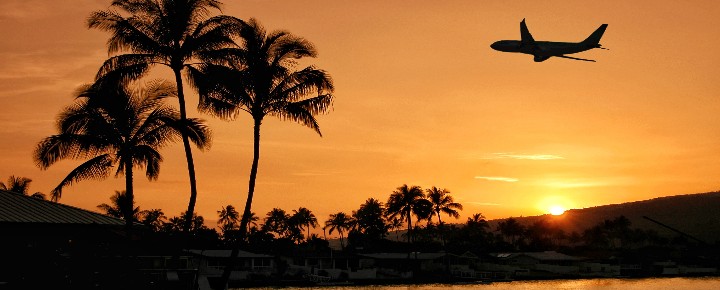 A risk-averse governor is helping cripple Hawaii tourism per two high-placed officials. As you know, the Governor has continued to request that visitors stay away from Hawaii at this time, despite a dramatic drop in COVID here.
Mufi Hannemann, prior Honolulu mayor and president of the Hawaii Lodging and Tourism Association, said that the lack of a "positive statement soon from the governor that we're ready to open up again" is severely injuring Hawaii tourism's recovery.
Hanemann said that the Governor's proclamation (we'd say together with other factors) has resulted in a drop of nearly fifty percent in the hotel occupancy rate.
But is that wholely true? Hannemann said that airlift had plummeted from "225,000 on a weekly basis over the summer… to 150,000, or even less." Our take is that the downswing in visitor arrivals is instead a combined result of the Governor's proclamation, regular seasonal changes, plus general traveler concern about travel during the recent upswing in COVID.
Lt. Gov. Josh Green's take on Governor Ige.
It is hard for anyone to predict what route Governor Ige will take next. And that has been the case throughout the pandemic, and in fact, well before.
Hawaii's Lt. Gov. commented about Governor Ige in the current situation, saying Ige "is super risk-averse and doesn't want to risk any slippage and I never like to predict where the governor will go because I don't have the capacity to make these decisions, of course, as lieutenant governor." Ige's concerns are in spite of the fact that the state Department of Health says that less than 1% of Hawaii COVID is as a result of visitors.
Governor Ige term as Governor will end soon.
Ige will term out as Governor effective November 2022. Lt. Gov. Green is by far the most likely candidate to replace Governor Ige. To what degree politics influences the interactions between the two, we can't say. It is unlikely, however, that Ige will support Green in his gubernatorial run. Green said that Ige is very conservative and that it was traumatic for the Governort when the state went to nearly 500 hospitalizations last month. Green now expects to see an easing of restrictions starting within the next two weeks.
And yet last week, Ige extended executive orders for an additional two months. Could it get any more confusing?
Most travel stakeholders are publicly quiet, but not all.
Outrigger Hotels president Jeff Wagoner was at the same news conference with Mufi and said that "a positive statement soon is critical in order to get travel back in Hawaii in a safe way." He added that the Governor's August 23 announcement made front-page national media and resulted in cancellations that far outpaced bookings. "But now, it's time to look at the economic health of our community."
Other travel stakeholders have not made any public statements, which is in keeping with normal Hawaii tradition.
What's next?
Green is anticipating changes that would eliminate most restrictions soon, although what specifically would occur has not been addressed by him and remains within the purview of the Governor. Mufi added that he too is encouraged and in fact highly optimistic that Ige will make the announcement soon that visitors should return to Hawaii. That will also serve to eliminate the confusion that Ige's August request that was "without teeth" has caused.
Wagoner said that what is needed now is a simple, non-ambiguous statement that "Hawaii's open for travel."
Disclosure: We receive a small commission on purchases from some of the links on Beat of Hawaii. These links cost you nothing and provide income necessary to offer our website to you. Mahalo! Privacy Policy and Disclosures.