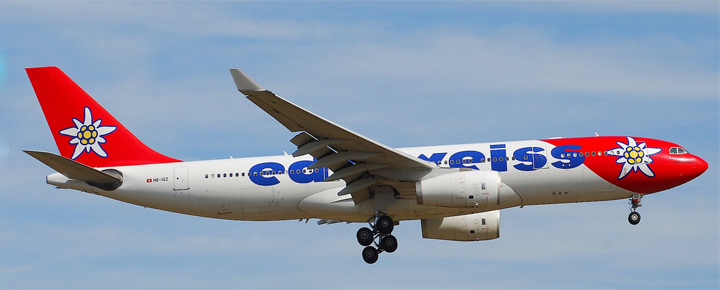 It has long been expected that nonstop flights from Hawaii to Europe would happen. In fact we've been writing about this for over five years. The question has just been when and by which airline. Now a strong possibility exists with Edelweiss Airlines. This big player in Europe is a subsidiary of Lufthansa and based in Zurich. Read on for details.
Lufthansa owned Edelweiss Air to the front of the line.
Swiss/Lufthansa subsidiary Edelweiss Air is the company making big Hawaii plans. These were recently discussed in a Swiss newspaper article (English translation here) which is said to be based on insider information.  Here's what is apparently in the works and could be announced shortly:
1. Nonstop flights from Zurich to Honolulu using A340 aircraft.
2. Flight time of 14-15 hours.
3. Flights to begin as early as December 2016.
4. 40 current route spokes will serve to bring people to their Zurich hub for the flights.
View from Beat of Hawaii.

The market demand for these 14 hour flights of course won't be known until later. Our gut feeling is that it might just work. The reason is that Europeans can't get enough beach vacations (who can) and alas there is but one iconic Hawaii for them to explore. The problem up to now is that visiting Hawaii requires an intermediary stop on either the east or west coast and an additional 5+ hours each way of transit time. In fact, flying from Hawaii to Europe does not take significantly longer than flying from the west coast to Europe. That in part due to the extreme polar flight (route image below).
We are anticipating that Hawaiian Airlines will at some point also try flights to Europe. That following arrival of their new longer range A330-800NEO planes. Those planes (six of which are on order) will begin deliveries in just over one year. Their plans may now be preempted by this carrier we are learning more about for the first time.
Edelweiss Air spokesman Andreas Meier declined to comment on their plans other than to say that "It is right that we consider currently several options to expand our route network in the coming years with new leisure destinations." The company has other big vacation destination expansion plans and will begin service from Zurich to Costa Rica and to San Diego in 2017.
Here in Hawaii we may be singing the popular song from Sound of Music soon.
Disclosure: We receive a small commission on purchases from some of the links on Beat of Hawaii. These links cost you nothing and provide income necessary to offer our website to you. Mahalo! Privacy Policy and Disclosures.