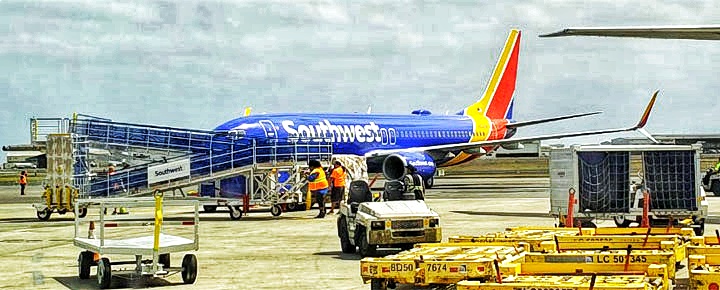 We read recently that there might be a problem this upcoming holiday season with Southwest Hawaii flights. That warning came after the union representing Texas-based Southwest pilots (and those at American Airlines) asked for exemptions to the federal vaccine mandate for contracting companies.
We weren't, however, expecting to see 40 Southwest Hawaii flights canceled in just one day, as is happening in the islands today. Network-wide, SWA abruptly canceled over 800 flights yesterday and more than 1,000 today.
The problem has now become very noticeable in Hawaii. And we don't know how long it could go on.
Last Monday, SWA announced that it would comply with the December 8 federal deadline for airline employees to be vaccinated. The order covers all federal contractors. SWA said vaccination will be required "to continue employment with the airline." CEO Gary Kelly added, "Southwest Airlines must join our industry peers in complying with the federal government's COVID-19 vaccination directive." American Airlines also said it would comply.
Conflicting stories as to what caused this weekend's massive cancelations.
Southwest said it was a result of "ATC (air traffic control) issues and disruptive weather." Is that true? For whatever reason, other airlines don't seem to have been impacted. Southwest pilots union said they are "aware of operational difficulties affecting Southwest Airlines today due to a number of issues, but we can say with confidence that our Pilots are not participating in any official or unofficial job actions. Our Pilots will continue to overcome SWA management's poor planning, as well as any external operational challenges, and remain the most productive Pilots in the world."
At the same time, it is being reported that the FAA is not having any ATC issues. The agency said, "no FAA air traffic staffing shortages have been reported since Friday." Hmmm. We aren't sure what to make of that.
If you are on Southwest Hawaii flights in the next day or two or during the upcoming holidays, however, this could be a big problem if it isn't resolved.
Southwest Hawaii flights that were canceled or delayed today.
According to FlightAware, there are in total 40 Southwest Hawaii-inbound and outbound flights canceled today, in addition to others that are delayed. All of the other airlines flying to Hawaii had only one flight cancellation between them.
The Southwest cancellations are as follows:
Honolulu – 20 flights canceled today.
Maui – 9 flights canceled today.
Kauai – 5 flights canceled today.
Big Island – 6 flights canceled today.
What about SWA Hawaii personnel in relation to Safe Travels?
We were also left wondering about any unvaccinated Southwest Hawaii personnel. As far as we know, they, they like rest of us, are required to comply with Hawaii Safe Travels. That means they must either be vaccinated, be tested within 72 hours of their flight to Hawaii, or be in quarantine during their stay in Hawaii. Do you know if that is happening?
Will this impact your plans to fly Southwest to and from Hawaii?
Disclosure: We receive a small commission on purchases from some of the links on Beat of Hawaii. These links cost you nothing and provide income necessary to offer our website to you. Mahalo! Privacy Policy and Disclosures.