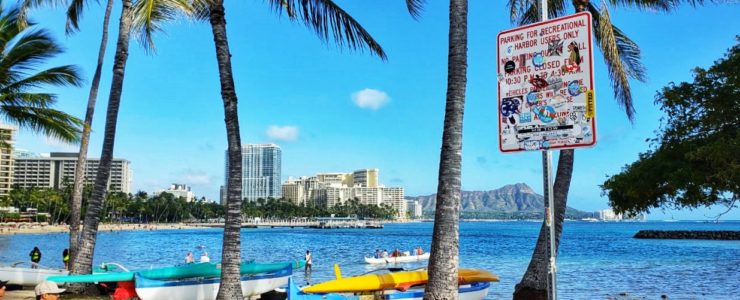 Yes, free parking Waikiki is possible, even with the exquisite view pictured here. And tracking where to find it along with cheap parking Waikiki is something we've made a tradition for years. It's a passion, even a bit of a game if you will. Yesterday, we scoured Honolulu again and we saved using these tricks. It is easy to save as much as $35 per night or more in hotel parking fees, which is no chump change.
Whether you're staying at a hotel in Waikiki or just parking there for the day, read on to save enough money for an evening on the town!
Free Parking Waikiki + Cheap Parking Waikiki in 2022
There are some easy alternatives to paying ever more expensive parking rates in Waikiki. Below are seven of our favorite places to park in Waikiki, followed by three tips not to be missed.
We're talking about Honolulu having some of the more costly parking rates in the country. Here's our updated list starting at the Ala Moana side of town and heading up to Waikiki's Diamond Head side. Please let us know your tips too. Also, things can change rapidly, so be aware of signs regarding parking regulations.
1. Ala Moana Beach Park.
If you're staying at any of the hotels near Ala Moana, there is free all day but no longer overnight parking alongside the park on Ala Moana Park Drive. Always be sure to read signs carefully. We're guilty of having gotten a ticket ourselves here by not reading.
Tip: It gets very busy on weekend days with beachgoers at Ala Moana. A suggestion is heading to the mall for covered parking during the day.
2. Ala Wai Boat Harbor area, near Hilton Hawaiian Village.
You'll also still find a lot of free parking behind the Illikai Hotel and the Hilton's Duke Kahanamoku lagoon. But remember these free Waikiki parking lots have a 6-hour maximum. Google Maps. Lots tend to get crowded and people will wait for others to leave.
You will also find a paid lot here that is open 24 hours a day for $1.00 an hour (no in/out privileges). So if you are staying in the part of Waikiki, you can park at the free lot during the day and this one can work overnight.
Tip: The parking lot on the right side (towards airport) has many more spaces and fewer people queuing for them. While others sit in their car waiting, park there and you'll already be at the beach.
3. Ala Wai Canal.
Get there early and you may find free parking along the Ala Wai Canal (no parking Monday or Friday from 8:30am to 11:30am). Continue on Ala Wai Boulevard until you are on the opposite side of the canal from the convention center for more free spaces available 24 hours a day. It can happen, we recently found open spaces at around 10:00am. Image below.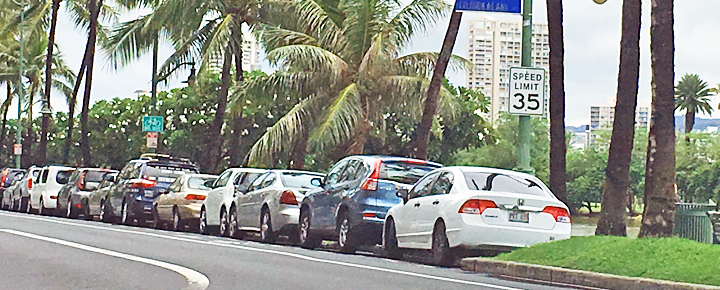 4. Waikiki Shell.
On the Diamond Head side, at the Waikiki Shell, you'll find free unlimited time parking which is almost always available on Montserrat Avenue. You can park overnight too. Do watch for signs indicating occasional closures for special events. The nearby zoo lot charges $1.50 an hour (credit cards accepted) with a 4-hour maximum at any one time. We've parked overnight here many times over the years without issue.
Tip: This works great for day parking as well as overnight parking at nearby Waikiki Hotels. Google Maps.
5. Diamond Head Road area.
There is abundant metered parking all along Diamond head road. The fee is 50 cents per hour and it is free on Sundays and before and after parking regulation hours. You can park overnight.
6. Kaioo Drive and Wai Nani Streets.
Located at opposite ends of Waikiki, these streets still have free parking too.
7. Side streets off of Kalakaua and Kuhio Avenues.
Here you'll find metered parking with a range of prices starting at $1 per hour.
Three additional tips.
Parking meters are not enforced on Sundays!
Some take credit cards, but definitely not all.
It is highly recommended that you come with a bag of quarters.
Disclosure: We receive a small commission on purchases from some of the links on Beat of Hawaii. These links cost you nothing and provide income necessary to offer our website to you. Mahalo! Privacy Policy and Disclosures.