The head of the Hawaii Lodging and Tourism Association (HLTA) is warning that if Kauai tourism doesn't improve, and do so very soon, a huge percentage of businesses will fold permanently. The Kauai Chamber of Commerce echoed that sentiment based on their recent member survey. This is no joke, and neither is COVID. This is all devastating.
Mufi Hannemann of HLTA and prior Honolulu mayor expressed that the Kauai arrival options (3-night resort bubble with the second test, or visit another island first with the second test, or a 10-day quarantine) are hard to explain and even more challenging to sell to potential travelers. He added that "Federal relief and state assistance will not be enough to spur economic recovery on the Garden Isle." Hannemann wants Kauai to modify its travel rules while not threatening its health-based concerns. Kauai's business community is telling HLTA that "The changes aren't working and that these latest tweaks won't make enough difference." Read on and that will be abundantly clear.
Kauai vacation arrivals now average fewer than 20 per day.
Travel to Kauai is at a virtual standstill since it opted out of the Safe Travels program six weeks ago. Since then, and with a mandatory 10-day quarantine, the island went out on its own with two options to quarantine. Those include both an unpopular and complicated resort bubble or a 3-day night stay-on-another-island-first plan. These measures haven't amounted to anything substantial, and have instead resulted in Kauai vacation arrivals remaining at near zero.
Hawaii Tourism Authority data reveals dismal Kauai vacation arrivals.
For the week ended January 20, Kauai had 25, 9, 18, 9, 32, 21, and 20 trans-Pacific arrivals each day designated as "pleasure/vacation," for a total of 134 for the week, or an average of 19 per day. Overall, the state had a total of 27,768 "pleasure/vacation" visitors or an average of 3,967 per day. That is according to the state HTA's passenger arrival data.
Kauai Chamber of Commerce catastrophic member survey results.
Last month, a Kauai Chamber of Commerce survey of its members indicated that 49% of those responding felt that their businesses would no last more than 3 additional months without a significant improvement to the island's tourism.
Kauai's largest hotels aren't even open and don't have plans to resume business soon.
Neither the Sheraton Kauai nor the Grand Hyatt, both at Poipu Beach, are open, with the Hyatt saying it will be at least March before it would even consider restarting. Except for a brief return to business before the last shutdown, these island mega-employers have now been closed for nearly 10 months.
Other stakeholders say that the variability of rules, especially those related to Kauai, harms Hawaii tourism overall. People don't feel comfortable with the changeable island-by-island regulations. It is hard to keep up, even for us. That's why we created our Hawaii COVID travel guide.
Let the comments begin. Here's what you have been saying:
(Clifford) "For 13 years, my wife and I have happily vacationed for 3 weeks on Kauai… We considered Kauai's special "resort bubble" option, but found it too complicated, too restrictive and way too expensive. It would cost us an extra $800 to stay at a hotel that we really don't want to visit, $160 for 2 arm bracelets and $400 for 2 post travel testing. This is just not something we want or are willing to do. If Kaua'i does not change its travel restrictions within the next few days to be in sync with the rest of Hawai`i, we will cancel our trip and vacation elsewhere. This just does not make sense."
(Greg) "If I had the leisure to travel at will, if I really needed to come to Kauai, I would spend time on another island first, then test and arrive free to Kauai, but most likely, I would simply go elsewhere and not come to Kauai at all and I believe this is what just about everyone else is doing as well."
(John): "No visitor in their right mind will put themselves through Kauai's "resort bubble" gauntlet when they can go to any other island and skip all that. For Kauai this proposal is just another nail in the coffin of small businesses. Ige needs to order Kauai to get back into the Safe Travels program."
(Jay) "There is a responsibility to protect Hawaii locals, but the best way forward may not be to shut down the airports but rather to increase testing availability and promote re-opening."
(Cynthia) "We are still against the resort bubble even though the place we are staying is becoming a bubble location. It's too expensive and has too many rules and restrictions."
Please add your thoughts.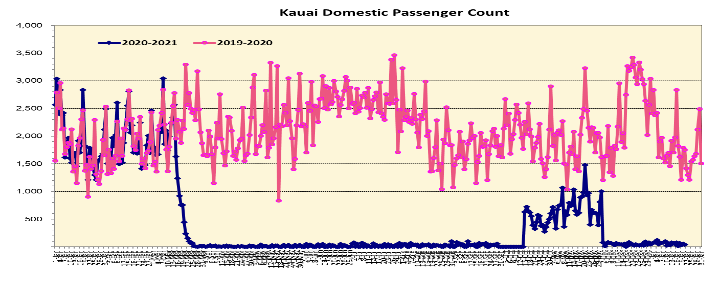 Updated 1/23/21.