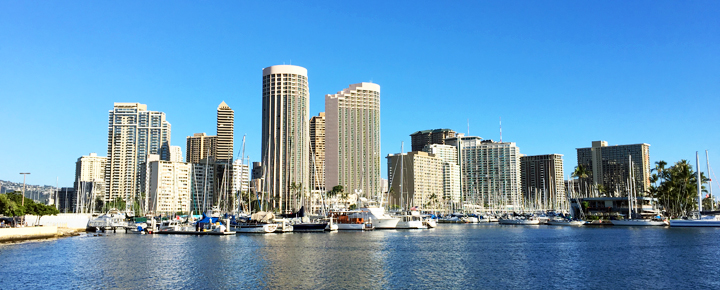 8This has been a busy week for Hawaii airlines, and it isn't over yet. It started with a flight diversion on Monday, and another one on Tuesday over a blanket, both of which were on Hawaiian Airlines. That was followed by the announcement of a new route just yesterday morning on Alaska Airlines' Virgin America.
Diversion 1: Circling for hours on-board Hawaiian Airlines flight 43 from San Jose to Honolulu.
A Boeing 767 had problems before the flight even started, which resulted in an initial delay of about two hours. But that was just the beginning of it. Once in the air, the same generator that had caused the original problem failed again, requiring the flight to return to San Jose. The issue here was that it took nearly 4 hours of circling over the Pacific for the flight to burn fuel and be ready to land back at its point of origin. We understand that none of the passengers made it to Hawaii on Monday, but started their trip once again on Tuesday. It was also reported that the plane in question subsequently returned to Boeing for repairs.
Diversion 2: Blanket dispute with passenger causes Hawaiian Airlines flight to return. What's your take?
On Tuesday, Hawaiian Airlines had another flight diversion which you may have heard of, this time as a result of a dispute with a passenger. It occurred on the flight from Las Vegas to Honolulu. A passenger complained about being cold and asked for a blanket. The 66 year old man was apparently told the cost of the blanket was $12. The passenger then made a statement about taking "somebody behind the woodshed over this," which resulted in the flight attendant contacting the pilot. The plane was then directed to LAX where FBI met the plane. Yes, this really happened. The passenger was subsequently released as it was determined no crime had been committed and there was no credible threat to the flight. The flight continued uneventfully to Honolulu, minus the one passenger.
Passengers on-board the plane were said to have varying reactions to the situation. Should Hawaiian have offered the blanket for free to the cold passenger? We carry our own travel blankets to help avoid issues.
New flight to Kona: Alaska Airlines' Virgin America brand announced a new route this week to the Big Island.
The company, which was acquired by Alaska formally in December, will begin flights between San Francisco and Kona starting December 14. The flight uses Virgin's A320 aircraft and departs SFO at 11 am, arriving Kona at 230 pm.
The route indicates that Alaska is serious about competing with United Airlines out of SFO. United also recently announced new service between Denver and Kona, which is great for Big Island visitors and residents. Kona will also benefit from new flights this year from Bellingham, Dallas, Seattle and Tokyo.
Disclosure: We receive a small commission on purchases from some of the links on Beat of Hawaii. These links cost you nothing and provide income necessary to offer our website to you. Mahalo! Privacy Policy and Disclosures.