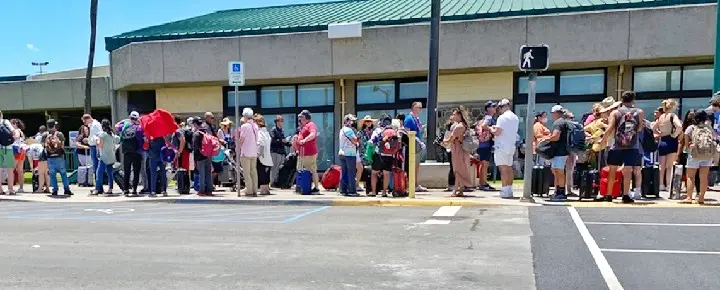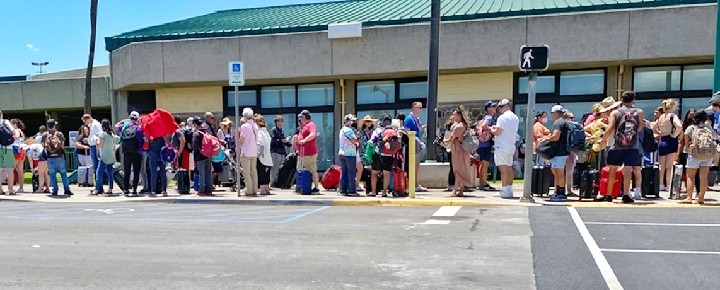 Travel rage is nothing new, and we've even seen air rage on flights to Hawaii. But now it has even spread to sleepy Kauai's airport, which we find disconcerting, to say the least. On the other hand, with all the hindrances visitors now face, together with what seems to be less travel patience than ever, why should we be surprised?
The Kauai police department has reported that two arrests were made recently for disorderly conduct at the otherwise tranquil garden island airport.
Just last week we wrote: Why Hawaii Airports Are A Hot Mess Now.
No finger pointing between residents and visitors. Rage is rage.
In the first of these two incidents, a Kaneohe man, aged 37 was arrested for screaming profanities and racial slurs at an airline employee. The accused still managed to board his flight after continuing to swear and holler through the airport. Police removed the passenger from the flight. He was arrested and charged with disorderly conduct and harassment.
Just a day later, a Miami Beach man, aged 58, was arrested at the airport for disorderly conduct. Kauai Police said he was "recklessly creating a risk of alarming members of the public by engaging in violent or tumultuous behavior." The man was charged with disorderly conduct.
Frustration at Hawaii airports leads to a multitude of problems.
Kauai airport, like Maui Airport, continues to have very long security screening lines. Did that contribute to these problems?
Kauai has been in the process of upgrading its screening process and equipment. In the midst of all that, two of its x-ray machines broke down. We're told those have since been repaired.
Parking has also been very problematic. Kauai airport, which currently has only limited parking stalls, is prone to be sold out. That was the case again this past weekend.
While largely a problem for residents more than for visitors, no parking definitely adds to the stress of the airport experience. Visitors are also known to use airport parking short-term while gathering bags and passengers.
Inadequate staffing yields long wait times, even today.
There continues to be a lack of staffing such that TSA and others don't have consistently adequate workers to keep things moving smoothly. That has been especially true on Kauai and on Maui where TSA lines have ranged from blissfully short to nearly 2 hours. As of this morning, the wait at Lihue TSA is about one-half hour, while on Maui it has been over one hour. Kona and Honolulu are operating normally with minimal wait times.
Problems are exacerbated by issues including peak summer travel. That should begin to ease even in the next week. Also, airlines tend to bunch many flights together at the most popular times, especially mid-day. Then these can be avoided, so much the better.
Flight delays contribute to Hawaii travel frustration.
Yesterday there was yet another spate of flight delays. At Honolulu airport 95 flights were delayed. Once again, a source of traveler frustration.
Calming Tips for hot Hawaii airport circumstances.
Stay hydrated with cool water. Stay nourished too.
Focus on what's good in your life and in your Hawaii travels.
Be grateful. It always works.
Don't be late. It's a sure way to add to the stress, especially now.
Seek out the calmest places at the airport. Have you enjoyed the wonderful gardens at HNL for example?
Photo of Maui airport lines.
Disclosure: We receive a small commission on purchases from some of the links on Beat of Hawaii. These links cost you nothing and provide income necessary to offer our website to you. Mahalo! Privacy Policy and Disclosures.