There was a very helpful new tool we'd begun using last year for Hawaii flights, and we loved it. The reason was that it has long been impossible to see all Hawaii flight prices in one place. And unfortunately, that's the case once again today. Here's why.
Previously we've used Google Flights (our preference for the first look) to see every airline other than Southwest. It brings everything together in one place, and then we go to the airline's website to book. The issue is that Southwest hasn't allowed Google or Expedia to show their fares. So that has made comparing prices more cumbersome since you also have to go to the Southwest website directly to include their fares in your research and planning.
Then last November, a new tool came to the Chrome extension store, bringing it all together in one place. We were afraid it might be too good to last.
Google Chrome extension "Wanderlog."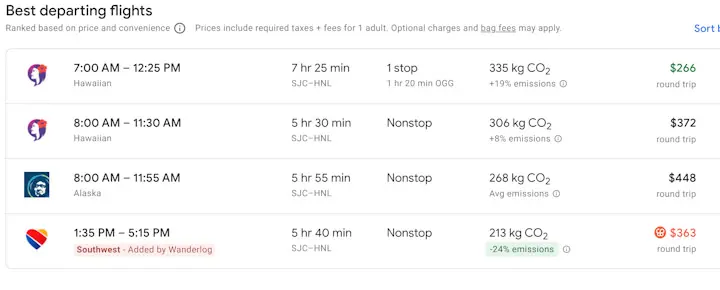 Once installed, Wanderlog previously pulled Southwest fares into every search performed using a flight search engine like Google Flights, or OTA's, including Expedia, etc. You can see the Southwest flights in Google flight search without the extension, but instead of a price, it simply says "price unavailable."
We noticed the app wasn't working when we were checking airfares today for these first of the year $99 Hawaii airfare deals. On looking into it further, we no longer found the app in the Chrome Store, although it is still found here on their website.
No longer available for Southwest flights.
The app's developer says, "Currently disabled: See Southwest prices on Google Flight Search results." They added that they are working out some "issues." Previously Wanderlog said, "We love using Southwest. We think they're one of the most consumer-friendly airlines out there these days. This is really what people are already doing. The data is just going between Southwest and your browser, just as if you were browsing. It's really technically no different."
In November, we asked: "Could Southwest determine that this app interferes with their business and decide to bring legal action against them? Sure, it's possible, but we hope not."
The answer is: it appears Southwest was able to stop Wanderlog.
Southwest doesn't want to play with the other carriers in this way or help the public see their fares along side those their competitors. Southwest is the only domestic airline flying to Hawaii that requires you to go directly to their website in order to see fares. That's fine is you're a SW loyalist and don't look any further. But for those who comparison shop, it will again take some additional work.