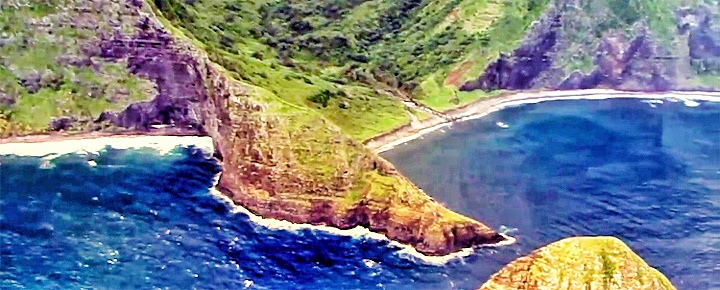 Helicopter crashes in Hawaii are a deadly problem. And there have been more than sixty Hawaii helicopter tour accidents in the past forty years. Hawaii's weather can be extreme and fast-changing, and, as a result, up to 1/3 of all Hawaii helicopter crashes may be weather-induced. The FAA saw this as an opportunity to reduce risk here in the islands.
The Federal Aviation Administration (FAA) is installing a new aviation-related weather camera system at multiple Hawaii locations. The 23 camera project is intended to improve the safety and reliability of flights to and within Hawaii. That will be of benefit to airline flights, as well as small planes and helicopters flying under FAA Visual Flight Rules.
The FAA said, "The program improves safety and efficiency by providing pilots with near real-time, visual weather information. The camera images are updated every 10 minutes and have been critical to helping pilots make better safety decisions… Cameras are positioned to view sky conditions around airports and air routes as well as extreme mountain passes… General aviation, air tour operators, passenger and cargo airlines use the cameras."
Hawaii helicopter crashes.
Here in Hawaii, micro-climates, challenging mountainous terrain, and fast-changing weather can result in dangerous situations. These issues are frequently associated with Hawaii plane and helicopter accidents, for example.
This industry upgrade uses state of the art, reliable, portable cameras. "Project 23 will implement 23 camera locations throughout the state," according to the FAA. Sites have already been selected on Kauai, Lanai, Maui, and Molokai following engineering surveys last year. Big Island and Oahu location studies will start next month.
Kauai flights will be the first to benefit.
The Garden Island will receive its first cameras in March, and the other islands will follow as soon as equipment and further details are completed. Each of the 23 locations will include four cameras. The Kauai implementation should be online starting this summer.
The FAA is working with stakeholders to continue identifying opportunities and monitoring progress throughout the implementation and beyond. Locations are selected based on routes where weather most frequently impacts flight ops.
The project is based on a similar camera system that the FAA has operated in Alaska over the past two decades, comprised of over 200 cameras. Colorado came online with the system last year to help with flight operations in and around the Rockies. Canada is installing a similar system again with over 200 cameras.
Check out the FAA's cam website to monitor progress.
Beat of Hawaii © photo on a small plane flying near Molokai.
Disclosure: We receive a small commission on purchases from some of the links on Beat of Hawaii. These links cost you nothing and provide income necessary to offer our website to you. Mahalo! Privacy Policy and Disclosures.