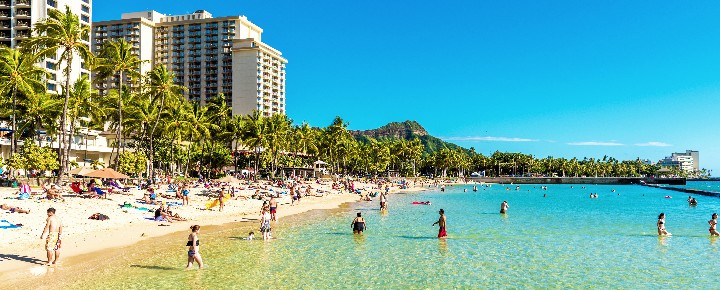 This week Hawaii crossed what was once considered the critical mark of 70% of its entire population being fully vaccinated. Governor Ige said in June that the milestone would end the Hawaii Safe Travels program and its vaccination and testing options to avoid quarantine. But now that has all changed, and Safe Travels has still not gone away. So what's up with that?
Here's what can Hawaii visitors through 2021 expect.
The next big crush of Hawaii tourism is approaching for the Thanksgiving and end-of-year holidays. There is no doubt that it will bring a record number of visitors. Hawaii remains easy, safe, and appealing for mainland travelers looking for a warm-weather winter escape. While international travel certainly appears set to resume, it will be a slow ramp-up, and many, if not most, Americans aren't ready for international quite yet (and that includes us).
Through the end of December, we do not expect to see Hawaii make any significant changes to Safe Travels. That means those fully vaccinated (read on for those from abroad), as well as those who have tested in compliance with the program, can expect to avoid quarantine.
2022 should mark the elimination of Safe Travels.
Hawaii always waits until after a holiday to make changes. And so it will be with Safe Travels. We currently envision Safe Travels being eliminated or drastically reduced in January 2022, so long as the current downward trend of COVID cases continues.
Lieutenant Governor Josh Green confirmed our belief saying that for now, Safe Travels will remain: "I think, at least, through the end of this holiday season. The reason for that is that there's a higher COVID rate on the mainland, and we're still adjusting to the prospect of bringing international travel here. So, we wouldn't want to kind of make too many large changes all at once."
Until Safe Travels is gone, here's what Hawaii visitors should do.
Be sure to obtain pre-clearance from your airline before boarding your flight to Hawaii. That means you have complied with Safe Travels, as verified by the airline, which then provides you with a clearance wristband. Pre-clear is available from all of the airlines serving Hawaii. This wristband is essential to avoid long lines on arrival, especially during the upcoming holiday periods. Currently, at least three-quarters of all Hawaii-bound travelers are opting to pre-clear, which is helping eliminate an arrival bottleneck at Hawaii airports.
Travel update from Governor Ige next week.
We've been advised there will be an announcement next week from the governor that will indicate an "all-clear" for visitors to resume trips. Previously, the governor requested that visitors pause travel for September and October, which request was largely ignored by both travelers and the industry.
International travel to the US is also set to resume on November 8, and Hawaii will announce it is welcoming vaccinated international visitors back to our island state. Until that happens, however, only those vaccinated in the US can take advantage of the vaccination exemption. International visitors, even those fully vaccinated, have had to comply with Safe Travel's testing protocol only. That, however, is about to change.
Disclosure: We receive a small commission on purchases from some of the links on Beat of Hawaii. These links cost you nothing and provide income necessary to offer our website to you. Mahalo! Privacy Policy and Disclosures.