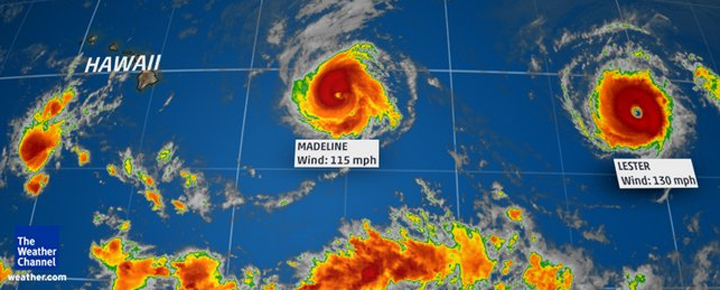 Talking story about Hawaii hurricane season isn't something we enjoy doing. We'd rather share cheap flights to Hawaii with you. But it is the reality of living in and visiting our tropical paradise.
Today, Aletta became the first named storm in the Pacific hurricane season, with another storm possibly forming this weekend. While these are in the eastern Pacific and appear to pose no concern for Hawaii, it brings this subject to mind. For 2018, NOAA is suggesting an 80% chance of near or above normal tropical cyclone activity. That translates into perhaps 3 to 6 named storms.
Last year, thankfully, was a relatively quiet hurricane season in the islands. We're hoping that's true again for 2018. But 2016 was anything but calm as you can see from the photo. There were two back-to-back hurricanes in the Pacific, and our being here on Kauai, we had concerns.
Where we Follow Hawaii Hurricane News.
Following the news media in regards to potential hurricanes is something we try to avoid. They simply have too much economic incentive in their reporting of all possible weather threats.
Instead we monitor Hawaii hurricanes using the Pacific Hurricane Center and focus on the forecaster "discussion." For us this tends to give the best technical analysis. From there we also look at the wind speed possibilities.
Hawaii Hurricane Season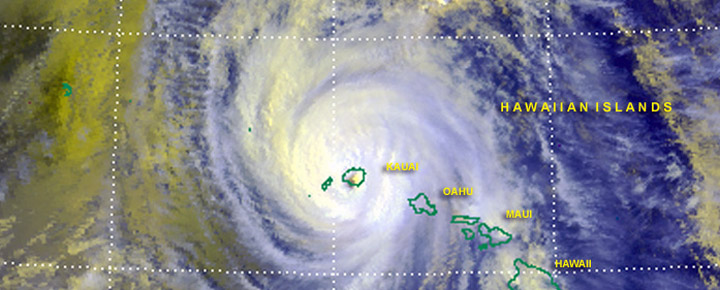 The official season began in Hawaii on June 1 and runs through December 15. It's been over 25 years (1992) since Hurricane Iniki  (image above) ravaged the islands and Kauai in particular. This subject, however, is never far from the minds of those of us who live in the islands. Should there be any potential danger, the following is a check-list of ways to prepare.
Check-List for Hawaii Visitors
Pack a basic first aid kit.
Don't forget essential medications in adequate supply should something unforeseen occur (that's always a good idea).
Have water and non-perishable food on hand during your trip. Should a hurricane possibility be announced, expect store shelves to be empty.
Have access to a portable radio in some form.
Remember that if a hurricane seems likely, airlines may allow you to reschedule your trip.
Travel insurance is something to consider because it can protect you in terms of tickets and other non-refundable deposits/payments.  Especially if you'll be visiting during the peak hurricane months of August through November, we suggest you consider and price trip insurance. Because hurricanes are natural disasters, insurance must be bought prior to the development of a specific storm.
Check-List for Hawaii Residents
It's time to check on supplies and remember to do some things a little differently.  It's actually helpful for us to write this, since it's probably more important to us than it is to you. In any case, we're updating our annual to do list, and it includes:
Gas tank filled at no less than half. Also fill propane tanks.
Plastic tarps set aside in case of emergency.
Keep some trash cans pristine and unused should additional drinking water storage be needed.
Stockpile additional food supplies.
Check that generator is still working properly.
Extra batteries on hand and a radio that works in the event of no cellular service.
First aid/medical supplies replenished.
Cash – time to go to the bank and get some. Assuming ATM's will always work isn't a safe bet.
Photo from 2016 Hawaii hurricane season.