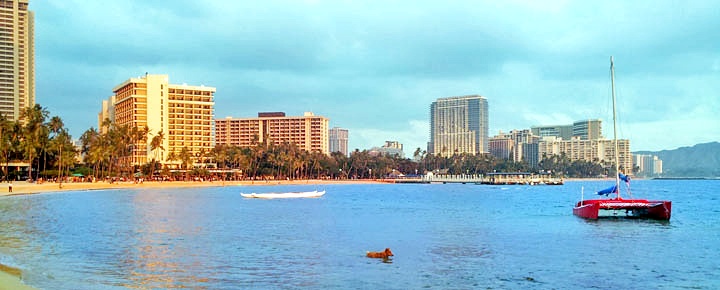 A Hawaii travel bubble with Japan appears to be in the works. But how will it play with Hawaii's mainland tourists? You comprise the vast majority of travelers to the islands at nearly 70%,  in contrast with Japanese visitors which represent 15%.
Governor Ige and House Speaker Scott Saiki announced Monday that the state is on Japan's "exclusive" list comprised of twelve regions and countries. Hawaii is the only state, together with some European countries, China, South Korea, and Taiwan. The governor said "Japan and Hawaii enjoy longstanding cultural ties and a deep-rooted friendship that has enriched the lives of many generations… It's important that we restore travel between Japan and Hawaii."
Japan Prime Minister Shinzo announced the Japan-Hawaii Safe Travel Program, which he said would provide C0vid infection control. He said Japan plans to require pre-travel PCR testing as well as a mandatory examination of travelers on arrival.
This travel bubble concept leaves many questions unanswered.
Where, for example, travel tests could be obtained in Hawaii, is completely unclear. Specific details including a start date and other terms have either not been worked out or have not yet been released. Also, will this plan be deployed prior to or concurrent with mainland visitors being allowed to avoid quarantine through testing?
As regards access to testing, earlier this month, Hawaii's Diagnostic Labs announced that their testing ability was being reduced from 800 per day to a mere 250. That because of cuts in the availability of testing supplies from manufacturer Roche. It is unclear when that could change given the increasing outbreaks on the mainland. Travel testing will by necessity take a back seat.
Furthermore, Hawaii has very limited marketing resources. Without those, this plan seems to have the potential to spin out of control as a PR nightmare.
How will a travel bubble be viewed by the majority of Hawaii's visitors from the mainland?
We went back to your hundreds of comments on this subject, which have been quite outspoken in both directions. Here are just a few of the things you've had to say.
Visitor comments opposed to a Hawaii travel bubble with Japan. 
"As an American citizen, the US Constitution is my right to cross state lines without restrictions. Also, their idea of a bubble with Japan is repugnant… If they do that, it will guarantee I will never return to Hawaii." — Karen.
"The State of Hawaii plans to open tourism up to Japan, Australia, and New Zealand. So maybe those countries could bail out Hawaii and pay for the unemployment benefits, welfare benefits, and small business bailouts. They are enjoying the benefits of being a US State while bad-mouthing US tourism." — Kalani.
"Legal or not, I can't look away from the news reports. It is a train wreck. Hawaii doesn't want their own country to come and visit." — Holli.
"You must realize that the HOTEL industry has great influence on the State and Counties here. The government is in Oahu and that is where most Japanese tourists go. This bubble folks, is promoted not to protect us living here – it is to ensure the HOTELS (and those they financially support) get theirs first." — Bonnie.
"Hawaiians can send the bills to Japan and Australia and ask them when their next stimulus checks will arrive." — MG.
"If Hawaii turns away the citizens of their own country to allow Japan to visit first, I too will never set foot in Hawaii again. What a disgrace to treat the mainland that way!" — Andrea.
"Man, the Hawaii government doesn't know what the heck they are doing. This is frustrating. Opening to Japan and other countries before the mainland? What a joke." — Kevin.
"As someone who lives in Hawaii, I have found they will gladly welcome Japanese before mainland Americans… even without c0vid… So it does not surprise me that they are talking of first opening to Japanese." — Karen.
"I agree Japanese should not be allowed back here before the US!" — Allan.
Visitor comments in favor of a Hawaii travel bubble with Japan.
"This is simply about taking the safest path to ease in tourism, Period. It doesn't matter where someone is from, it does matter what are their odds of being infected and bringing it here are. That's all." — John.
"Judging from many posts on this and other sites, wherein irate Americans protest the existence of rules, and of course the US tourists who have openly flaunted their quarantine violations, it does seem true that Japanese (and others) could be trusted more. Why not let the responsible people in first?" — Dave.
"The United States is still averaging about 20,000 new C0vid cases per day. Japan is averaging about 30 new cases per day. How is it not just common sense to restart tourism with allowing visitors from Japan (and other low C0vid countries) while the U.S. mainland continues to flatten the curve, develop higher quality rapid testing, and put testing, screening and contact tracing processing in place?" — Mychal
"It makes great sense for Hawaii to open up to Japan, New Zealand, and other places where the virus is under control… The people of Japan, Korea, and New Zealand have effective leadership and worked together; contrast that to the mainland with the absolute lack of federal leadership, the virus is still out of control and that people are arguing with each other about wearing masks." — AW.
"I am in support of…travel between the 2 larger "islands" of Japan and Australia – who also have low rates of infection. Perhaps the potential visitors who are angry because they are from the mainland and have US rights can try to understand the unprecedented dilemma Hawaii is in. NO tourism industry and no sign of ongoing infections. Japan, Hawaii, and Australia have choked their economies to stop the disease. To allow Japan and Australian visitors first makes sense, even though it enrages anyone else who is not allowed in except via a 14-day quarantine. If it makes our potential visitors so mad that they will never come to Hawaii again, then so be it… Until we have a means to adequately test and confirm that, the rest of the world can wait, please." — Aunty.
We look forward to your thoughts! Mahalo. 
Disclosure: We receive a small commission on purchases from some of the links on Beat of Hawaii. These links cost you nothing and provide income necessary to offer our website to you. Mahalo! Privacy Policy and Disclosures.