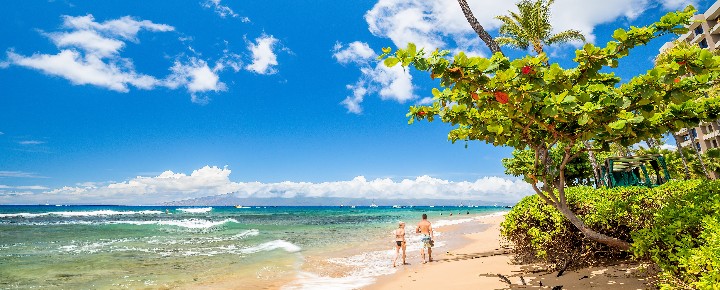 When it comes to Hawaii travel and visitors, the islands can't seem to get it right. We have swung back and forth so many times that it can give you a headache. Hawaii went from record tourism in 2019 to very little tourism in 2020. This year has swung even faster since March when an extreme demand for Hawaii travel arose. Then recently, the governor asked visitors to pause Hawaii trips through October due to increasing Covid cases impacting our health care system. See what it is like on Maui below.
Feast.
There were too many people here this summer, with arrivals heading north of 30k on many days. The result of pent-up pandemic travel desires together with more domestic flights than ever, generally good prices on airfare, and the inability to travel internationally. Not long after the boom began this spring, tourism pushback started emanating from all the islands. And Maui's mayor has been among those outspoken about limiting travel to the islands.
The islands were unprepared for this much tourism immediately following the Covid pause. The state's infrastructure was never improved and has, in fact, been inadequate for years. We even wrote about the controversy in Maui Won't Stop New Hotels While Honolulu Looks At Visitor Curbs.
Also, what came with the rebound in travel to and from the mainland was an unprecedented number of Covid cases that we were ] not prepared for. According to health department officials, that was largely a result of travelers from Hawaii returning to the islands, especially those who were not tested and went into self-quarantine.
Famine.
Now, however, things have swung so far back in the other direction that the Maui mayor sounded concerned yesterday when he spoke at a press conference about the state of Hawaii travel on Maui. Mayor Michael Victorino said, "I had a meeting with the hoteliers on Maui this morning and, as of date, 51,000 room nights have been canceled, $21.4 M loss in revenue and that's Maui County only." In June, on the other hand, Victorino had called for "a pause" in Maui tourism.
Hawaii daily arrivals have now dipped to well under 20k. While it isn't at all unusual for fall visitor traffic to slow, this year, it is compounded by an unexpected number of cancellations state-wide.
We're hopeful, at least, that concurrent with this decline, the state may soon be around a curve on new Covid cases. However, some experts say that an additional Covid surge may be ahead before any decline in Hawaii cases.
Additionally, Hawaii businesses are hurting once again and could face further layoffs. Given the difficulty in finding employees, companies are loathed to let people go. Maui's mayor concurred, saying, "I'd hold on to them… because there's not a whole line of people behind them." On the other hand, how long will they be able to weather a financial storm of unknown duration?
It seems likely but not certain that by the arrival of the November/December holiday season, there will be a rebound to the levels seen last summer. One question is how that next travel boom could impact Covid cases here in Hawaii.
Some people are calling for testing of all arriving passengers, which we question would even be considered legal for Hawaii to implement at this point. However, yesterday, a bill was introduced in Congress to require all domestic travelers to show proof of vaccination or a negative coronavirus test at airports to fly anywhere, including Hawaii.
Disclosure: We receive a small commission on purchases from some of the links on Beat of Hawaii. These links cost you nothing and provide income necessary to offer our website to you. Mahalo! Privacy Policy and Disclosures.