Digging into dramatic growth in Hawaii tourism this summer, we were surprised at just how popular the neighbor islands have become in comparison to Honolulu. Read on for what that means on your next Hawaii vacation and how to cope. In fact, one neighbor island's domestic visitor arrivals just rose 21% compared with the same period pre-Covid.
TSA piped up about summer tourism in general, stating what's obvious here in Hawaii, too. Spokesperson Lisa Farbstein said that last Friday, the TSA had "the highest checkpoint volume since February 11, 2020." In total they screened nearly 2.5 million passengers. She said "Get to the airport early, it's busy!"
That was confirmed to us as well by Hawaiian Airlines spokesperson Alex DaSilva, who told us, "the one constant this summer is the volume of travelers (overall airport congestion)."
The state of Hawaii concurs, saying that as "tourism recovery continues, employment has increased and… labor shortages have put some limit on the growth."
Hawaii visitors shifting to lower-density, neighbor island experiences.
As far back as this spring, the state's data indicated the recovery "was robust especially on the neighbor islands." That trend is continuing and even accelerating further.
The Big Island, Kauai, and Maui have all pulled far ahead of Honolulu in domestic visitor growth, since the state's last data set from April. At that time, Maui was +3%, Big Island was +8% and Kauai was +9% ahead. That has since changed significantly, as you'll see below.
Honolulu domestic visitor arrivals June 2022. Unchanged.
So far this month (through June 26), there have been 375,863 domestic visitor arrivals. That compared with virtually the same number in 2019, which was 375,659.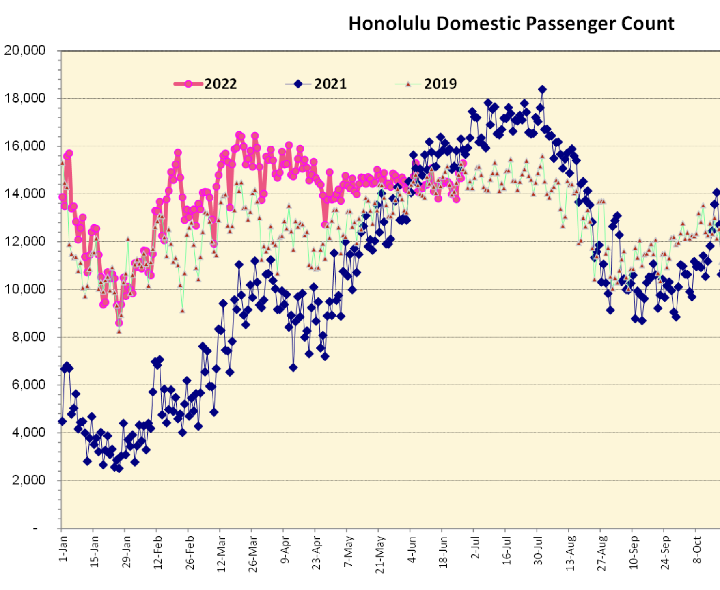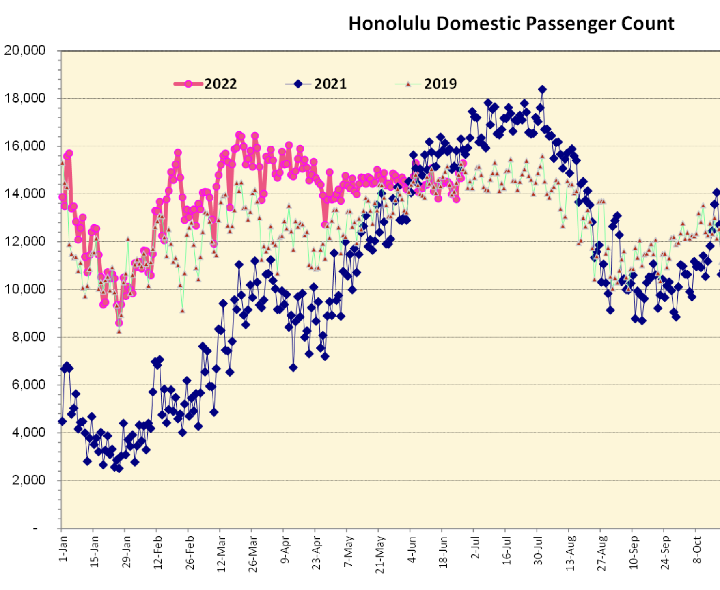 Maui domestic visitor arrivals June 2022. +7%.
This month (through June 26), 216,298 domestic passenger arrivals have occurred on Maui. That compared to 203,018 in June 2019.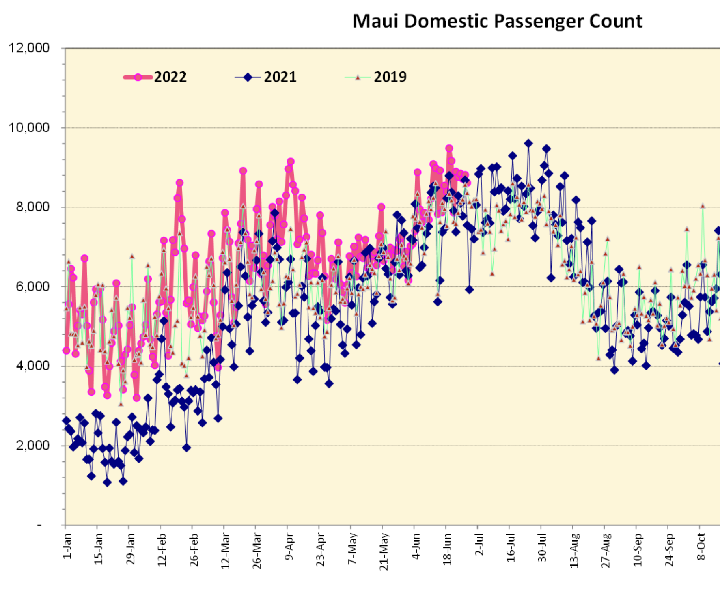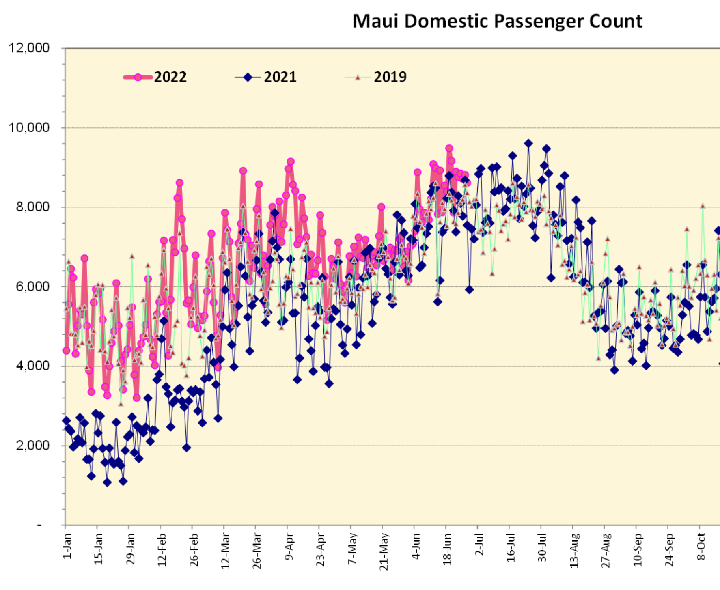 Kauai domestic visitor arrivals June 2022. +21%.
In June, to date (through June 26), there have been 79,628 domestic passenger arrivals. That compared to 65,586 in 2019.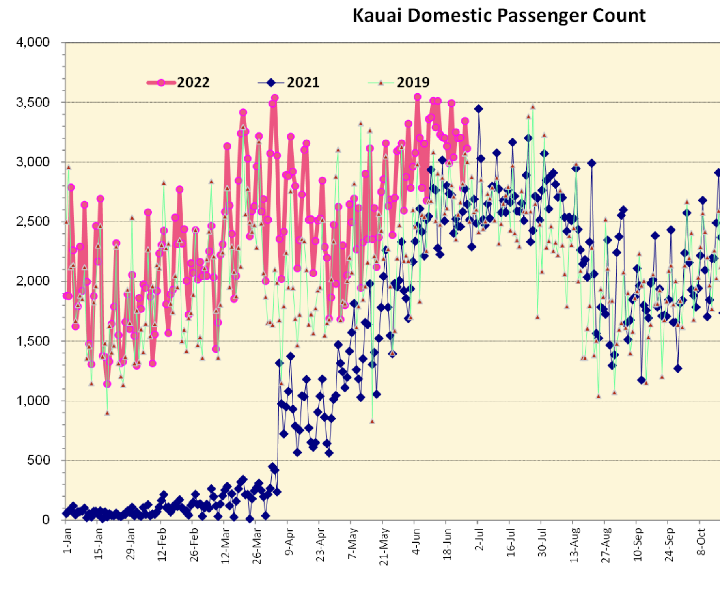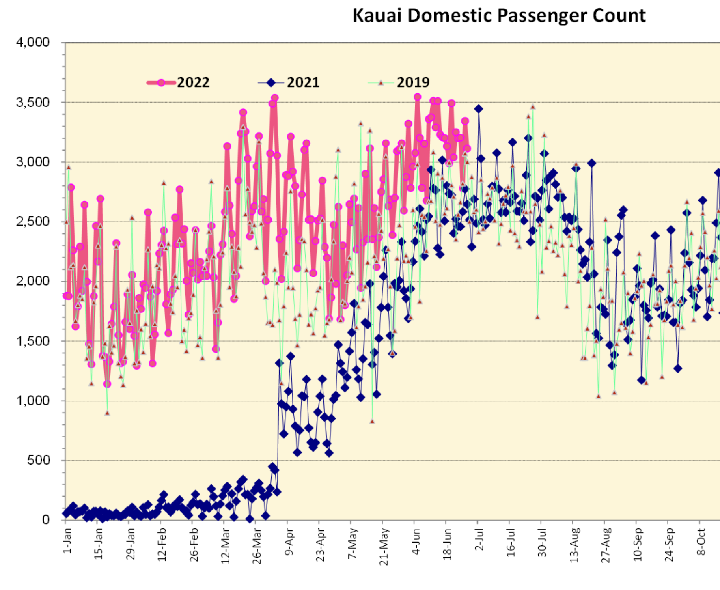 Big Island domestic visitor arrivals June 2022 +19%.
In the first 26 days of June, there have been 106,323 domestical passenger arrivals. That compares to 89,321 in 2019.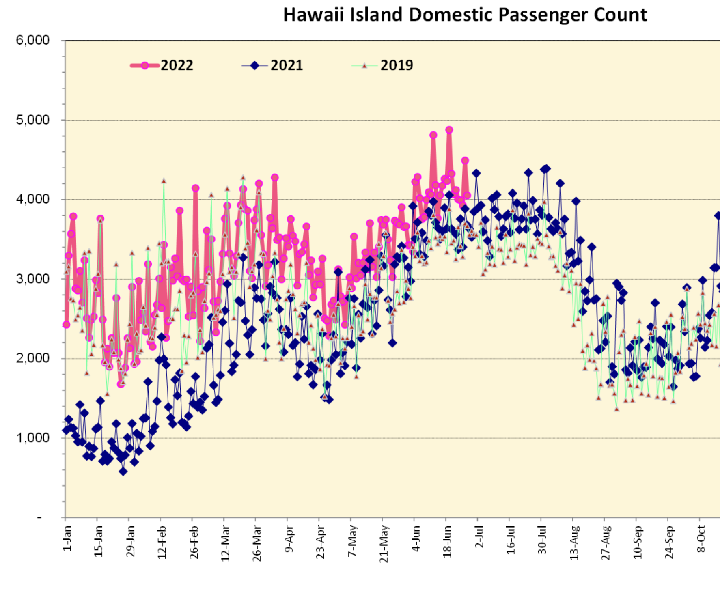 What you can do about visitor congestion.
More than anything else, take a breath if you are visiting Hawaii this summer, and hopefully things will go smoothly. That given the continuing rash of Hawaii flight delays, and some cancelations too.
Be prepared, especially on the neighbor islands this summer, for more traffic, lack of availability, lines, and busy beaches. Plan ahead. Remember that it's going to be busier than our limited resources can accommodate, so please have patience and practice Aloha.
Prepare for traffic congestion. It can take hours to cross from one side of an island to another. Plan accordingly and check Maps before heading out. Please allow extra time to reach your destinations unharried and to remain in a vacation state of mind.
Worker shortages continue to frustrate everyone. With more than enough customers but inadequate staff, wait times may get stretched.
And a new phenomenon: rapidly changing Hawaii business hours.
We've addressed labor shortages at Hawaii hotels, restaurants, and activity providers. In the past couple of months, we've experienced something different. We show up at or drive by a Hawaii restaurant or coffee bar and find them suddenly closed during their otherwise normal business hours. It seems that as staff availability rapidly shifts, these businesses are quickly putting up handmade signs in the windows and changing hours to make accommodations. We've seen this at both chain and locally owned eateries. Keep this in mind, and welcome to the new normal.
What experiences have you had recently on your Hawaii vacation?