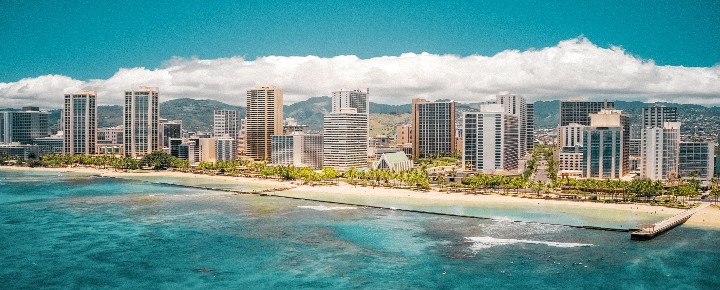 First, we heard it last week from Hawaii bellwether Hawaiian Airlines, and now we hear it again from Airbnb's CEO Brian Chesky. With inflation at an unprecedented 40-year high, Hawaii visitors appear unphased and ready to enjoy Hawaii vacations.
Brian said yesterday, "Whatever happens to the economy, people I think are still going to want to live on Airbnb and still want to travel." Strangely enough, while this could all change, we are starting to think they may just be right.
Airbnb said they're heading for the best financials ever and are "not worried about the economic slowdown hurting a travel resurgence." The proof offered is that Airbnb sales were up 40% in the last quarter.
Last week, Hawaiian CEO Peter Ingram uttered the same sentiment: "As we move into the summer travel peak, every indication suggests a continuation of these positive trends." In the last quarter, HA operated 115% of its pre-Covid North American flights.
Deloitte said this week regarding emerging US travel trends that "Some trip types will fare better than others, and some demographic groups will lag. In general, the pandemic brought changes to the way we live and work."
Hawaii travelers are intent on making up for Hawaii vacation time lost during Covid.
Also noteworthy is that Hawaii's domestic visitor arrivals continue to be above pre-Covid numbers, with no signs of abating.
Will sky-high hotel costs moderate as we enter the slower late summer and fall shoulder season?
In the spring, we reported that Hawaii hotel prices were the highest in the U.S. Nothing has changed since then. However, with the at least somewhat slower season approaching, we are hopeful of better values ahead in Hawaii hotels and vacation rentals. We recently said to expect prices to moderate about 25% from the peak of summer to the off-season. And that still appears to be the case.
Hawaii airfare sales continue.
Due to intense competition, we still see great value from primary U.S. gateway cities. That remains primarily driven due to the extended impact of Southwest Airlines' Hawaii entry. Earlier this week's Rare: West Coast to Hawaii $89 Each Way is a case in point.
PS: Thanks for the spelling correction on the word in the title, unfazed.
Disclosure: We receive a small commission on purchases from some of the links on Beat of Hawaii. These links cost you nothing and provide income necessary to offer our website to you. Mahalo! Privacy Policy and Disclosures.