Three carriers are poised for game-changing Hawaii airline services that could change the face of Hawaii airfare deals. Here's the latest news.
It seems no one wants to dive into Hawaii's shallow air transport swimming pool, head-first. Fearing that Hawaiian waters may not support a major commitment at this
time, both Southwest and Allegiant continue to hedge bets. Each is posturing somewhat differently, but in the end, they're both saying the same thing. We can come to Hawaii, but just how much we want to do so remains contingent of fast-changing market conditions.
Southwest Airlines
When will Southwest start serving Hawaii?

"No telling"  –Gary Kelly, Southwest Airlines CEO
"The carrier is preparing to take delivery of 175 seat, Hawaii-capable 737's starting early next year. Last December Southwest gave every indication that they would be jumping into the aloha frey wholeheartedly. Then came this quote, from their CEO at the end of August. Now it's anyone's guess when they will serve Hawaii, and exactly what their ultimate plans will entail. Southwest also has an abundance of Boeing 717's on hand, so don't rule out the possibility of inter-island services from Southwest quite yet.
Allegiant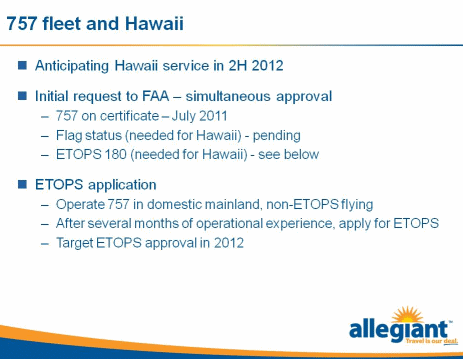 SWA's Gary Kelly wasn't the only airline exec speaking recently. Allegiant President Andrew Levy recommitted his company's plans to serve Hawaii in a September SEC filing.
Here's what's going on at Allegiant:
Have contracts for 6 757-200's. Four are purchased and two more will be added by year end.
3 of 4 aircraft are on lease to European operators (as we reported previously).
1 757 is currently flying on the Mainland to and from Las Vegas.
Do I buy their Hawaii plans? Well not completely. I think that Allegiant's real decision on Hawaii has yet to be made and will be directly contingent on what Southwest and Alaska do first. They may still come to Hawaii, although I personally wouldn't bet on it.
Alaska
Alaska is the only one of the three that currently flies here. The Hawaii market has been working reasonably well for them so far, with only limited competition. They're butting heads primarily with Hawaiian Air, which has its future largely pinned in another direction, Asia Pacific expansion.
Alaska has flights to all major islands from the Pacific Northwest and the San Francisco Bay Area. They'd ideally like to expand their services, perhaps to include Orange County and Burbank, plus central California. They are another carrier that has the ability to offer inter-island service using the expertise and equipment of their Horizon Air division.
Disclosure: We receive a small commission on purchases from some of the links on Beat of Hawaii. These links cost you nothing and provide income necessary to offer our website to you. Mahalo! Privacy Policy and Disclosures.