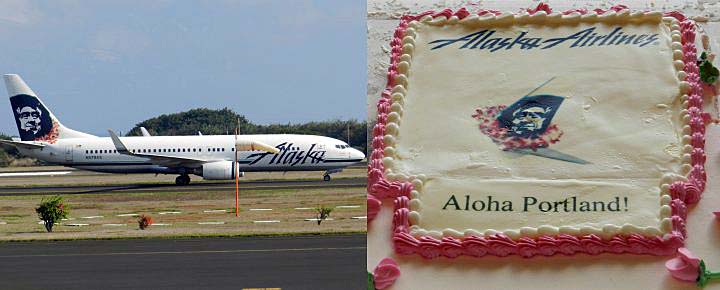 Competition helps keep Hawaii deals cheap
Mahalo Alaska! Competition in our markets is keeping most Hawaii airfare prices far lower than normal and yielding some incredible Hawaii travel deals. Many of the offers from last week are still available today.
The competition is especially fierce from the Pacific Northwest, San Francisco Bay Area and San Diego. Bellwether Hawaiian Air is joined in these markets by Alaska Air and in the Pacific Northwest by newcomer Allegiant as well.
If you don't find the Hawaii deals you're looking for today, we will have many more in the weeks ahead and also hope to see new routes added.
Portland to Kauai Nonstop Begins
Beat of Hawaii was there to help celebrate the inaugural arrival and departure this week of Alaska Airlines newest service between Portland and Kauai. The past two days have seen free first class upgrade contests in the departure area, lei greetings, performances by Hawaiian music entertainers and coconut cake from Kauai Bakery. Joining us were Alaska Air regional manager Daniel Chun and Kauai lead Kori Graff. Dignitaries on hand included Sue Kanoho, Executive Director of the Kauai Visitors Bureau and team member Brooke Miller who welcomed passengers on Kauai with gift bags.
The flight which is now only seasonal operates four times each week, with the other days serving as a 2nd nonstop flight between Kauai and Seattle.
Other new routes
Additional Alaska Air Hawaii seasonal routes starting  this week are Bellingham to Maui on November 8 and Anchorage to Kona on November 10.
When should you buy?
On these new routes (excluding Anchorage), there should be more sales ahead. Even now pricing in the new year is often only $400 round trip. Anytime you can get a round trip from the west coast to a neighbor island for $400 or less, that's a great deal.
Getting the best Hawaii travel deals is about keeping your ear to the ground then being able to act quickly. We pride ourselves in being first to bring you news of top Hawaii travel deals.
If you don't do so already, we welcome you to subscribe to our free email updates, Facebook fan page or premium VIP Alerts notifications.
Photo above includes inaugural Alaska crew plus Sue Kanoho (3rd from right) and Kori Graff (2nd from right).
---
Disclosure: We receive a small commission on purchases from some of the links on Beat of Hawaii. These links cost you nothing and provide income necessary to offer our website to you. Mahalo! Privacy Policy and Disclosures.