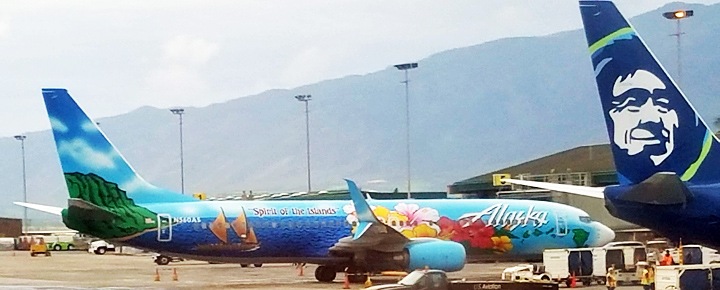 As of this December, new Alaska Airlines Hawaii routes are being added. Starting December 17, Alaska will fly between Los Angeles and Kona three times weekly. And, starting December 18, Alaska will fly between Los Angeles and Kauai four times weekly.
This appears to be in stark contrast with most airlines preparing to slash virtually everything in sight. For example, Hawaii late-comer Southwest Airlines announced it will accept applications for 4,400 early retirement packages and is also evaluating 12,500 applications for extended leave. In total, nearly 30% of employees have signed up.
A spokesperson for Alaska Airlines said this about the timing, "LAX is one of Alaska's important hub markets and continues to offer valuable opportunities for selective expansion… Second, is building on our decades of successful service to leisure destinations from LAX, from which we have a long history of serving Mexico, Hawaii and Florida… We saw a number of opportunities to diversify our network to fly to places we think will play to our strengths as an airline. — Brett Catlin, Alaska Airlines.
Alaska Airlines is joining OneWorld Alliance later this year.
This route expansion is at least in part associated with providing more seamless service towards that partnership. OneWorld includes 13 international airlines, most notably Qantas and British. Alaska will now be able to offer more direct Hawaii connections to OneWorld customers with nonstop service from Los Angeles to four Hawaiian Islands.
Good news as Alaska joins a very crowded field flying from LAX
Competing on nonstop flights to Hawaii from Los Angeles is a huge group of airlines. It includes American Airlines, Delta Airlines, Hawaiian Airlines, and United Airlines. That's great for passenger options and the best news for keeping ticket costs down for the foreseeable future.
Disclosure: We receive a small commission on purchases from some of the links on Beat of Hawaii. These links cost you nothing and provide income necessary to offer our website to you. Mahalo! Privacy Policy and Disclosures.