New Hawaii flights and routes are perenially popular and newsworthy. And to kick off the summer, two out of three Hawaii-centric airlines we're discussing today are announcing new routes with more flights to the islands.
First, it's been a very long time since 15-year Hawaii veteran carrier Alaska Airlines introduced a new Hawaii route, and we're happy to see them be able to expand again in the Hawaiian Islands. This time it will be from Paine Field in Everett. Read further about an introductory price on this route.
Then Delta will add a new Hawaii route from Minneapolis to Maui that's never been flown before. The route, which may operate only seasonally, depending on demand, is set to commence in December, according to reports. This comes in addition to their other long-distance routes added last year, including the 9 and 3/4-hour flights from Detroit to Honolulu and Atlanta to Maui. Delta already flies other popular long-distance nonstop routes from Minneapolis to Honolulu and New York to Honolulu.
We are expecting the announcement and sale of flights to begin later today or tomorrow.
Long-distance premium Delta Hawaii flights are pricey.
These Delta long-distance widebody flights are convenient, popular, and generally expensive. For example, the lowest-priced Minneapolis to Honolulu economy airfare over the next 330 days is over $1,250 round-trip; on some dates, it costs up to $2,200 round-trip.
The new flights are not yet visible on Google Flights, and we'll have to wait until tomorrow to have all of the new route details from Delta's upcoming announcement.
Maui, while overcrowded with unabated tourism, is ever-popular with Hawaii visitors. That is partly due to Maui's natural beauty and wide range of accommodations and activities.
"Delta Select" Premium Economy is offered.
Many of Delta's flights to Hawaii, including those from Atlanta, Minneapolis, New York, and Salt Lake City, offer their distinct Delta Select premium economy class. A well-placed, moderately priced offering unique from regular and extra-legroom, Delta describes its product like this. "Customers have more space to relax and stretch out, with a wider seat, deeper recline, and an adjustable footrest and leg rest. They'll also receive an upgraded amenity kit, noise-canceling headsets, a blanket made from recycled materials, and a memory foam pillow to help them arrive rested and refreshed… Customers will also enjoy refreshed premium food and beverage options."
Delta Hawaii flights include routes to and from Seattle and Los Angeles in addition to those mentioned above. Flights that don't offer premium economy feature an extra legroom product that the airline calls Delta Comfort +, pictured in our photo onboard one of their new A321neo aircraft, which Delta uses primarily on flights to Hawaii from Los Angeles and Seattle.
Expanded Alaska Airlines Hawaii flights with a new long-awaited route.
Starting this fall, you'll be able to get to Hawaii more easily from the Pacific Northwest thanks to a new route Alaska will begin starting on November 17. The flight is their first ever between Northern Washington's Seattle/Everett and Honolulu. This is great for travelers north of Seattle and in nearby British Columbia.
The daily year-round flights will depart Paine Field (PAE) at 9:10 am and pull into Daniel K. Inouye International Airport (HNL) at 1:38 pm. The return flight will depart Honolulu at 11:25 pm and arrive at Paine Field at 7:10 am.
Introductory Alaska Airlines Hawaii airfare sale underway.
There is a very limited fare sale on this route, with some dates available for $149 each way, including all taxes and fees. Grab those fast if you can find them.
Paine Field in Everett is considered an easier-to-navigate, closer, more convenient, and upscale airport compared with the extremely busy SeaTac, where your two editors recently spent an hour in the TSA PreCheck line. Alaska started flying out of Paine in 2019.
Alaska Hawaii director of sales Daniel Chun said that "Everett will be a terrific, less congested option and a great way to access the greater Seattle area. With this new flight, we'll fly a combined six nonstops a day to the two Seattle area airports from Oahu, providing our leisure and business travelers with a variety of flight times that work best for them."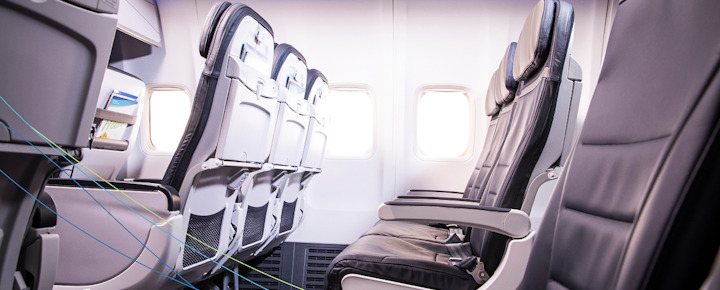 Alaska Airlines will now fly up to 30 times daily to Hawaii.
Alaska flies to Hawaii from eight gateway cities up and down the west coast and Alaska. Those airports include Anchorage, Portland, San Diego, San Francisco, San Jose, Seattle, and Seattle/Everett.
They offer business/first class (see our Alaska first class to Hawaii review), extended legroom Premium Class, and economy. Their Hawaii flights are equipped with streaming-fast satellite Wi-Fi available for purchase at $8. Alaska also excels in its food offerings on Hawaii flights, with optional pre-ordering from a range of fresh meal selections.
Alaska commenced flights to Hawaii in 2007.
Southwest Released New Schedule up to January 2024.
Southwest has just released its schedule through the end-of-year holidays up to January 7, 2024. It's a perfect time to purchase tickets before they are gone for Christmas and New Year's. If that isn't far enough out for your Hawaii vacation plans, mark your calendar for June 29, when Southwest plans to release flights through early March 2024. Other airlines release flights 330 days in advance, whereas Southwest does theirs in this unique way.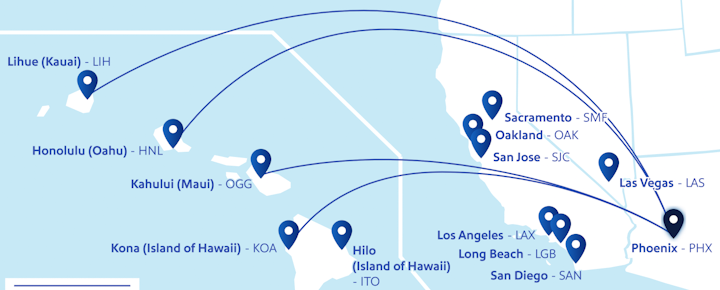 There are no substantive changes to the Southwest Hawaii schedule and routes. Why?
With this release, Southwest announced nothing new regarding Hawaii routes and instead chose to keep things relatively status quo. Once they get through the holidays, we expect to see additional route changes and possibly new Hawaii routes. That's what we're hearing on the coconut wireless. Right now, Southwest appears content to fly the current routes while ensuring there are no further hiccups of any kind.
Southwest Hawaii flights began in 2019 and were then expanded to other cities including beyond the west coast to Phoenix and Las Vegas. Beat of Hawaii will be onboard Southwest this weekend, so you can look forward to an update on our Southwest Hawaii review from 2022.