Alaska Airlines and Southwest Airlines continue to adapt their routes in ever-changing times. Last week, Alaska announced it was canceling four non-Hawaii impacting Southern California. Los Angeles and Austin had two routes cut "after determining they were not popular among our guests." Los Angeles is a hub city for Alaska Airlines.
Not announced, however, was that Alaska would not start a Hawaii route it had already begun selling from LAX. It was also one that we had purchased tickets for, and we'll share our experiences with you.
Alaska was to enter the flight fray between Los Angeles and Kauai.
Next summer, Alaska planned to start nonstop flights from their LAX hub to Kauai. The flights were set to begin in early June. How do we know that? We had reservations to fly on that route on one of its first days of operation in June. It was to fly daily from LAX at 10:40 am, arriving in Lihue at 1:45 pm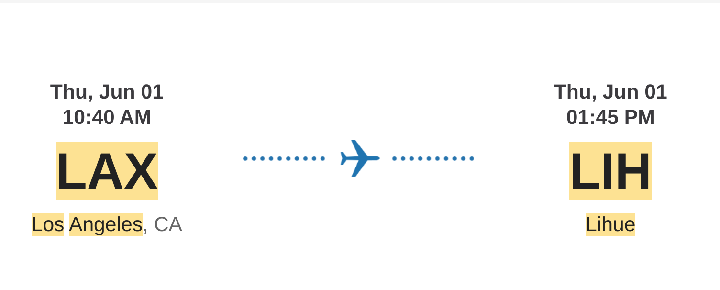 The problem with LAX is too much competition to Hawaii, and Alaska Airlines would have been the sixth airline with nonstop flights. On that one route, for example, you have flights from the following airlines:
American Airlines
Delta Airlines
Hawaiian Airlines
Southwest Airlines (starting 3/9/23)
United Airlines
Southwest Airlines brings back two previously canceled Hawaii routes.
So while Alaska Airlines has decided not to fly from LAX to Kauai, Southwest Airlines has decided to bring it back.
In an indication that Southwest may further make some Hawaii routes seasonal, the airline will bring back once-popular routes just in time for Spring Break. They will continue through the end of their schedule, which is currently April 10, 2023. We assume these will continue until at least summer 2023, which will be confirmed when their next schedule is released on October 27, 2022. That will include travel dates through July 10, 2023.
Starting on March 9, Southwest will resume its nonstop flights from Los Angeles to Kauai and from Los Angeles to Kona.
Between LA and Kona: Flight 2543 will depart Los Angeles at 1:25 pm and arrive Kona at 5:05 pm. The return flight 3262 will depart Kona at 1:05 pm and arrive Los Angeles at 8:25 pm.
Between LA and Kauai: Flight 1447 will depart Los Angeles at 8:05 am and arrive Kauai at 12:05 pm. The return flight 1448 will depart Lihue at 1:25 pm and arrive Los Angeles at 8:55 pm.
How Alaska handled the canceled route was a pleasant customer service surprise.
When we saw in the Alaska Airlines app that there was a flight change, we gave them a call. The phone was answered in Phoenix the first time and in Boise the second time. It was a big disappointment when we were told that the route from Los Angeles to Kauai had been canceled. It was timed to coincide with international flights and would result in significant itinerary changes. The only choices offered were connecting flights, with the fastest option being LA-Seattle-Kauai. That doubled the transit time and will require an overnight stay due to an earlier departure time. Ugg.
A second call back to Alaska after some travel planning, we inquired about the cost. In looking online, the flight cost via Seattle was more than double the cost your editors had paid. We paid $239 per person, whereas the new fare would have been $473. Alaska said they would not charge anything for the change, which was a nice gesture. The reason we chose to stay on the Alaska flight rather than change to Hawaiian or one of the others, is that we had already applied a first-class upgrade. The cost on any one of the other airlines was almost 4x what we paid.