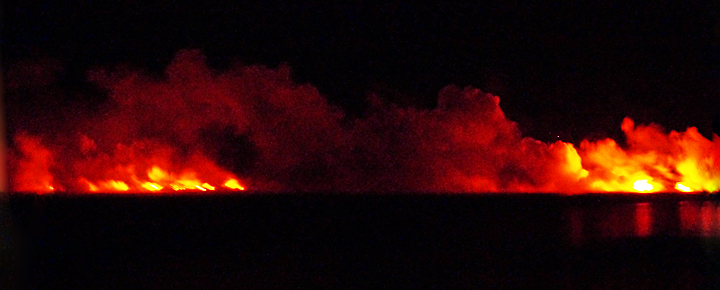 The spectacular and lava flow from Kilauea at Hawaii Volcanoes National Park is highly visible again. We took this photo recently from our time on board NCL Pride of America. Madame Pele could not have been more sensational. Experiencing the current lava show is simply an unforgettable experience you should not miss.
We'll be sharing our updated review soon on NCL Pride of America. While we love adventure, this time we opted for luxury instead of a grueling 8 hour hike over lava fields. We'll return shortly on foot to report to you on that experience.
Cruising to Hawaii Volcanoes National Park on Pride of America
On Tuesday night after leaving Hilo, we sailed down the coastline and by 9:45pm had arrived within a few miles of prime viewing as you can see in the above Beat of Hawaii photo. According to sources, Pride of America will continue this route as long as there is optimal viewing. Almost everyone on board was outside on the starboard side of the ship causing the captain to readjust water in the hold to keep the ship balanced. A Hawaiian Interpreter on on board provided a moving account of Pele as we all watched, listened and smelled her power.
Hiking to Hawaii Volcanoes National Park Lava Flow
Highway 130 has been opened for lava viewing since late June. If you choose to visit, here are some important things to keep in mind:
1. Trail is open from 3pm to 9pm daily, with the last entrance at 8:30pm.
2. Hike is over 8 miles round trip from the highway. Lava flow can be seen throughout the hike.
3. Trail to the lava flow is unpaved and visitors should be prepared for a challenging hike including rough walking, heat, rain, dust, etc.
4. Bring a flashlight for the return in dark conditions.
5. Restrooms are limited and there is no potable water. Bring adequate water.
6. Park interpreters are available at mile marker 24.5 near the park gate. Security guards along the route are also available for questions.
7. Be prepared for a crowd. As many as 3,500 people have shown up on a single day.
Things to Do at Hawaii Volcanoes National Park
A visitor center just inside the park entrance has displays, videos and information. Open 9 to 5 daily. It's a great first stop for questions on hiking, ranger activities, and current conditions.
The Volcano Art Center is located in the Volcano House Hotel which is on the National Register of Historic Places.
Also see the Thomas A. Jagger Museum, on Crater Rim Drive for exhibits and a view of the Halemaumau steam vent. 
Drive the Crater Rim Drive and Chain of Craters Road.
There are alternatives to either hiking or a week-long Hawaii cruise. Local small boat based lava tours are available at a cost of about $200-$250 per person.  We'll check these out and report further.