The spectacular lava flows from Kilauea at Hawaii Volcanoes National Park are highly visible once again per the USGS photo above. A new eruption in Kīlauea caldera started at 9:30 pm yesterday (December 20), which has since been feeding lava into a growing lake and belching steam into the sky. The best place to keep track of what's happening with the flow is via the USGS Twitter feed.
Keep reading for many tips including what is open and what is not, as updates are being released. 
$72 flights. See the lava flow in person, which we have done, and highly recommend!
As of this morning, you can come to see the lava flow yourself. This is an experience beyond words, and something you will simply never forget. Not only that, but right now you can visit for under $100 each way on seven routes from Hawaiian Air.
Below you'll see our own experiences. If you've ever seen the lava flow before, please share your experiences too.
The latest on Hawaii Volcanoes National Park eruption.
As of this morning, one of the 3 fissures from last night's dramatic eruption has stopped flowing. The other two remain active, as lava fills Halemaumau crater and volcanic glass (called Pele's hair and tears) and gasses continue to spew.
"Pele's hair" is the volcanic glass fibers formed by the molten lava flow. It is often carried by wind (which we expect this week) and can travel miles from the source. These fibers are sharp, brittle, and can cut into the skin.
"Pele's tears" are pieces of cooled lava drops that are formed as airborne particles of molten eruption fuse into tear-shaped pieces of volcanic glass. These black tears are often seen at the end of Pele's hair.
Visiting Hawaii Volcanoes National Park Lava Flow.
If you choose to visit, be sure to refer to their website for current updates. Visitor services are limited but most of the park is open. The website does not yet reflect the latest information.
1. Trails are open but hours have not been updated.
2. Bring a flashlight in case you return in dark conditions.
3. Restrooms are open but limited.
4. There are no park intrepreters.
5.  Bring your own food and water. No potable water is available in the park.
6. There are no other services at this time.
7. There are no guided hikes.
8. If the parking lots are full, plan for another day.
9. Large busses are not allowed in the park.
Prior Hawaii Volcanoes National Park Prior Lava Flow From the Water.
A few years ago, we were able to sail by a prior lava flow from a ship, as you can see in this Beat of Hawaii photo. It was a completely moving experience to witness Pele as we watched, listened, and smelled her power.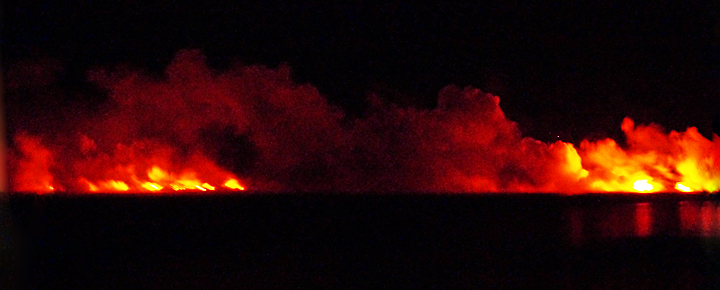 Featured image and GIF courtesy of USGS.
Updated 12/21/20.
Disclosure: We receive a small commission on purchases from some of the links on Beat of Hawaii. These links cost you nothing and provide income necessary to offer our website to you. Mahalo! Privacy Policy and Disclosures.