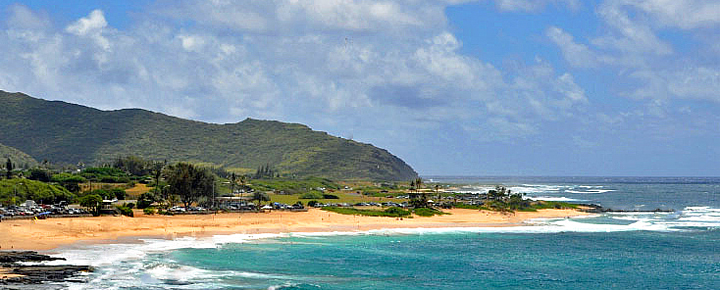 It's winter in Hawaii. And while we are by no means complaining, Hawaii weather is cool at night, in the 60's, even at the beach. So what does this mean for your Hawaii vacation and the best time to visit Hawaii? See our tips below.
Between November and April we expect some rain. Showers are often passing, however, with rain one minute and sun the next. In total, rain averages about 15 percent of the time in those six months.
Beat of Hawaii Tip #1: Check NOAA Hawaii radar daily. When we go out during any questionable weather, we always use NOAA's Hawaii radar, which is typically reliable and very useful in planning our day.
Rain here, of course, is considered a blessing, and is what keeps Hawaii beautiful, fills the reservoirs, and provides the rainbows we all love. At Beat of Hawaii's headquarters here in up-country Kauai, we can get as much as 100 inches of rain annually.
Hawaii weather variations are quite unusual by mainland standards:
Cool, "Ho'oilo" Season
This season is from late summer through mid spring. September begins with cooler nights which then leads to cooler and shorter days. It's coolest from about December to March, before gradually returning to warmer conditions. During this season you can expect an average high of 77 during the day and an average low of 62 at night.
Warm, "Kau" Season
From mid spring until late summer (May to Labor Day), expect longer and hotter days and balmier nights. During this time our average high is 82 degrees and low of 70 when the sun goes down.
Wet Hawaii weather often comes in two segments
The first is usually in either November or December, and the second sometime between February and April. The most common rainy months are November and March. When these winter rains arrive, they are typically not geographically specific, and can equally impact all parts of all the islands.
Dry Hawaii weather
Dryer weather prevails the rest of the year, although dry doesn't exactly mean completely dry. Dry weather here includes passing "mauka" or mountain showers.
These rains, driven by the trade winds, typically cross the higher elevations from the northeast to the southwest of the islands, leaving the south and west sides warmer and dryer. Most of the rain is deposited in the mountains and valleys, turning dry at the coast, which typifies our micro-climatic conditions.
It is often possible to have sun and warmth only a block away from cool and rain. During these "dry" conditions, you can typically escape from any rain by heading to nearby drier areas of the islands.
Trade winds prevail more than 80 percent of the time
Typical Hawaii trades are based on subtropical high pressure ridges that bring cool winds from the north. They also provide lovely clear conditions, and a cooling effect during otherwise warm periods. Trade winds are also associated with dry weather and mauka rain conditions.
Still or south Kona winds
When the winds stop or blow from the south, which is less than 20 percent of the time, the weather here isn't optimal. In the winter it will tend to be cold and wet and in the summer, humid. South winds are common during periods of heavy winter rains. In recent years, Kona winds also allow the VOG to move up from the Big Island and cover the other main islands.
Other considerations
Beat of Hawaii tip #2. Kauai has more precipitation per year overall, and is lush and tropical. That's why it is called the Garden Island. The Big island's resort areas are among the driest parts of the state with the most consistent weather. Maui and Oahu feature both drier and wetter parts, with primary visitor destinations located in the drier areas.