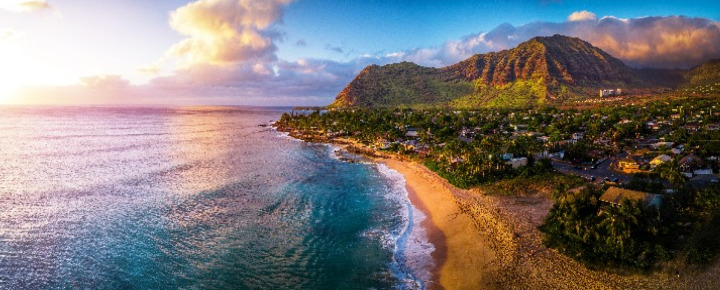 There are good times to come to Hawaii, and then there are much better times to visit. That has never been more true than it is now. First, Hawaii is incredibly busy, and instead of tourism subsiding, it only seems to be getting much busier. There are virtually no slow times any longer.
Almost everything about visiting Hawaii has changed post-pandemic. Today we share the perfect times to be here throughout 2023-24, depending on what's important to you. Pick from the four topics below and please let us know your thoughts.
#1 Hawaii travel secret – avoiding unprecedented crowds.
Let's start with the bad news. Hawaii is always busy, and it only seems to be getting more so. But there are times when you may regret being here, and we hope to help you steer clear of those.
1. The worst times for visiting Hawaii are when school is out on the mainland. Pure and simple. But there are some better time slots even then.
2. The fewest visitors, relatively, will still be found from January after the end-of-year holiday crowd goes home until spring break. Since that varies by year and also to a degree between school spring break vacations, we'll leave those dates for you to figure out. The idea of slow periods, however, is gone.
3. Summer can be hideously crowded in Hawaii, but there are better times then too. Starting about August 10, Hawaii starts to calm. That is far better than visiting in summer starting mid-June.
4. From the end of summer until mid-December. This is our personal favorite, so take that as you will. While the weather is more glorious than in the cooler and rainier winter, and the sun shines wonderfully, you feel like there's room to spread out. Avoid Thanksgiving week; otherwise, you're free to enjoy the best time of year.
#2 Hawaii travel secret – best times for lower costs in 2023/2024.
Consider accommodations and airfare first and foremost since those are the most significant expenses. That is followed by car rentals, restaurants, and activities. Start your search in that order to be sure the stars align before making plans that can't easily be changed.
1. Spring 2023 – until early June. This is a good option for finding better last-minute deals on accommodations and airfare. We have been finding them ourselves. With somewhat more availability, companies are willing to lower prices within the last weeks. Keep checking for those, as we promise you they are out there. You must be diligent, as outsmarting airlines, hotels, and vacation rentals won't be easy.
2. Peak summer travel 2023. In a word, avoid it if you can. Costs here go hand-in-hand with crowds, so from mid-June to mid-August will be the most expensive time for everything. And good luck getting into restaurants and activities without advance bookings.
3. Late summer/fall 2023. September, October, and November offer some relief in prices as well as better availability. You'll need to wait until close to departure to find the best pricing, and that means seeing what is left that companies may opt to sell at lower prices. It will work if you are patient.
4. Christmas in Hawaii 2022. This is pricing on steroids time. Buyer, beware if you travel during Christmas and New Year holidays. It isn't just the cost, but availability too. And that makes it all stressful.
5. Winter/snowbird season 2024. That includes travel from early January through spring break 2024. It's about as good as pricing gets, with the same caveat about waiting within the last six weeks or so to book.
6. Spring break 2o24. Whenever it falls, typically between mid-March and early April, it can also be one of the highest-priced times of year to visit Hawaii. The one thing to remember about spring break compared with, say end of year holidays is that it is less predictable. So if you can wait and act last minute, it might work out more cost-effectively than those other peak periods.
Hawaii travel secret #3 – best ocean conditions and surf.
While ocean temperatures remain more or less constant year-round, the conditions vary greatly. As a result, a beach that's calm in summer can feature giant and dangerous waves in winter. Tourists less familiar with our oceans should especially take note and be vigilant about ocean conditions when choosing beaches for swimming and snorkeling. Ocean surf can be very specific, with one part of a beach being dangerous while another part may remain calm and safe.
1. Summer generally features more calm Hawaiian ocean conditions. But be aware that the islands' south shores can feature high waves in summer.
2. Winter is known for famously high waves with surfing conditions at Hawaii's north shore and west-facing beaches. Storms can exacerbate these conditions. That's why Hawaii is famous for winter surfing, after all.
Hawaii travel secret #4 – best weather.
Sure, Hawaii weather is generally glorious and is a subject of interest to visitors and residents. From spring through fall, Hawaii temperatures are generally in the 80s with cooling, fresh trade winds. It's the time of year to shut off the mainland air conditioner and head to Hawaii.
Sun, rain, wind, and other conditions are prominent features of the Hawaiian Islands' weather. That's mainly due to the islands being small in a vast ocean, which in part creates unique variability and unpredictability in Hawaii's weather. The Pacific is the source of our unique Hawaii weather. Ocean temperature varies by about 6 degrees year-round, between 73 and 80 degrees Fahrenheit.
1. Hawaii summer weather. As we head into the balmy summer months soon, with slightly warmer 80-90 degree days and mid-60 to 70-degree nights, you'll still note that the breezy flow of cool air from the Arctic keeps Hawaii comfortable all year, even in the middle of summer.
2. Two seasons in Hawaii. The warm "Kau" season is from May to September, and the cool "Hooilo" season is from October until May. Expect nighttime temperatures from the 50s to 60s and daytime temps in the 70s. The lowest temperatures are found in February, March, and April.
3. Hawaii Rainfall. Major storms can typically occur from November to December and March to April. Winter rains can impact the entire state.
4. Hawaii hurricane season. There is always a possibility of hurricanes occurring annually from June through November.
Hawaii travel secret #5 – other considerations.
There are many reasons to visit Hawaii, and you may choose a time of year based on any number. That's true whether you're headed to Honolulu and the famous Waikiki Beach or any other Hawaiian Island destination.
1. Humpback whales, for example, are seen in Hawaii each winter, and they're unforgettable, to say the least. Almost extinct just 50 years ago, their population grew along with global whaling bans. See our whale watching article for more details. Maui is most renowned for whale watching opportunities, and we can confirm that, although we have seen them on Oahu, Kauai, and the Big Island.
2. Hawaii volcanoes. Another unique Hawaii phenomenon and one of our top recommendations is at Hawaii Volcanoes National Park on the Big Island. Not to be missed, especially during a period of increased volcanic activity, which is not currently the case.
3. Festivals and other celebrations. Whether it is the  Memorial Day lantern festival on Oahu, the wine festival, other events like King Kamehameha Day, the Merrie Monarch Festival, the Prince Lot Hula Festival, or the Aloha Festivals, there's always a ceremony, festival, or another great opportunity going on to enjoy Hawaii food with great and unique entertainment.
4. Hiking in Hawaii. Another favorite Hawaii activity on all the islands is accessible year-round. From Lanai and Molokai to Oahu and Kauai, every island has plenty of great hikes and trails, from basic to the most advanced.
Please share your Hawaii travel secrets.
Disclosure: We receive a small commission on purchases from some of the links on Beat of Hawaii. These links cost you nothing and provide income necessary to offer our website to you. Mahalo! Privacy Policy and Disclosures.