Humpback whales have returned, and with that comes our ideas for where to enjoy free whale watching in Hawaii. The first sighting of the season took place early, in October, between Maui and Molokini. Starting each November, the annual data collection begins, which has been in place since the 1980s. That monitors the mammals' annual migration, which starts in Alaska, and how they are being impacted by shifting prey and climate change, among other things.
Each fall, up to 12,000 Humpbacks will travel 3,000 miles each way during their migration from Alaska to Hawaii. From now through Spring, you'll find it relatively easy to spot giant Humpbacks on your Hawaii vacation. The incredible Humpbacks weigh up to 90,000 lbs. and are up to 40 feet in length. This is a sight that no local or Hawaii visitor ever tires of seeing. All heads turn to enjoy this most amazing sight.
It's possible to see whales on dry land for free and without the risk of getting seasick (a definite issue for some in Hawaii's occasionally rough waters). Park yourself along a popular shoreline below, and get ready for the adventure. If you're able to capture a photo of the fast-moving behemoths, you're in luck. It's quite a challenge with the speed of these beautiful creatures. But with the large number in the state during Hawaii whale season, there should be many opportunities to capture the perfect photo.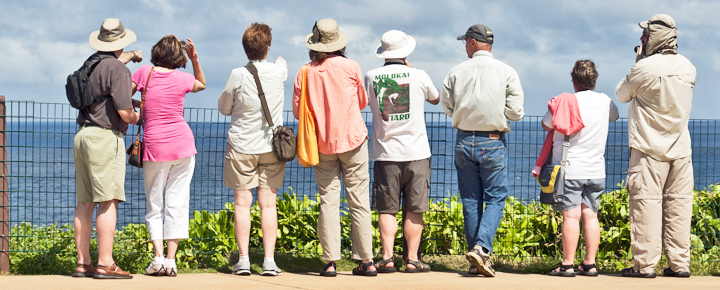 Big Island Whale Watching

Our personal best Big Island whale watching sightings have occurred up and down the Kohala coast. Friends have also mentioned that they find them at Hilo and Kawaihae. We have also visited Puukohola Heiau National Historic Site, which sits elevated and offers a great vantage point. Hilo Bay is another popular spot to see whales.
Kauai Whale Watching
Kauai whale viewing is available around the entire island. Places to look for whales include Poipu Beach Park and all south shore Kauai beaches, as well as north of Kapaa on the east side and from Kilauea to the Napali Coast on the north shore.
Maui Whale Watching
Maui is famous for perhaps the best whale watching in Hawaii. It takes place at the hub of Hawaii whaling in the 1800s, which almost brought the species to extinction. Now the island is renowned for incredible whale-watching opportunities. Locations all along the west and south shores are considered prime. We've spotted them at Pohaku Beach Park.
Also, plan to stop in Kihei at NOAA's Hawaiian Islands Humpback Whale National Marine Sanctuary. Docents will provide great information and free help to get you whale watching.
Oahu Whale Watching
You won't have to go far from Honolulu to see whales. We've enjoyed whale watching near Diamond Head, from Sandy Beach to Makapuu, at Hanauma Bay, and generally along the south and west-facing shores.
Recent Decline in Sightings
Whale experts continue to check for a drop in sightings of humpbacks, which have declined by at least 50% over the past five years. This doesn't necessarily signify a decrease in migration or other issues, but the decline is concerning enough for scientists to look further. With many variables, it isn't clear if the whales are choosing the less inhabited and monitored Northwestern Hawaiian Islands, whether they have reached a natural plateau in our area or other possible issues. What is clear is that we aren't seeing as many of them in the same places that we've been expecting.
Whales in Hawaii |  More Info
Did you know that there are also killer whales here in Hawaii?
You can learn more about Humpback whales from NOAA's Office of Protected Resources and the American Cetacean Society.
Please share your best  Hawaii whale-spotting experiences.
Updated 11/27/21
Featured image credit NOAA. Inline image from Beat of Hawaii.