Which are the best beaches in Hawaii? Honestly there is simply no right answer. This week (April 2019) TripAdvisor looked at the top 25 beaches in the United States, according to their readers. Seven (!) Hawaii beaches made the cut.
Would any of these be at the top on your list of best beaches in Hawaii?
Kaanapali Beach, Lahaina Maui (#2)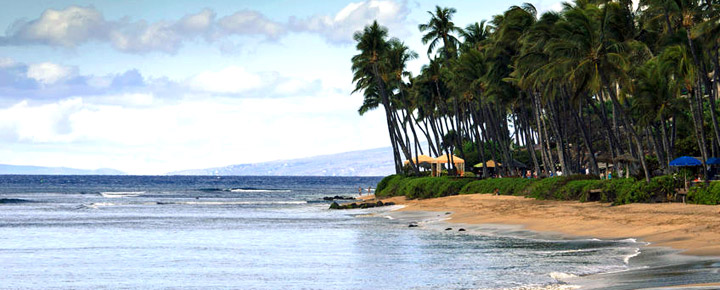 Stretch out on an amazing three miles of beautiful sand and turquoise ocean on what was, and has remained, a most popular vacation refuge. A concrete path runs its entire length. There are five free parking lots. The north end is best near Black Rock and the south end has reef that can be uncomfortable on your feet.
This is a great spot to see humpback whales in season. Enjoy the iconic cliff divers at Black Rock (Puu Kekaa) every sunset. You can stay nearby at one of the many hotels and condos that now line Kaanapali, that was Hawaii's very first planned resort community. Also on hand is great shopping and dining and a plethora of activities. You'll find yourself in a crowd of frolickers, that's for sure.
Hapuna Beach, Big Island (#7)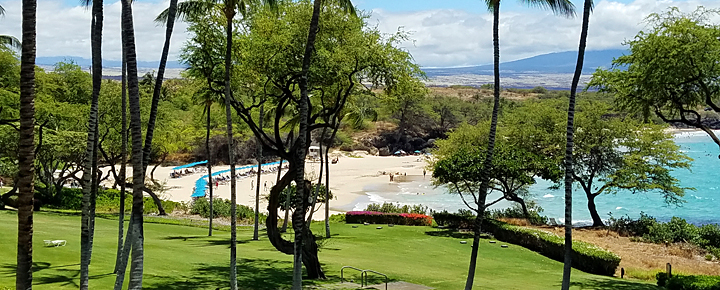 One of Beat of Hawaii's personal favorites, Hapuna is renowned for swimming, surfing, boarding, snorkeling and sunbathing that are consistently top notch. Do you know about Turtle Cove? At the far end of the beach, near the Westin Hapuna Beach Hotel, you'll see Hawaiian green sea turtles.
This is big and beautiful, yet away from the hustle and bustle. We've never felt crowded on Hapuna Beach.
Poipu Beach Park, Kauai (#13)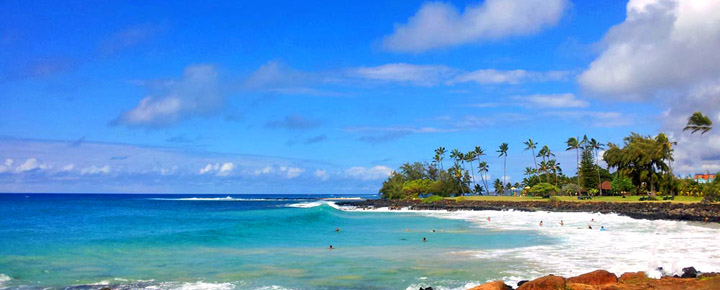 In addition to Hanalei Bay, Poipu Beach is as iconic Kauai as it gets. This year-round beach is an island favorite of locals and travelers worldwide. At the center of the park, the beach is reef protected and perfect for keiki (children). Facing the beach, to the right side is great seasonal swimming fronting the Waiohai Resort. To the left side is Brennecke Beach, seen in the photo. There, adventuresome body boarders take to the waves at Brennecke. Be careful, as there are rocks deposited from the last hurricane.
Wailea Beach, Maui (#17)
(Lead photo at top). Calm waters and excellent swimming are highlights of this crescent sand beach fronting the Grand Wailea. Great for snorkeling when calm and during morning hours. Excellent boogie boarding at the far south side.
Wailea has grown tremendously over the years to become the most popular destination on Maui, in part due to the natural beauty, as well as great accommodations, shopping and dining.
Waikiki Beach, Oahu (#20)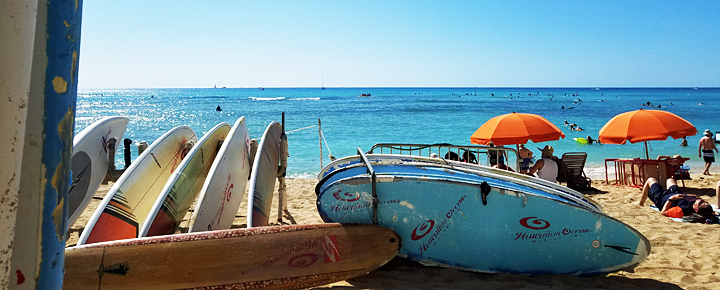 Waikiki Beach and its sandy iconic presence was heralded as the retreat of Hawaiian kings and queens. Since the 1950's it has been the epicenter of Pan-Pacific tourism.  There are eight distinct Waikiki beaches, Ft. DeRussy, Duke Kahanamoku, Halekulani, Royal Hawaiian, Kuhio, Kapiolani, Queens and Kaimana. Also nearby is Ala Moana Beach Park, Hawaii's single most popular beach.
Maniniowali Beach, Big Island (#22)
A beautiful spot on the Big Island and the perfect place for unforgettable Hawaii sunsets. A small beach, with good facilities and limited parking. You'll often find great conditions for sun bathing or snorkeling in the crystal clear waters.
Napili Beach, Maui (#23)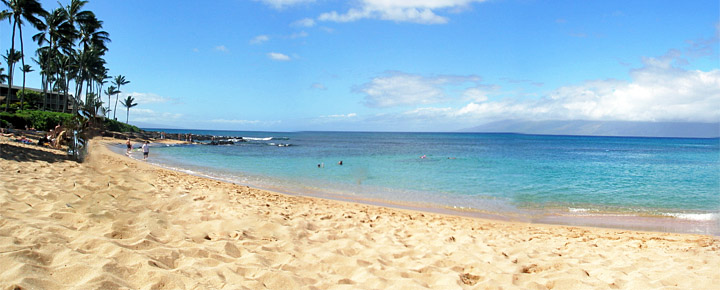 A great and generally uncrowded beach on West Maui, perfect for whale watching in season and beautiful views stretching to Molokai.  Swimming, snorkeling and boarding are dependent on conditions, and it is always a perfect sunning beach. Always enjoyable, from sunrise to sunset. Does not get much afternoon wind and the offshore waters are sandy. Access via Hui Drive and Napili Place.
Updated 4/4/19.
Disclosure: We receive a small commission on purchases from some of the links on Beat of Hawaii. These links cost you nothing and provide income necessary to offer our website to you. Mahalo! Privacy Policy and Disclosures.