Which are the best beaches in Hawaii that are a must on your Hawaii vacation bucketlist?
Look no further than sources like Dr. Beach and TripAdvisor, who attempt from different viewpoints to answer the question you want to have answered for your 2022 Hawaii vacation. TripAdvisor does its rankings based on crowd-sourcing of Hawaii aficionados, while Dr. Beach is a self-proclaimed and well-regarded expert. When TripAdvisor looked at the top 25 beaches in the United States earlier this year, their readers found six Hawaii beaches that made the cut. Four are on Maui, followed by Oahu and Kauai, with one on each island. Read beyond for Dr. Beach's picks, which are very different.
1. TripAdvisor Picks Best Beaches in Hawaii
Kaanapali Beach, Lahaina Maui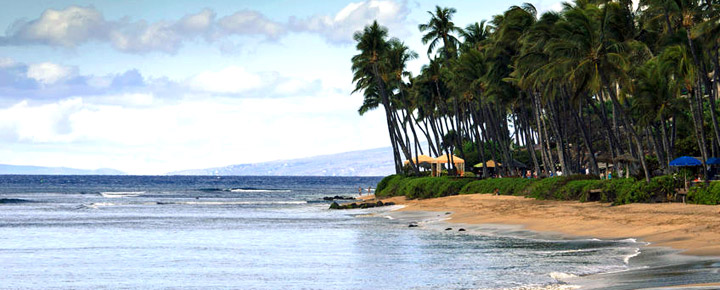 Moving up from #3 last year, you can stretch out on an amazing three miles of beautiful sand and the turquoise ocean on what was and has remained a most popular vacation refuge. A concrete path runs its entire length. There are five free parking lots. The north end is best near Black Rock, and the south end has a reef that can be uncomfortable on your feet.
This is a great spot to see humpback whales in season. Enjoy the iconic cliff divers at Black Rock (Puu Kekaa) every sunset. You can stay nearby at one of the many hotels and condos that now line Kaanapali, which was Hawaii's very first planned resort community. Also on hand is great shopping and dining and a plethora of activities. In normal times you'll find yourself in a crowd of frolickers, that's for sure.
Wailea Beach, Maui
See the featured image above. Moving up from #14 last year and the lead photo at the top. Calm waters and excellent swimming are highlights of this crescent sand beach fronting the Grand Wailea. Great for snorkeling when calm and during morning hours. Excellent boogie boarding at the far south side.
Wailea has grown tremendously over the years to become the most popular destination on Maui, in part due to the natural beauty, as well as great accommodations, shopping, and dining.
Napili Beach, Maui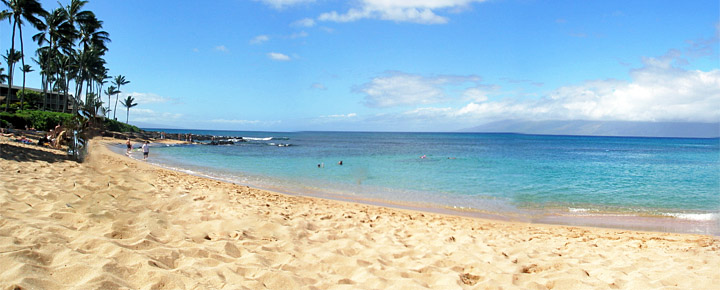 Up from #10 in 2020, this great and generally uncrowded beach on West Maui, perfect for whale watching in season and beautiful views stretching to Molokai. Swimming, snorkeling, and boarding are dependent on conditions, and it is always a perfect sunning beach. Always enjoyable, from sunrise to sunset. It does not get much afternoon wind, and the offshore waters are sandy. Access via Hui Drive and Napili Place.
Waianapanapa State Park, Maui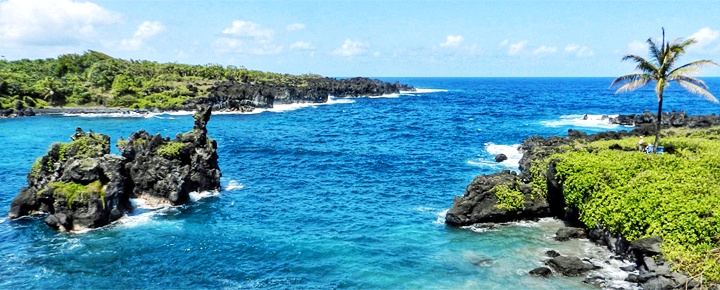 Beat of Hawaii says, "Nice stop on the Hana Highway near the town, and the state park cabins here are a good albeit rustic deal." This is along a remote volcanic coastline. Black sand is one of the unforgettable things here, where you'll also find great picnicking and the ancient Hawaiian coastal trail to Hana. Seabirds abound.
Kailua Beach, Oahu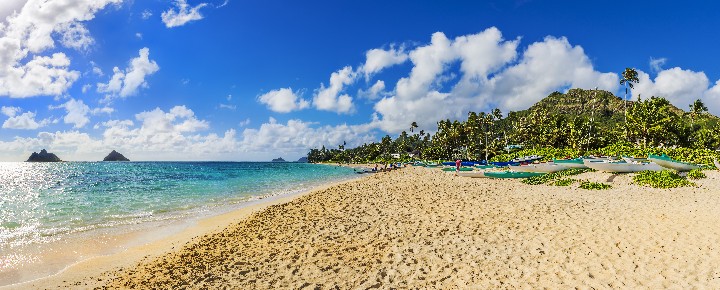 A favorite of ours features unforgettably blue water and a broad, silky sand beach. Considered by many in your comments as one of the best beaches on Oahu. It's a favorite for local families and visitors alike, especially on weekends. Typically calm water and tree-shaded. with a large park including pavilions for picnics. A popular kiteboarding and windsurfing location.
Poipu Beach, Kauai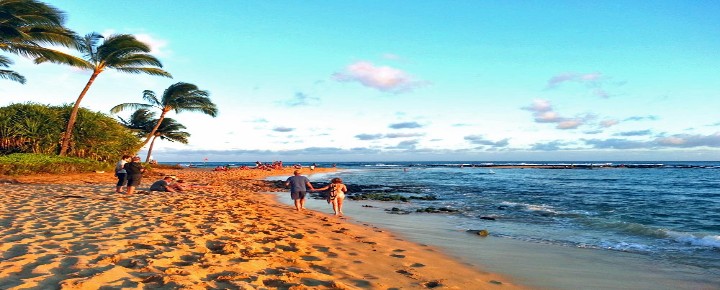 This is one of South Shore Kauai's most iconic beaches. It offers sunbathing, picnicking, swimming, surfing, fishing, snorkeling, bodyboarding, and more. It is a quintessentially popular crescent-shaped beach with clear blue water. It is frequented by Hawaiian monk seals and green sea turtles.  There's a rock-protected wading pool popular with kids and surfing beginners, and shade under trees to keep cool. Humpback whale-watching from shore is possible in winter.
2. Dr. Beach Picks Best Beaches in Hawaii
You also won't go wrong at any of the Dr. Beach-picked beaches either. His currently #1 ranked Hawaii beach is Hapuna Beach, Hawaii (Big Island), which has been in his top 10 for years.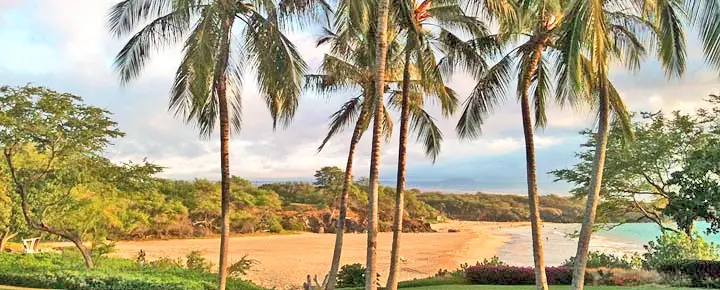 This is a well-loved Beat of Hawaii favorite. Simply put, Hapuna Beach rocks. The beach is perched on the remote Kohala Coast of the Big Island. It is epic for wide-ranging beach activities including swimming, surfing, paddleboarding, sunbathing, snorkeling, and more. At the north end find Turtle Cove, where you will find Hawaiian green sea turtles.
Located on the western side of Waikiki, fronting the Hilton Hawaiian Village, Kahanamoku beach is frequently a top pick of Dr. Beach and has been #4, 5, or 6 in the past three years. The nearby Ala Moana Beach Park, which isn't a top pick of Dr. Beach, is in fact Hawaii's single most popular beach.
Kahanamoku Beach is beautiful, calm, and wide, making it a favorite of families and kids. Also adjacent is the pictured lagoon by the same name.
Will you share your 2022 Bucketlist best beaches in Hawaii? 
Updated 12/18/21.