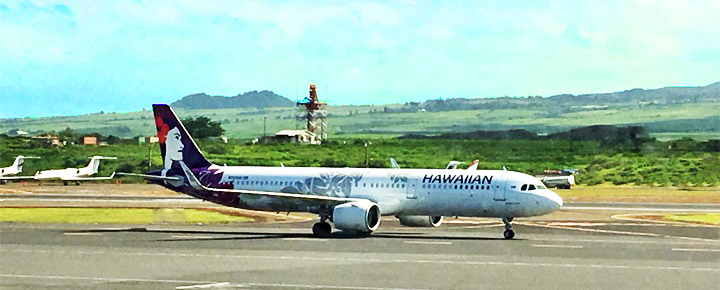 We're just learning more about today's frightening late morning emergency landing and slide evacuation that took place at Honolulu International airport. Hawaiian Airlines flight 47 landed safely following a declared emergency due to reported smoke in the cabin. The problem is believed to have emanated from the cargo hold of the new Airbus A321neo aircraft. The plane was on approach from Oakland to Honolulu at the time of the incident, which occurred approximately 30 minutes before landing.
The aircraft's Halon fire suppression system in the cargo hold was deployed. The crew decided not to use passenger oxygen masks however, due to the possibility of fire. The crew themselves did don masks.  It will undoubtedly take some time to complete the analysis of what happened and return the aircraft to service. Luggage is also being delayed due to the use of Halon.
Once the plane landed, all 191 passengers and crew were evacuated using the emergency slides onto the tarmac. Shuttle buses took passengers to the airport terminal. Seven passengers who sustained injuries were taken to area hospitals. Their issues were reported to be smoke related. At this time the source of the smoke has not been determined, although there was no evidence of fire.
Lest we become complacent about safety briefings.
For us, we've had so many uneventful flights on Hawaiian Airlines, literally hundreds of them. And we somehow, naively assume it will always be that way. Given today's incident, however, we will definitely be paying closer attention to their safety briefings in the future. This type of incident can happen at any time. What are your thoughts?
Kudos to Hawaiian Airlines.
We're incredibly grateful to see this end so well. Of course, events like this can't help but bring other scenarios to mind, such as if a similar incident were to happen mid Pacific. Hopefully we'll never know.
The airline apologized to passengers for the situation via their Facebook page. Hawaiian Air will provide today's flight free of charge to passengers, and they will receive a voucher for another flight in the future.
Hawaiian has an excellent safety record. They have not had a fatal accident or the loss of plane hull since they started back in 1929. Some incidents they have had, however, include:
2003 aileron trim-caused rapid 35 degree roll (no injuries)
1998 engine fire (no injuries)
1991 door failure on take-off (no injuries)
1988 engine failure (no injuries)
1982 smoke in cabin incident (2 injuries)
1980 engine fire (3 injuries)
Beat of Hawaii photo of Hawaiian Airlines A321neo.
Updated 8/22/19 530pm hst
Disclosure: We receive a small commission on purchases from some of the links on Beat of Hawaii. These links cost you nothing and provide income necessary to offer our website to you. Mahalo! Privacy Policy and Disclosures.