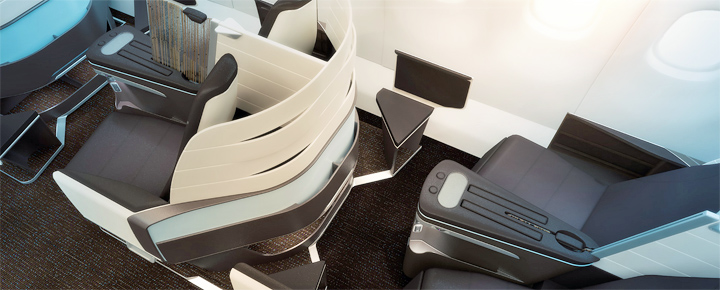 The long anticipated Hawaiian Airlines announcement of lie flat premium seating has arrived. CEO Mark Dunkerley indicated today the company will also significantly increase the total number of premium seats on its entire 21 plane fleet of Airbus A330-200 aircraft in both premium economy and first class.
Beat of Hawaii has awaited the addition of a true premium cabin on Hawaiian Airlines for some time and last wrote about it in our December 2014 post, "Hawaii Airlines | What to Expect From Alaska and Hawaiian in 2015/2016." The change was largely needed to be competitive on international and east coast routes, and to a much lesser degree in relation to the highly regarded premium service of Virgin America, which is soon to arrive on Hawaii's shores.
New Hawaiian Airlines First Class | Lie Flat Seats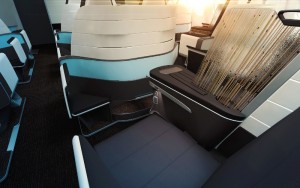 Hawaiian Airlines' Airbus fleet will now include 18 lie flat seats with 76″ between them. The implementation will begin during mid-2016 and be completed in 2017. Flights serving international routes are likely to be the first to see the new seats.
More Premium Economy/Extra Comfort Seats
The Airbus fleet will also receive an additional 28 premium economy seats, for a total of 68 on each plane. These provide on average five additional inches of legroom compared with standard economy. The cost of "Extra Comfort" seating ranges from $70-$125 per flight.
When will this change happen?
The first A330-200 was outfitted in early 2016 and has been flying on the LAX-OGG route. Starting in fall 2016 the remainder of the A330-200 fleet will be retrofitted.
Chime in Here
What do you think – will you be upgrading to Extra Comfort or lie-flat first class on Hawaiian Airlines?
Disclosure: We receive a small commission on purchases from some of the links on Beat of Hawaii. These links cost you nothing and provide income necessary to offer our website to you. Mahalo! Privacy Policy and Disclosures.