This weekend we reflect on the most intense hurricane to strike Hawaii 30 years ago, on September 11, 1992. Hurricane Iniki took that unexpected sharp right turn on that fateful day and devastated the island of Kauai. Iniki is the Hawaiian word for a piercing, sharp wind.
After billions of dollars in damages, 100 injuries, and six deaths later, the storm rapidly moved on.
Hurricane Iniki slammed onto Kauai's south shore, leaving uprooted trees, blocked roads with downed power poles, roofless buildings, and other damage. Winds were over 100 miles per hour, waves hit around 20 feet at Poipu, and 1,500 homes were destroyed.
Without electricity, freezers and refrigerators of vacant houses and condos were raided so that food didn't spoil and those here could eat. There are many tales of epic BBQs at condos on the south shore of Kauai. Jeff owned a condo at Nihi Kai Villas. He was on the mainland when the storm struck. Rob was here about a month later and couldn't believe what he saw. He recalls flying into an empty Lihue airport on a flight with college admission representatives. Tents were set up at Kauai Community College so that island students could continue their college prep. Since all of the hotels were closed, the representatives were flown back to Honolulu the same day. Ten years later, he returned to Kauai to make the island his home.
Trivia – Steven Spielberg was set to film the final day of Jurassic Park when Hurricane Iniki hit. Filming was altered, and some of the storm is seen in the movie's final cut. The 130 cast and crew members, including the film stars — Laura Dern, Sam Neill, Jeff Goldblum, and Richard Attenborough — waited out Hurricane Iniki.
Also, the feral chicken problem on Kauai was greatly exacerbated by chickens that got loose during Hurricane Iniki. 
Gratitude – While the island was devastated, many remember boats that brought food and ice, a company that set up banks of phones for free calls anywhere, and FEMA's support that included food stamps for all those on Kauai. While lines were often long, the island all came together to help each other and return Kauai to its beauty.
Kauai's pain made global news.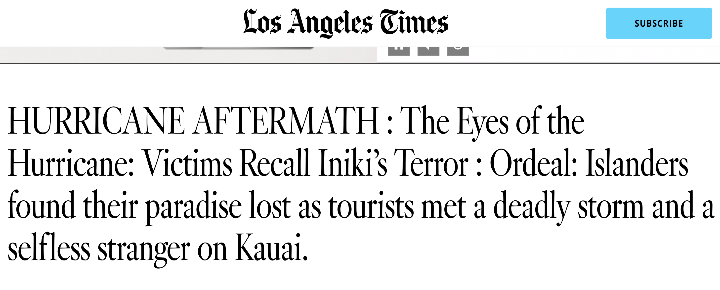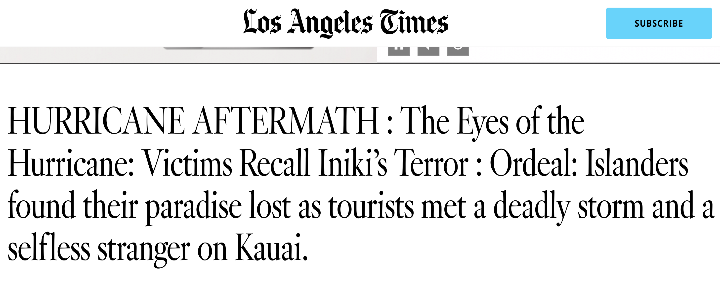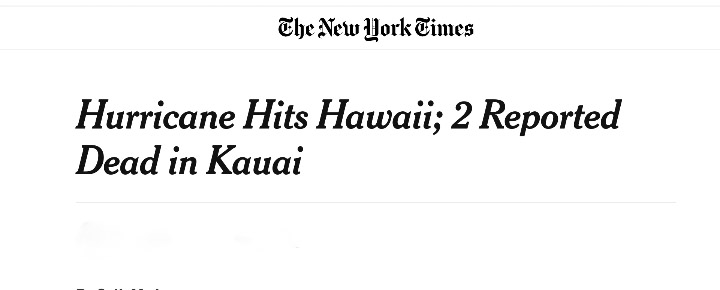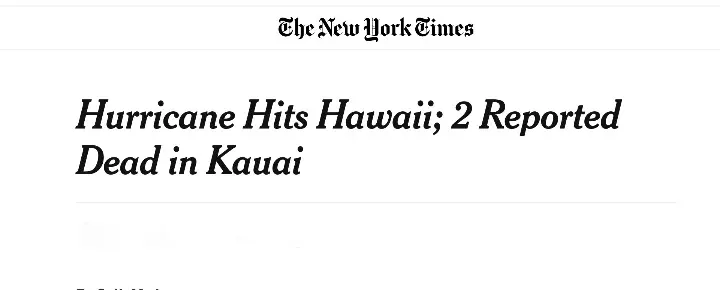 The most powerful hurricane to strike Hawaii in recorded history.
The hurricane began in early September or late August. It came during a hurricane-inducing El Nino season that resulted in 11 named tropical disturbances that year.
Iniki is believed to have first developed off the coast of West Africa in mid-August. It traversed South and Central America before entering the Pacific Ocean later that month.
Iniki striking Hawaii was preceded by Iwa, which hit Hawaii just one decade earlier.
Why didn't the Central Pacific Hurricane Center (CPHC) notify residents?
The CPHC didn't issue tropical storm warnings and watches 24 hours beforehand. So there was a severe lack of preparation which exacerbated the issues.
As late as September 6, the Hurricane Center incorrectly believed that Iniki would dissipate, and they stopped all advisories. But when that didn't occur, on September 7, advisories were again issued while the storm intensified and tracked northward. It became a hurricane on September 9. On September 10, aircraft already found 115mph winds, while on September 11, they had increased to 175mph.
It wasn't until less than 24 hours before Iniki struck that the Hurricane Center issued even a hurricane watch for Kauai. Then, almost immediately, that was upgraded to a hurricane warning. Later, warning sirens began to warn of the encroaching storm, albeit far too late.
The eye of Iniki made landfall on the coast of Kauai near Waimea with winds of 140mph, and within 40 minutes after arriving, it reentered the Pacific as it continued to speed northwest.
This video captures what it was like to be here. If you were on Kauai during Iniki, we invite you to share your experiences.