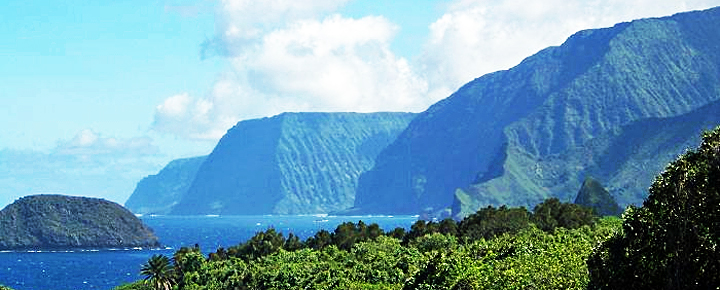 Hiking in Hawaii has limitless possibilities. Trekking the 106 year old Pali trail on Molokai to Kalaupapa is one that you'll simply never forget. We decided to skip the mule ride and experience the history of this trail on foot.
Kalaupapa is a spiritual place of great beauty and a reminder of tremendous suffering. It's where Saint Damien lived with and cared for Hansen's Disease patients.
The trail is challenging, slippery and muddy with a 1,700 foot elevation drop.
At one point we wanted to turn back but were determined to keep going. In addition to our supplies, we were bringing fresh produce to Kalaupapa for a resident who was expecting our arrival.
Each step down was carefully placed to avoid slipping.
The hike to the bottom took 2 hours and 15 minutes; much longer than we had expected. When we heard the sound of the surf and looked up the steep cliff from where we started, it was a feeling of exhilaration knowing we had arrived.
Going back topside after the tour was much easier psychologically without the chance of slipping, but still strenuous.
We felt some soreness for a few days after. In spite of the discomfort, it was worth the experience and I recommend this journey to all in good condition.
Hawaii hiking notes for those considering this adventure.
Training Routine: It's important to be in good aerobic condition for this hike. Three weeks before going we began to ramp up our walks looking for streets with steep inclines and used the stair master at the gym.
Packing Supplies for 2: Water (2 liter bottles) which can be refilled before the trip back topside, 4 sandwiches (we saved one each for the hike up and it helped restore energy), protein bars and nut snacks from Outpost Natural Foods in Kaunakakai. We also packed an extra T-shirt to change into at the bottom for the return hike. Be sure to check the conditions of your shoes.  Jeff's sneaker sole was sucked off by the mud, making the hike up more challenging. While most of the trail was in shade, you will want to bring hats and sunscreen.
If I go again I'd bring: Swimsuit for the beach at the end of the trail (someone mentioned bathing is prohibited) and perhaps hiking poles.
Start your hike early: We began at 7:00 a.m. which put us ahead of the mules and gave us the time needed to hike without feeling rushed.  You must arrive by 10:00 a.m. for the tour.  We left Kalaupapa at 2pm and arrived topside at 4:30 p.m.
Trail Markers: There are 26 switchbacks and each one is marked. The further down you go the shorter the distance is between numbers. Once you're at the bottom of the trail you'll walk 20 minutes along the shore to where the tour begins.
What to Expect: 1,700 foot elevation change each way, a steep and muddy trail, lots of steps, and 6 miles round trip. Most of the trail is shaded.
Location of Trailhead:  From Kaunakakai, take 460 west, then turn right at Highway 470. The trail entrance is 15 minutes at the top of the highway, past the mule stables, on the right at a metal gate with a sign warning not to enter without a permit.
Visitor Qualifications: You must be at least 16 years of age and meet one of the following: (a) invited by a resident,  (b) have a prearranged tour at bottom with Damien Tours ($69), or (c) be on a mule ride trip.
Alternatives to hiking: Take the Mule Ride for $199 or fly-in on Makana Kai Air for $74 each way . Another option is to drive past the trail head to the end of the road where there's an overlook of the Kalaupapa settlement.
(In 1980, our State Legislature again decreed "Hansen's Disease" rather than "leprosy" to be the official terminology used in Hawaii).