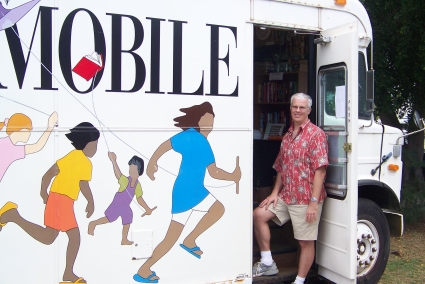 "Bookmobiles are disappearing in an age defined by mouse clicks," reports the Boston Globe.
While that may be true, there's one bookmobile on Oahu with a new mission.  It's Bill's Bookmobile, cheaply selling used books, music and movies.  All proceeds benefit the Hawaii Public Library System.
Bill's Bookmobile doesn't travel to you.  Instead you go to its permanent location near downtown Honolulu.  The parking is free and the deals are many.  You may even find a used book you've been searching for.
Named after the late Bill Harper, this project honors his memory and love of books.
Right now you can get 50 percent off the already discounted price on children's books and cookbooks.  Videos are 10 for $5.00 and romance novels are five bucks a bag.  Be sure to check their website for current deals during your trip.
On my recent visit, I found the books in good to very good condition.  I left with a paperback and like new hardcover for a total of $3.50.
This is a great place for booklovers to meet on their Hawaii vacation.  If you go to Bill's Bookmobile, let me know how you liked it.
Location: 690 Pohukaina Street.
Directions: From Ala Moana Blvd, turn on Coral Street and then left on Pohukaina.  Parking is free.
Hours: Monday through Friday from 10:00 a.m. to 2:00 p.m, and the first Saturday of each month.
Disclosure: We receive a small commission on purchases from some of the links on Beat of Hawaii. These links cost you nothing and provide income necessary to offer our website to you. Mahalo! Privacy Policy and Disclosures.