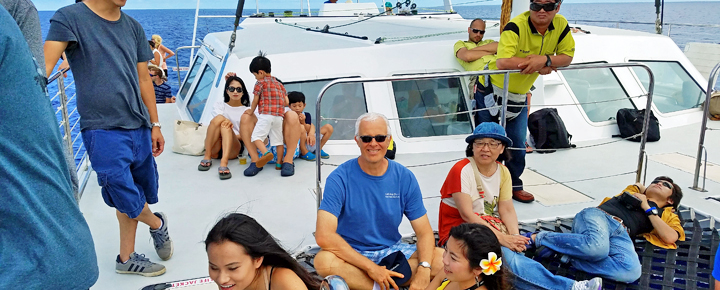 We tried Go Card Oahu for the first time and saved $144 each based on our selected Honolulu activities for a day. It far surpassed our expectations for both fun and value in relation to the $69 investment. With some advance planning you may like this as much as we did, using our suggestions below.
Tips for Using Go Card Oahu:
1. If you buy more than a one day pass, you can pick your other days within a 2 week time period. That's good because after our jam-packed first day, as we needed a break after that.
2. Look for best value on your Go Card Oahu and pick higher priced attractions. For example, we are big fans of Honolulu Museum of Art but decided to pass since admission is only $10 and includes same day entry to the fabulous Spalding House. It's already a great deal so we included them on another day.
3. See if advance reservations are required for anything you want to see with Go Card Oahu. This was a bit of a problem when planning our day as it reduces spontaneity. In our case we only had one activity that required a reservation and then planned everything else around it. When reservations are required, the vendor will ask for a credit card number to hold your space. Ask about cancellation policies or it suddenly won't be a great deal if you change plans.
4. Consider driving time between activities. Honolulu traffic can be slow so take that into consideration. Try to avoid morning and afternoon rush hour if at all possible.
5. Plan for parking. Check each vendor's website for recommendations. In case you need street parking, bring coins with you or look for meters that take credit cards.
Here's How We Saved $144 Each – Our Go Card Oahu Itinerary
9:00 Bishop Museum. Admission: $24.33. Before taking the complimentary 25 minute tour of Hawaiian Hall at 10am, we arrived an hour early to see Hawaii's largest museum and the world's largest collection of Polynesian cultural artifacts. No reservations are needed. Parking is an extra $5.00 or look for something free on a neighboring street.
10:30 Drive 13 minutes to Iolani Palace. Entry fee: $21.75. Guided tours were booked so we opted for the audio tour with a hand held device. This gave us much more flexibility. Entry is still timed but reservations are not needed. The only royal palace in the United States should be on everyone's list of things to do in Honolulu. It will make you think about the past and actions taken by our country. We found metered parking available inside the palace gates.
12:00 Drive 9 minutes to Makani Catamaran Tours. $106.63 per person. This was a big highlight! Parking is available near the boat and there are a variety of nice looking and popular food trucks for a quick lunch break before the 12:30 check-in. Reservations are required for the 1:00 afternoon sail. We had a blast cruising along the Waikiki coastline and past Diamond Head. Ship is casual, the crew are friendly and you get a free drink too. These were among our best Waikiki photo opportunities ever.
2:30pm Return to car and drive 1.5 hours to Polynesian Cultural Center. $59.95 per person. If you like theme parks, this one will be right up your alley. Even though the exhibits close at 6:00pm, you can still walk around later or come back within 3 days at no charge. No reservations are needed. We asked for a list of shows available and found three to choose from. Parking is free. Check-in process is slow and they won't believe you came only for a gate pass and not the luau or show.
At 6:00pm we were back in the car and drove to Waimea Bay for an awesome sunset then on to Haleiwa for dinner. From there it was an easy hour drive back to the lights of Waikiki.
Now it's your turn. Try a Go Card Oahu and let us know how you planned your day.
Photo taken of Beat of Hawaii editor Rob onboard Makani catamaran.
Disclosure: We receive a small commission on purchases from some of the links on Beat of Hawaii. These links cost you nothing and provide income necessary to offer our website to you. Mahalo! Privacy Policy and Disclosures.