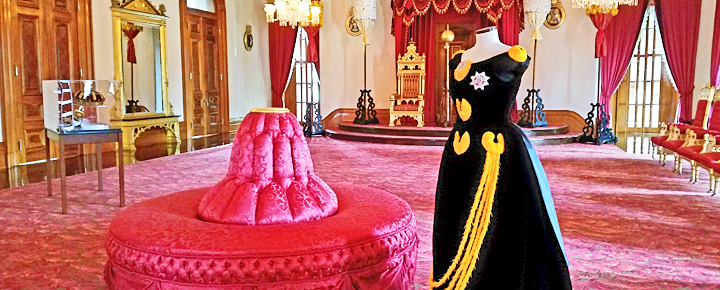 Step away from the beach and inside the rich history of the Hawaiian Kingdom. America's only royal palace is here in Honolulu. Iolani Palace, built 125 years ago in 1882, was the home of Hawaii's last two monarchs. Tip: Purchase the Go Card Oahu and your visit is free when you book in advance. See how GoCard Oahu worked recently to save us money.
Visitors who come to Iolani Palace will learn a part of history that seems excluded from mainland textbooks. This includes the imprisonment of Queen Lili'uokalani by the United States and overthrow of the Hawaiian monarchy in 1893.
My favorite things to see at Iolani Palace are the Throne Room and the quilt made by the Queen during her palace imprisonment. The Palace Galleries also include the crown jewels.
Most of the Palace furniture and furnishings were sold at auction after the overthrow. The Friends of Iolani Palace have worked hard to have many of these items returned. My favorite story is of a visitor who looked at an old Palace photograph and saw a table that resembled his. When he returned home to the mainland and examined the table, it had the official royal markings and was donated back to the Palace.
The Palace has a list of their most wanted furnishings. Maybe one of your family antiques belonged to the royal household? So far the Friends of Iolani Palace have located original pieces in 38 states and 4 foreign countries.
You can visit Iolani Palace by reservation every day except Sunday from 9am to 4pm. If you come on Friday, you may hear the Royal Hawaiian Band performing on the Palace grounds starting at noon. Guided tours are $21.75 for adults and leave every 15 minutes. A self guided audio tour is offered every 10 minutes for $14.75 and can be completed in 45 minutes.
You can help the Friends of Iolani Palace by doing any of the following:
1.Take a tour and share your experience with others. Reservations are made online or calling the palace directly at 808-522-0832.
2.Purchase gifts and souvenirs from the Palace Shop.
3.Make a donation and become a member.
4.Shop online at Amazon and Hawaiian Airlines. A portion of each sale will be donated to Iolani Palace when you use their links. Details are here: http://www.iolanipalace.org/donations-membership/support-iolani-palace/
Palace Location and Parking: Capitol District of downtown Honolulu at the corner of King and Richards Street. Limited parking is available on the grounds and on nearby streets. Parking meters are 25 cents for every 15 minutes. A private garage is nearby at Alii Place for $3.00 the first two hours. It is located between King and Hotel Streets.
Accessibility: There is an elevator between floors. If you need additional help, make sure you mention it at the time of reservation. See their website for accessibility information.
For this two part series, Iolani Palace joins the Shangri La Estate as our two homes every visitor should see in Honolulu.