We'd heard the hype about this prix fixe Japanese specialty restaurant tucked away off the highway in sleepy (other than traffic) Kapaa on the Eastside of Kauai. When Aina Kauai received the Gold Award for Best Restaurant on Kauai this year, we decided to see what their 9-course tasting menu was all about that fuses the Japanese art form of kaiseki with the flavors and traditions of Kaua'i.
Did Aina Kauai live up to the hype at $149 per person?
Read down to find the final verdict. What we'll say, though, from the start, was that we were pleasantly surprised in multiple ways.
To provide an unbiased review, Beat of Hawaii paid in full and received no discounts.
Aina Kauai Restaurant – Hale Aina Gold Medal Winner
A few years back, Our Place Kauai, which is now defunct, tried the same concept with two seatings, a different menu weekly, and a set charge per person. While that restaurant was moderately priced without a cancellation policy, Aina Kauai goes upscale with a strict no-show fee. We'll tell you why and more about that below.
For us, we started the booking process a week in advance. If you have any dietary restrictions, you must have those confirmed before making a reservation. The restaurant replied quickly they could comply with a Pescetarian diet. But when we saw that full payment was required to hold the reservation, and no refunds or changes were allowed, we waited until 3 days before dining to book. That turned out to be a smart move.
When entering the intimate restaurant, we found a lovely contemporary setting.
Sitting at any of the tables, guests have a birds-eye view of the operations, including the semi-see-through screened workshop-like kitchen where you can watch the Chef and the owner, Mitch Muroff, at work. There's also a good view directly into the kitchen from the corridor on the far side of the restaurant. You'll find bar seating that directly faces the kitchen in addition to the 2 and 4-seat tables.
The unique all-inclusive 9-course menu.
You can select preferences when making a reservation, such as vegetarian or seafood only. Once you arrive, no further changes or modifications are available. The menu changes weekly and uses fresh ingredients from local farms. Two seatings are offered, and courses are served to everyone in the restaurant at the same time. If you would like to have a drink before your meal, they suggest arriving early. A five-minute grace period is allowed, so be very much on time.
The first course was an amuse-bouche affair which is called the Kakigori. It was comprised of Japanese shave ice, soursop sorbet, roselle (local culinary hibiscus) syrup, and lemongrass foam. It was clear from the delicious, unique, and local flavors that this wasn't going to be any form of normal Kauai restaurant fare.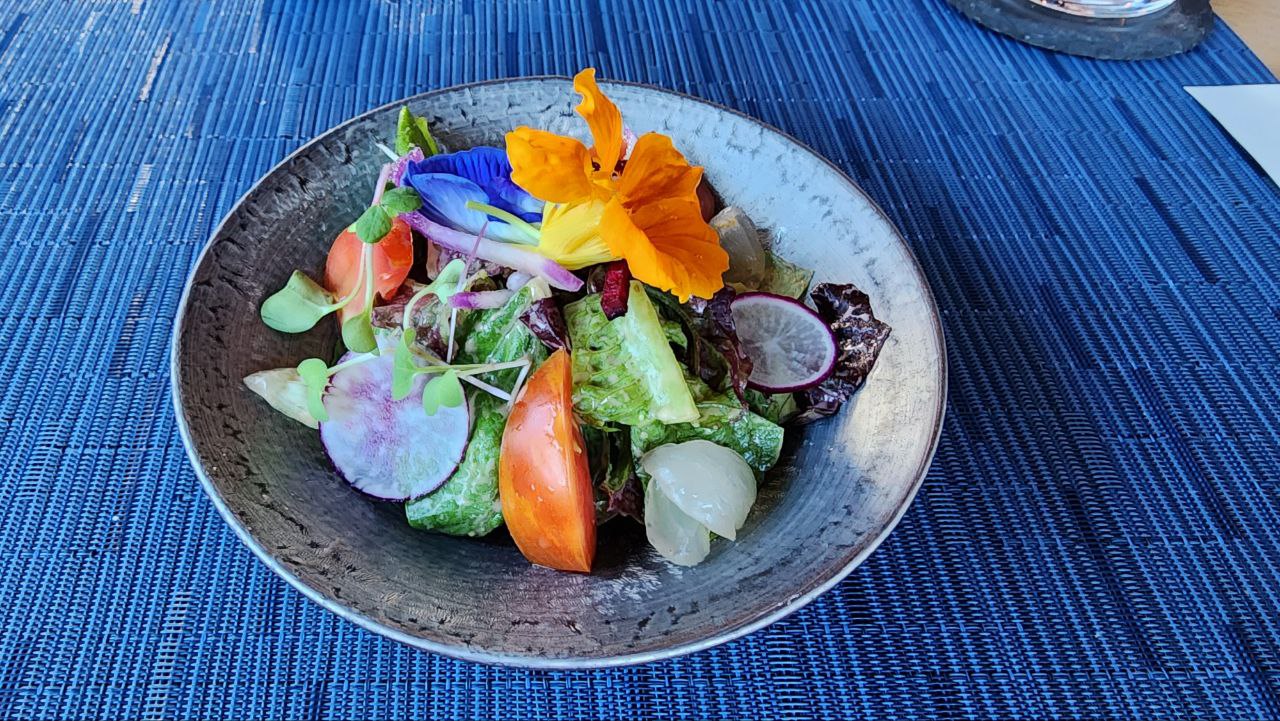 The next courses were first a salad with greens, fruits, and flowers.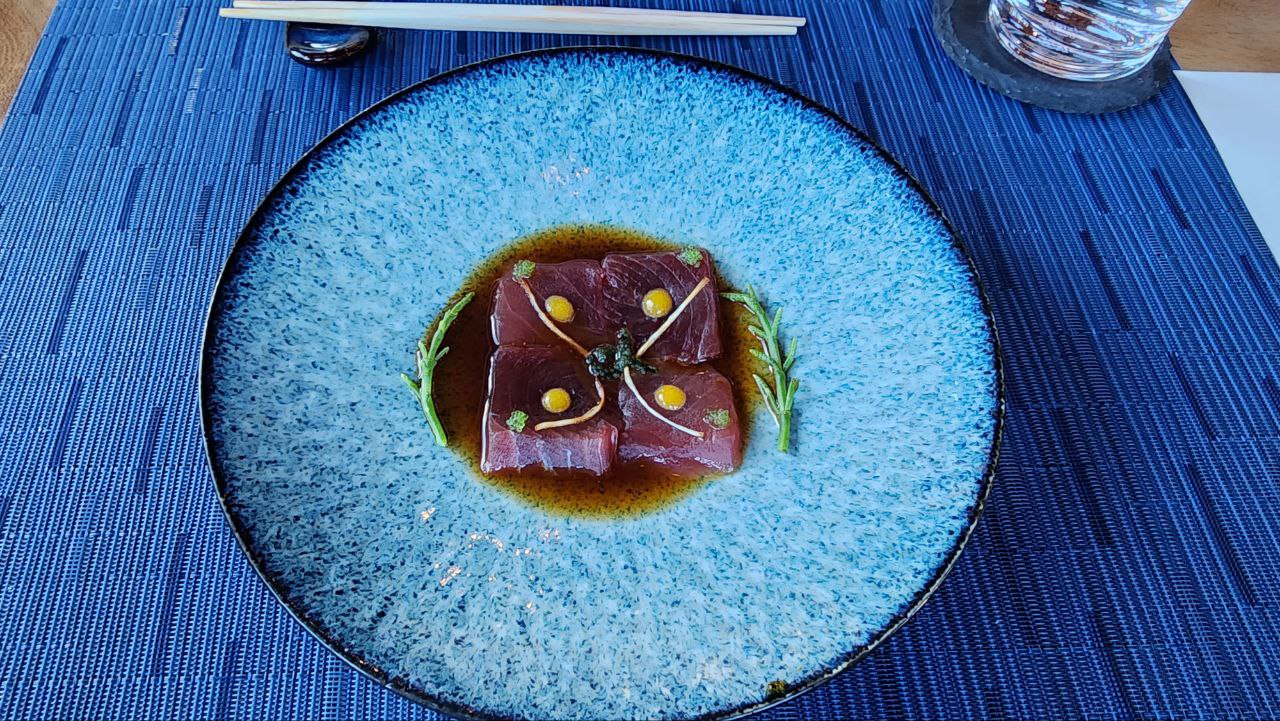 It was followed by a complex ahi sashimi dish, then a vegetable plate consisting of hearts of palm, fried eggplant, and blanched greens, each served separately and delightfully prepared in a unique way.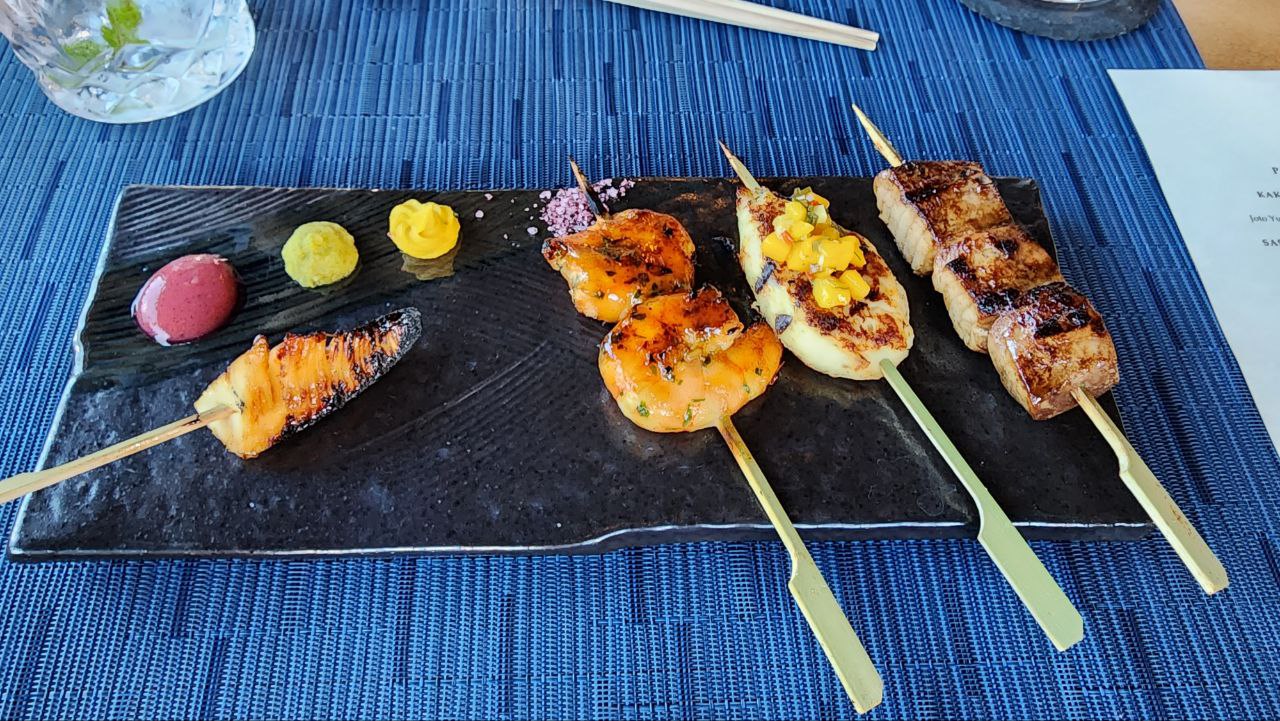 The next dish was a local Monchong fish prepared in saikyo miso sauce. It was followed by a fantastic assorted vegetable, shrimp, and seafood cake plate with fascinating spices.
The savory dishes concluded with assorted tempura. Dessert featured cakes, homemade local fruit sorbet, and more.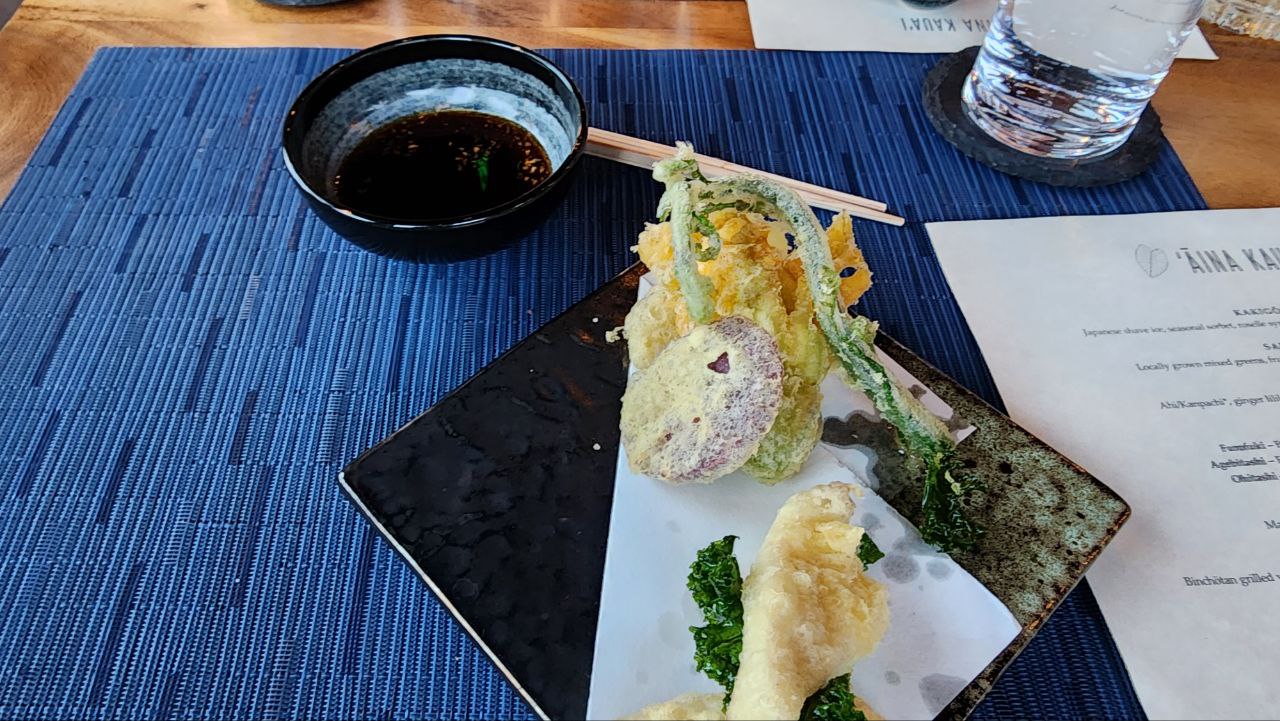 Complementary tea service followed the meal, which we enjoyed over a period of about 2 1/2 hours.
The ingredients were of the highest quality we've seen served here in Hawaii.
Each dish exuded the delight of homemade food, and it was clear that the owner takes great care and pride in selecting and presenting the best ingredients.
The service was provided by both the owner and one very experienced waiter. There was a new waiter in training who tagged along, and she was very pleasant as well.
Cost and Recommendations: While the price tag seems high at $149, it's not too much more than paying the cost of an appetizer, salad, entree, and dessert at restaurants like Gaylord's or Merriman's, which hovers around $90 per person. In the case of Aina Kauai, the food is superior and innovative.
Planning in advance is critical: But with that said, the prepayment and no refund policy means you probably will only book several days before dining. The owner also suggested this too. He explained that they cannot provide this quality of food if people are no-shows. And the restaurant is not likely to fill last-minute cancellations.
How does it compare with other Kauai and Hawaii restaurants? It was far better than what we've encountered at any other restaurant on Kauai. Aina Kauai compares favorably with the best of Honolulu's fine dining, of which there are many choices. We had a great time and found the food to be exemplary.
Aina Kauai Sampling Menu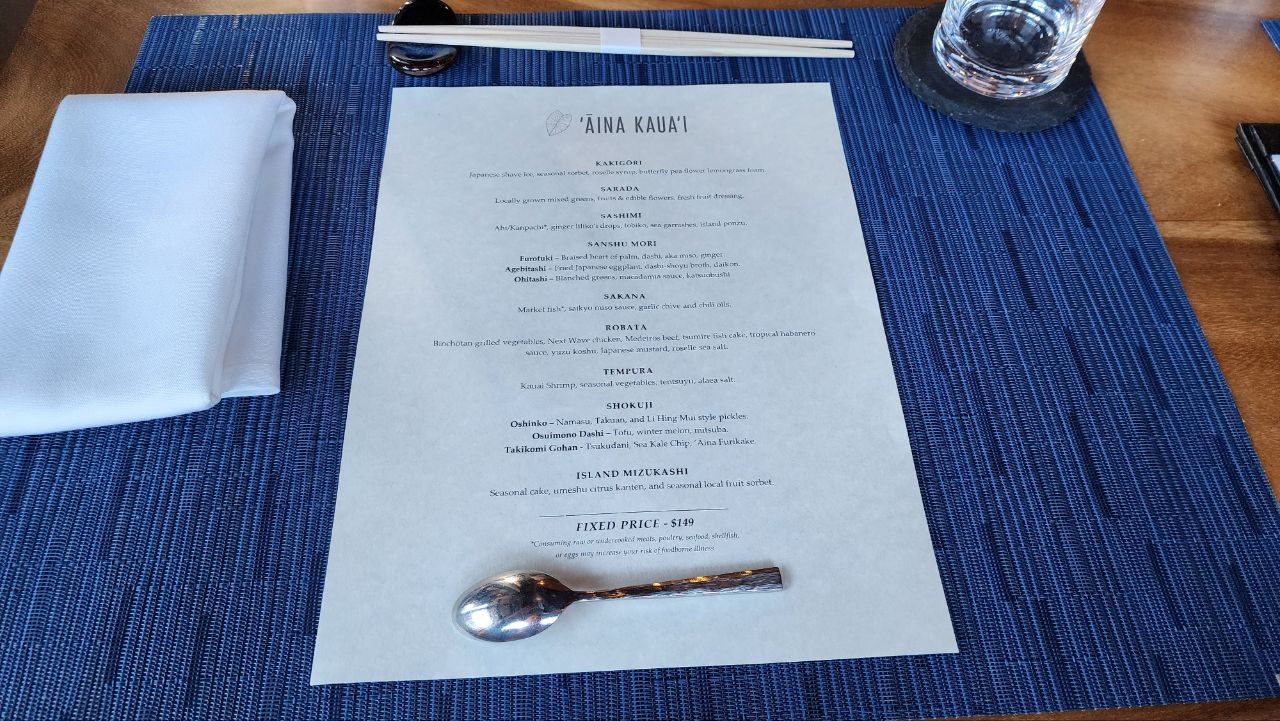 Location: 4-985, Kuhio Hwy in Kapaa. Aina Kauai is open Thursday through Sunday evenings. Two seatings at 5:30 pm and 7:30 pm.